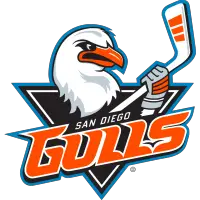 Gulls Fall to Wild in Shootout
March 22, 2023 - American Hockey League (AHL) - San Diego Gulls News Release



The San Diego Gulls fell 4-3 in a shootout to the Iowa Wild tonight at Pechanga Arena San Diego, bringing their overall record to 19-41-1-1 and 9-21-1-1 at home.
Justin Kirkland registered a three-point performance (2-1=3), including his first multi-goal effort of the season (2-0=2).
Brayden Tracey posted a goal and an assist (1-1=2) for 1-2=3 points in his last three contests.
Drew Helleson earned a pair of assists (0-2=2) in his multi-point effort of the season.
Chase Priskie extended his career-high point streak into a sixth game (4-3=7), earning at least one point in each of his six games as a Gull.
Over the Gulls' last seven games (Mar. 3 - 21), 20 of the 55 (36.4%) points earned by the team are from San Diego's defensemen.
Brent Gates Jr. also posted an assist, registering 1-2=3 points in his last four games. Dating back to last season, Gates Jr. has 2-2=4 points in his last four contests against the Wild.
The Gulls scored four power-play goals over their last three games, operating at a 28.6% success rate over the span (4-for-14).
Gage Alexander made 16 saves on 19 shots and appeared in the first shootout of his American Hockey League career.
The Gulls travel to Calgary for a weekend series against the Wranglers at Scotiabank Saddledome beginning this Friday, Mar. 24 (6 p.m. PDT).
POSTGAME QUOTES
SAN DIEGO GULLS
Defenseman Drew Helleson
On the loss to the Iowa Wild
That's a tough one to swallow there. Like you said, I thought we came out really well in the first. That was part of our game plan. We weren't happy with the way we played the last time we had those guys, so it felt good coming out there and having a good start. But that's a second (period) we can't have. That bit us there. That's a good team - they're hard to score against, they play hard. You got to give them credit, they played a good game. It also hurts, that goal getting called back there. Refs are human too, they make mistakes, so you can't get too upset with them.
On getting shots through from the blueline
It was a just point of emphasis. Last time we played them, they blocked a lot of shots. Our forwards did a good job in front of the net and we just kind of sifted them down there and luckily got a goal from it or two.
On forcing overtime after the disallowed third-period goal
You just have to put it behind you as fast as you can. It sucks, but it's part of the game. You just have to move on from it, keep playing the way you're playing and hopefully you get another one.
On the positives the team can bring into Calgary
The first period, especially. I thought we played really well in the first and were all over them. A big part of our game is our forecheck, and I thought our forwards did a real good job getting in there, hitting their d(efense) and hunting. That's what drives us, and if we can bring that to Calgary, I think we'll have some success.
On wearing mismatched socks on World Down Syndrome Day to honor Marley Sommer
It's awesome. You see him Saturday night sing the anthem, then come out tonight and drop the puck. I think maybe that's why we had such a good first period. You just want to play good for the guy and it's really hard to have a bad day. You come to the rink and he's always smiling, he's always making the guys laugh. To be able to do that for him and everyone else who goes through that, it was really cool.
Right Wing Justin Kirkland
On the team's first-period success
I think, you know, it started with last game with us. I don't think anybody in the room was happy with how we played in Palm Springs there, so we were eager to have a push back. It was, like you said, one of the best periods of the year, honestly. We're playing faster, be unpredictable and we're hard to play against. You know, get out to a 3-0 lead unfortunately, you know, a little bit of penalty trouble. We got a point, but we got to find a way to close out those games.
On his two-goal performance
I mean, the first one was a rebound (that) came right out to my stick. That was nice. And then (the) second goal was a shot off the flank. Great job by you (Pavol) Regenda in front. You know, it's a lot of credit to him. That's not an easy job to do. So, yeah, it turned out well.
On the ability to score power-play goals
I think, you know, for our unit, it's simplifying. It's shooting the puck, not getting too cute with it. We were running into some trouble earlier with turnovers, you know, looking for too many seams, too many fancy plays. At the end of the day, it's simplifying. We got one more guy out there, so get pucks to the net and outnumber them.
On the team recognizing World Down Syndrome Day and Marley Sommer
It's special. Mo is the heartbeat to our team. You know, walking into the rink in the morning and seeing him at the rink every single day puts a smile on everybody's face. Like I said, he's the light of the team. He's so much fun to be around, to have around. You know, seeing him sing the anthem the other night was very heartwarming. And, you know, we're all proud. We're very, very lucky to have him around the rink. So, very special man. And like I said, we all really care about him dearly.
Head Coach Roy Sommer
On the loss to the Iowa Wild
Well, actually, we deserved a better fate. We didn't even know it, but the first goal, they had six guys on the ice. Like, literally six guys on the ice. Not a guy near the bench, but six guys involved on the first goal, so that should have been a penalty and the goal taken away. They missed that, and we get a shot, and it's a quick whistle, and it trickles through his pads. That's a pretty quick whistle. So, I mean, there's two goals right there, games ours. But, you know, we let them crawl back in. We took a bad cross-checking penalty to put us down. We just take a penalty they score then right away we take another one, which kind of hurt us. But you're right, second period wasn't good. But five-on-five I thought we played real well. You know, we didn't give them much. The good chances they had...they had a couple of great ones in overtime. Gage (Alexander) came up, you know, real big. And then, in that power play (late in regulation), they seamed us a couple times and he got across on some of the one-timers. But, other than that, I thought we played a pretty solid game. Way better than we played in Coachella, that's for sure.
On the team's improved five-on-five play
You know, penalty kills kind of slipped a little bit. You know, we've kind of been given up some goals where that used to be a strong point for us, and the power play is starting to produce. So, it's usually one or the other. I'd like to see them both on the same par but, yeah, five-on-five we seem to be getting it done. We're playing way better defensively. And we're creating a lot by our d(efense) coming down the wall and keeping more plays alive, thus giving us more offense and more zone time.
On Justin Kirkland's impact on the lineup
He's, you know, (a) positive guy for us. You know, welcome back. Everything he's been through, you know, a lot of guys probably would just be still sitting out, but he wanted to continue to play and finish the year out. And now he's starting to get his feet underneath him and you can see what he's capable of doing.
On the team recognizing World Down Syndrome Day and his son, Marley
Well, you know what, he's like my best buddy. You know, he goes on a lot of the road trips with us and a big part of the dressing room. People don't see the real 'Mo' and, you know, how much joy he brings to those players and how much joy the players give to him. So, it was good to see. He had a big weekend. Got to sing the anthem (on Saturday's Hockey Is For Everyone Night), drop the puck. So, he's on cloud nine.
• Discuss this story on the American Hockey League message board...


American Hockey League Stories from March 22, 2023
The opinions expressed in this release are those of the organization issuing it, and do not necessarily reflect the thoughts or opinions of OurSports Central or its staff.