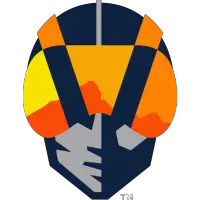 A Pro's Pro: Campbell Leads Way for Aviators
June 9, 2019 - Pacific Coast League (PCL) - Las Vegas Aviators News Release



If you were to poll the Aviators' players and coaches and ask them to pick a single adjective to describe Eric Campbell, you would probably receive more than a dozen different responses. Consistent, dependable, versatile. Heady, gritty, smart. A tremendous leader. An even better teammate.
Certainly, each of those descriptors aptly apply to Campbell. But if there's one word that truly defines the veteran infielder - the word that best captures his essence - it would simply be "ballplayer."
"More than any other player I've managed in recent history, he's the one I really like to talk the game with, talk strategy with and get into the mental side of the game," says Aviators manager Fran Riordan. "I really want his thoughts on things, because I know he sees the game at a very high level."
Call it, if you will, a high baseball IQ, something Campbell began developing at a young age while growing up in Norwich, Connecticut. A self-proclaimed "sports kid," Campbell gravitated toward baseball mostly because his father was a high school baseball coach. And while he never possessed an overabundance of the physical tools associated with most elite baseball players - immense power, blinding speed, slick glove, rocket arm, etc. - Campbell has always been more than good enough in every area to continue progressing up the baseball ladder.
He went from high school baseball star at Norwich Free Academy (where he set career records for hits, home runs, batting average, stolen bases, runs, walks and at-bats) to scholarship player at Boston College (where he raised his average from .260 as a freshman to .350 as a sophomore) to eighth-round draft choice of the New York Mets in 2008.
For the ensuing six years post-draft, Campbell steadily advanced through the Mets' minor league system by being, well, Eric Campbell - that is, solid, if not spectacular, all the way around.
By the 2013 season, Campbell found himself in Triple-A as a member of the Las Vegas 51s, where he would remain for parts of four seasons. The other parts? Those were spent in New York, where Campbell appeared in 196 games as a part-time player for the Mets during three separate big-league stints from 2014-16.
After spending 2017 in Japan and last season in New Orleans as part of the Miami Marlins' system, Campbell's career has taken something of a circuitous route back to Las Vegas, this time as a member of the Aviators after signing a free-agent contract with the Oakland A's in January.
"It's always kind of been an organization I've looked at," Campbell says of the A's, who are in their first season as the Aviators' parent club. "I thought the way I carry my at-bats - the type of player that I am - that I would fit in well with them, and luckily they had the same thought. They called me this offseason, and we worked it out."
Through the first two months of the Aviators' season, the 32-year-old Campbell has distinguished himself among his teammates and coaches with his usual solid-as-a-rock type of play. Offensively, he's hitting .271 in 43 games with eight home runs (including three in the past three games), 25 RBI, 32 runs scored, 27 walks and four stolen bases (in five attempts). In Friday's 8-2 victory over the San Antonio Missions at Las Vegas Ballpark, Campbell reached a career milestone with his 1,000 hit as a professional, a single in the second inning. Four innings later, he picked up hit No. 1,001, a solo homer that capped a six-run sixth inning.
Then in Saturday's 5-2 loss to the Missions (39-24), Campbell added to his hit total in his first two at-bats courtesy of a second-inning double and a fifth-inning solo homer - a majestic shot over the left-center field wall that gave Las Vegas (34-29) a 1-0 lead over San Antonio.
"I think everybody would like [their statistics] to be a little better," says Campbell, who has hit safely in all four games of the Aviators' current homestand, going 7-for-18 with three homers, five RBI and six runs. "I haven't really felt quite locked in yet, so every day I'm trying to get there. Ideally, I'd like every at-bat to be a quality one, and right now it seems you have a couple of good ones, then a couple of bad ones. So I'm just trying to clean that up as the season goes along."
In addition to swinging a solid bat, Campbell has shown he's still as versatile as ever, playing first, second and third base (and playing each position well). He also continues to be the consummate team player, having taken the mound not once, but twice this season in blowout defeats to spare his team's overtaxed bullpen.
As productive as Campbell has been on the field, his leadership and presence in and around the Aviators' clubhouse has been equally vital. With several young prospects still learning to play the game consistently at the Triple-A level, Campbell has been there to provide guidance, both through his words and his actions.
"You look at what he's been able to accomplish in his career and how he keeps himself in good physical shape and the way he plays the game, the energy and passion that he still has, it's infectious to the younger guys," Riordan says. "They see him and know his experience and his career path - that if this guy is playing this hard and doing the right things every day, then I need to do these things. It's a really big influence for our younger players."
To Campbell, adding the role of mentor to his résumé is just a natural outgrowth of having 12 seasons of professional baseball experience under his belt. "The guys who want to be helped, I'll help them all day," he says. "And the guys who kind of keep to themselves or think they're OK, I'll leave them alone. Really, whatever anybody wants, I'm here for."
Of course, he's also here for something else: Another opportunity in the major leagues, be it with the A's or elsewhere. Campbell realizes that at this stage of his career, and without a spot on Oakland's 40-man roster, he faces an uphill climb back to the bigs. But he's still willing to lace up his hiking boots every day and try to conquer the mountain.
"I'm just trying to get back to the big leagues," says Campbell, who hit .221 with seven home runs and 44 RBIs in 438 at-bats with the Mets. "A lot of it is playing well at the right time - I know that. I also know not being on a 40-man roster, you probably have to go above and beyond a little bit to get your opportunity. But really, every day I'm just coming to the park with the goal of getting back there."
Perhaps because of that goal, Campbell is somewhat reluctant to discuss in detail what he wants to do after his playing days are over ("I know 32 has become 'old' in baseball compared with 10 years ago," he says, "but I still feel like I've got a lot of years left to play"). That said, it should come as no surprise that this baseball lifer has expressed interest in one day being a coach or manager.
Should that be the post-playing-career path Campbell chooses, there's at least one person who believes he'll be a big success: his current skipper. "It's a no-brainer," Riordan says. "Eric Campbell would make a really, really good manager."
BEAU KNOWS THE BIGS: Early Saturday afternoon - barely 12 hours after extending his hitting streak to seven games with a key three-run homer in Friday's win over the Missions - Aviators catcher Beau Taylor's phone rang. On the other end of the line was Riordan with an important message: "Get over to Las Vegas Ballpark immediately and pack up your stuff - you're going to the big leagues."
Soon after, Taylor was on a flight to Dallas, where he joined the A's for the second game of their doubleheader against the Texas Rangers. Taylor was summoned after Nick Hundley, Oakland's backup catcher, suffered a back injury in the opener of the doubleheader.
This is Taylor's second stint in the major leagues, both with Oakland. Last year, he appeared in seven games in September and had one hit (a double) and a walk in six plate appearances. In 38 games in Las Vegas, the 29-year-old hit .297 with five homers, 20 RBIs, 28 runs and a team-high 33 walks.
To replace Taylor on the Aviators' roster, the A's promoted catcher Jonah Heim from Double-A Midland (Texas). In 45 games with Midland, Heim hit .285 with four homers and 31 RBI.
In other roster news, right-handed pitcher Seth Martinez will be joining the Aviators after being promoted from Single-A Stockton. Martinez, a 24-year-old who was drafted in 2016 out of Arizona State, made 19 relief appearances with Stockton, going 3-3 with a 3.34 ERA.
GAME NOTES: The Aviators broke a scoreless tie Saturday with a pair of fifth-inning runs, as shortstop Jorge Mateo followed Campbell's solo homer with one of his own. With his 10th home run of the year, Mateo extended his hitting streak to 15 games, matching a season-high. ... Besides Mateo and Campbell - both of whom went 2-for-4 with a home run and an RBI - outfielder Dustin Fowler also had a multi-hit game, going 2-for-4. ... Las Vegas' 2-0 lead held up until the eighth inning, when San Antonio scored three times on two hits, two walks and an error. The Missions added two insurance runs in the top of the ninth, courtesy of Keston Hiura's team-leading 13th homer of the season. ... Down a starting pitcher, Aviators reliever Kyle Lobstein took the mound to start Saturday's game and pitched three scoreless and hitless innings, yielding three walks while recording three strikeouts. Kyle Finnegan, who was added to the Las Vegas roster this week, followed Lobstein and gave up two hits and two walks in 1 2/3 scoreless innings. ... Saturday's crowd of 10,019 marked the 25th sellout of the season in 33 games at Las Vegas Ballpark.
ON DECK: The Aviators and Missions will continue their four-game series with a matinee contest Sunday at Las Vegas Ballpark. Las Vegas right-hander Parker Dunshee (1-3, 6.29) is scheduled to start on three days' rest, and he'll oppose fellow right-hander Bubba Derby (2-3, 4.70). First pitch is at 12:05 p.m.
Catch every Aviators game throughout the season on NBC Sports Radio 920-AM, and follow us on Twitter @AviatorsLV.
• Discuss this story on the Pacific Coast League message board...


Pacific Coast League Stories from June 9, 2019
The opinions expressed in this release are those of the organization issuing it, and do not necessarily reflect the thoughts or opinions of OurSports Central or its staff.