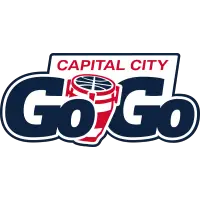 Swarm Beat Go-Go in First Game of Weekend Series
November 29, 2019 - NBA G League (G League) - Capital City Go-Go News Release



WASHINGTON, D.C. - The Capital City Go-Go (4-4), the NBA G League affiliate of the Washington Wizards, were defeated by the Greensboro Swarm (3-5), 108-94, in the first of two meetings in the Nation's Capital this weekend. The two teams will also meet on Sunday at 3:00 p.m. at the Entertainment and Sports Arena.
The game began with back-and-forth scoring runs, with Greensboro clinging to a 15-14 lead despite a 14-0 Go-Go run. A close first quarter closed with a Tyler Nelson three at the buzzer to give the Swarm a 29-26 lead. Greensboro was able to create some separation in the game with a late 12-2 run in the second quarter to give the Swarm a 64-52 halftime lead. Capital City was unable to overcome the 12-point halftime deficit, as Greensboro cruised in the second half for the win.
The Go-Go were led by Jalen Jones, who finished with a game-high 21 points and 11 rebounds for his fourth game with 20+ points this season and second double-double. Wizards' assignee Justin Robinson added 17 points on 7-of-11 shooting from the field and five rebounds for the Go-Go, who were held under 100 points for the first time this season.
Greensboro saw all five starters score in double figures, with Charlotte two-way player Kobi Simmons and assignee Jalen McDaniels leading the team with 17 points apiece. Both of the Martin twins were assigned together to the Swarm for the first time this season, Caleb finishing with 15 points and five rebounds and Cody with 11 points, eight rebounds and six assists. Greensboro capitalized of Capital City's 22 turnovers, converting them into 27 points.
GO-GO HEAD COACH RYAN RICHMAN
On tonight's game:
"Yeah, [it] just wasn't us -- performance wise. Transition defense hurt us. [We] gave up a lot of layups. [We] just have to kind of clean that up for Sunday. We'll look at it tomorrow [and] play them again on Sunday. That's the best part -- we get to play them again. We just have to get better and look at some of the things that we need to do better: defend the three-point line, we have to rebound, and we have to play transition defense."
On Justin Robinson:
"When he pushes the ball, he's really good. [When] he finds his seams and attacks the rim, he's really good. [He] gets paint touches and kick outs. I'm not worried about Justin. He's gonna come to work tomorrow and be vocal and do what he does."
On Jalen Jones:
"Jalen Jones is vocal and he's aggressive. Those are two usually good characteristics for a good night. He just needs to stay aggressive and stay within the confines of what we do: keep getting in the paint, keep making the extra plays. I thought he missed some easy ones down low and... Those runs and stringing together some runs, if we made a couple of those and then got some stops, it's a different game. But, that's part of the game [and] that's why we all love basketball because it's part of it. [We] just have to learn from it and move on."
On playing the same team Sunday:
"I think our guys will be excited for it. Obviously, as a coaching staff, it's kind of like a mini playoff series, so it'll be fun to make our adjustments. [The] biggest adjustments are we just have to play harder, play more aggressive, and do what we do defensively."
GO-GO GUARD JUSTIN ROBINSON
On his performance tonight:
"Offensive [I was] up and down. I had four turnovers. I think I should've had more assists, I had the right reads. We were getting wide-open shots, we just weren't making them. That's based on us, that's the good thing about it. There's nothing they did extremely well besides score in transition. Everything we can fix. I think overall I was effective in the field, percentage wise. I have to take better care of the ball."
On what they could've done better defensively:
"We gave up a lot of transition looks. We were a little bit lost, we gave up some easy baskets before the half. We scored, then they came down and scored. I think that was too easy. But we as a team know what we did wrong and I think that's a good thing about us as a group. We're very closely-knit and we'll talk about it. I think we'll be able to fix it on Sunday."
• Discuss this story on the NBA G League message board...


NBA G League Stories from November 29, 2019
The opinions expressed in this release are those of the organization issuing it, and do not necessarily reflect the thoughts or opinions of OurSports Central or its staff.