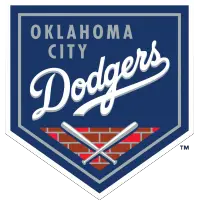 OKC Dodgers Game Notes - August 27, 2019
August 27, 2019 - Pacific Coast League (PCL) - Oklahoma City Dodgers News Release



Iowa Cubs (71-62) vs. Oklahoma City Dodgers (59-73)
Game #133 of 139/Home #63 of 69 (27-35)
Pitching Probables: IOW-RHP Matt Swarmer (9-10, 5.58) vs. OKC-RHP Logan Bawcom (1-3, 5.34)
Tuesday, August 27, 2019 | Chickasaw Bricktown Ballpark | Oklahoma City, Okla. | 7:05 p.m. CT
Radio: KGHM AM-1340 The Game, 1340thegame.com, iHeartRadio - Alex Freedman
Today's Game: The Oklahoma City Dodgers continue their final homestand of the regular season at 7:05 p.m. against the Iowa Cubs at Chickasaw Bricktown Ballpark. The Dodgers have lost a season-high seven straight games for the first time since a 10-game losing skid Aug. 3-13, 2012. They have also dropped 10 of their last 11 games, as well as 12 of their last 15 games.
Last Game: Iowa hit two three-run home runs on the way to a 7-2 win against the Dodgers Monday night in a game shortened due to inclement weather at Chickasaw Bricktown Ballpark. The game was called after the top of the sixth inning as strong storms moved through the OKC metro area. The Dodgers loaded the bases with one out in the second inning but could not score. Iowa took the lead in its next at-bat in the top of the third inning when pitcher Tyson Miller hit a three-run homer into the Dodgers' bullpen in left-center field. The Dodgers got on the scoreboard in the bottom of the third inning. Connor Joe and Edwin Ríos led off with back-to-back singles before a RBI single by Zach Reks scored Joe. A wild pitch with two outs allowed Ríos to score from third base and cut Iowa's lead to 3-2. But Iowa would tack on four more runs in the top of the fifth inning to break open the game, with all four runs unearned due to a critical missed catch error by Ríos at third base. Phillip Evans hit a RBI single, and with two outs, Robel Garcia hit a three-run homer for a 7-2 Iowa advantage. The game went into a delay before the bottom of the sixth began and was called after 1 hour, 15 minutes. Miller (3-4) picked up the win for Iowa, allowing two runs and seven hits over 5.0 innings with one walk and six strikeouts. Dodgers starting pitcher Mitch White (3-6) was charged with the loss, allowing three runs and three hits over 3.0 innings.
Today's Probable Pitcher: Logan Bawcom (1-3) is set to make his sixth start and seventh appearance of the season for the Dodgers tonight...Bawcom last pitched Aug. 21 against Nashville in OKC. He was charged with the loss in the Dodgers' 7-2 defeat, allowing four runs and seven hits over 6.0 innings with four walks and two strikeouts. It's the team's only start this month to last 6.0 innings and just one of two outings by any OKC Dodger this month of 6.0 innings...Across three Dodgers minor league affiliates this season, Bawcom has a 2-3 record with a 4.61 ERA. He's notched 50 strikeouts against 13 walks in 56.2 IP...Bawcom signed with the Dodgers in mid-April as a free agent to begin his fourth career stint in the organization...He made eight starts for OKC in 2018, going 2-4 with a 6.52 ERA over 38.2 innings with 21 walks and 31 strikeouts and spent most of the 2018 season with Double-A Tulsa, making 12 starts...Bawcom was originally drafted by the Dodgers in the 17th round in 2010 from UT-Arlington and has also played in the Mariners, Padres and A's organizations...Tonight is Bawcom's first meeting of the season against the I-Cubs.
Against the I-Cubs: 2019: 5-8 2018: 11-5 All-time: 156-158 At OKC: 82-73
The Dodgers and Cubs close out their season series with a four-game set at Chickasaw Bricktown Ballpark...Iowa currently leads the American Northern Division by 5.5 games and the team's magic number to clinch a division title is three...The teams last met July 15-18 in Des Moines, with the teams splitting the four-game set. In the Dodgers' two wins, they outscored Iowa, 31-9. Gavin Lux had a series for the ages, going 12-for-18 with two doubles, five home runs, three walks, 11 RBI and nine runs scored...The Cubs won the teams' previous series in Bricktown, 3-1, April 19-22 with the I-Cubs winning the first three games before the Dodgers won the series finale. Iowa outscored OKC, 34-16, during the series...Kyle Garlick leads the Dodgers with 14 hits against Iowa this season while Will Smith collected 13 RBI. Garlick and Lux have each homered five times...The teams are even in runs scored in the series, 73-73, and OKC has outhit Iowa, 115-101, so far this season.
Quiet Riot: The Dodgers were held to two runs in last night's weather-shortened game and have been held to a total of nine runs over the last five games combined. During that time, OKC is batting .221 (32x145) with two home runs and nine extra-base hits. In three of the five games, the team has collected one or zero extra-base hits. Over the last 22 innings, the Dodgers have scored three runs and are 15-for-76 (.197). They have scored in just one of the last 19 innings, going 13-for-66 (.197) with three extra-base hits...Going back to last Tuesday, the team is 3-for-the-last-37 and 4-for-the-last-44 with RISP...Iowa and OKC each tallied seven hits last night, snapping a stretch of 10 consecutive games in which the Dodgers were outhit by their opponent.
Zach Attack: Zach McKinstry went 1-for-2 with a double last night and has now hit safely in 17 of his first 20 games with OKC, going 29-for-67 (.433) with seven homers, 15 XBH, 25 RBI and 14 runs. He's tallied eight multi-hit games and seven multi-RBI games, including four games with three or more RBI...Going back to July 25 with Double-A Tulsa, McKinstry has hit safely in 23 of his last 27 games, batting .451 (41x91) with a .510 OBP, .758 SLG and 26 RBI...Since joining OKC Aug. 4, McKinstry ranks second in the PCL in AVG (.431) and OPS (1.302), third in SLG (.846), tied for fourth in extra-base hits (14) and sixth in OBP (.456) and hits (28). (*His stats from the first game on Aug. 20 - during which he went 1-for-2 with a three-run homer and walk - are officially recorded as occurring on May 10, thus the disparity in his total stats with OKC and his stats since Aug. 4.)
Kings of K's: OKC's pitching staff tallied 10 more strikeouts in just 6.0 innings last night for its 60th double-digit strikeout game of the season. The Dodgers pace the PCL with 1,228 strikeouts, and the Dodgers have notched 18 more strikeouts than second-place San Antonio despite throwing 36.1 fewer innings. The Dodgers are on pace for 1,293 K's this season, which would surpass the team record of 1,277 set in 2017...On the other hand, the Dodgers' offense has 1,194 strikeouts this season - tied for second-most in the PCL. The team single-season strikeout record is 1,208, set in 2016.
Simply De-Lux: Gavin Lux only had three plate appearances due to last night's truncated game and went 0-for-3, marking just the second time in 45 games with OKC and second time in his last 58 games overall he did not reach base...Since joining OKC, Lux is slashing .400/.486/.735/1.221. He has 74 hits, 22 multi-hit games, 34 XBH, 38 RBI and 51 runs. During that time, Lux's AVG, hits, OBP and OPS rank second among all players in the domestic Minors or Majors, while his runs are third, SLG is fifth, and his extra-base hits and total bases (136) are sixth...He was named PCL Player of the Month for July, becoming the first OKC player to receive a PCL monthly honor since MLBAM began tracking the awards in 2010...Between OKC and Tulsa, Lux is batting .349 and his 155 total hits are tied for fourth in the domestic Minors.
Mound Maladies: OKC's 7.30 ERA this month is the highest among all teams in the domestic Minors or Majors and OKC has allowed the fourth-most runs among all teams in the domestic Minors. Last night marked the seventh time in the last 10 games OKC allowed at least seven runs in a game and the 12th time in August. Opponents have tallied 10 or more runs in 10 of 23 games this month - and five times in the last 10 games...Opponents have totaled 175 runs and 237 hits, with 54 homers and 107 extra-base hits, batting .300...The 54 home runs allowed are the most among all teams in the Minors. The team has allowed at least one homer in a season-high 12 straight games (28 HR) and in 15 of the last 16 games (36 HR). Opponents have gone deep at least twice in six of the last seven games, as well as nine times during the current 12-game streak. Nine of the last 11 homers surrendered have been with a runner on base, and six of those have been with multiple runners on base.
Around the Horn: The Dodgers were held without a home run last night for the seventh time in 12 games and have hit a total of two homers over the last five games and four home runs in the last seven games. After slugging 62 homers over 27 games in July, the Dodgers have only hit 30 homers over 23 games in August...Connor Joe enters tonight ranked fourth the PCL with 67 walks and fifth with a .426 OBP...Zach Reks picked up the team's only RBI last night. He leads Dodgers minor leaguers with 28 total homers and 92 total RBI...The Dodgers need to win six of their final seven games to avoid tying the team's record for most losses in a season during its modern PCL era (75 in 2009 and 2011).
• Discuss this story on the Pacific Coast League message board...


Pacific Coast League Stories from August 27, 2019
The opinions expressed in this release are those of the organization issuing it, and do not necessarily reflect the thoughts or opinions of OurSports Central or its staff.