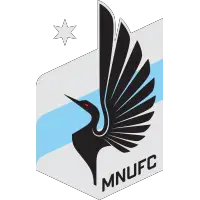 Loons Earn Point at Home against Galaxy
May 19, 2022 - Major League Soccer (MLS) - Minnesota United FC News Release



SAINT PAUL, Minn. -- There may have been some concern about Minnesota United still feeling a bit soggy from their rain-soaked loss to Seattle. It definitely helped that a sun-soaked Allianz Field was a beautiful battleground for the Loons to put an end to their three-game losing streak in MLS regular season play. But, if patience is a virtue, let's say the Loon faithful were extremely virtuous throughout a match that, once again, was not without its scoring opportunities.
The first half saw the Loons come out of the gates a bit out of sorts from a passing standpoint, but got more crisp as the half progressed. Which would come in handy with a Loons defense that was regularly holding near midfield. The strategy saw some success throughout the better part of the first half, and helped to create a number of quality looks at the Galaxy net. That said, it was a maddening number of attempts that came oh-so-ridiculously-close to finding the net. From Bongi to Boxy, Rey to DJ, Trapp to Lod...all great chances on goal, but all without any good luck to their favor.
Maybe it was the double rainbow that emerged from the skies as the squads headed in for the half that was a sign of the Loons luck beginning to change.
Unfortunately, it simply meant there would be double the anxiety and occasional heartburn for the Wonderwall and company. In fact, let's take this attempt from the 63rd minute of the 2nd half and consider it a microcosm of all the attempts on goal that just. Would. Not. Cooperate. Keeping things level at 0-0.
Then, in the 80th minute, a disastrous set of affairs took place, when after a defensive stand by Michael Boxtall, a video review was called. From the review, it determined that Boxy did indeed touch the ball with his hand, awarding a penalty kick and an unearned sense of accomplishment to LA, when Sacha Kjestan's kick went left when Dayne went right.
Despite the sun earlier in the evening, things were starting to look a bit bleak for MNUFC's chances of scoring any points from this one. Fortunately, Robin Lod wasn't hearing any of that noise, when he FINALLY got the solid boot from the middle of the box that would rocket past LA goalkeeper Jonathan Bond to bring the match even.
While nobody would fault the efforts of the Loons attack for their effort (as they did play their arses off), the offensive efforts of the squad aren't looking to rely on luck for the rest of the MLS regular season. They have the talent and the athleticism to turn opportunity into victory. Hopefully, this Sunday's game versus FC Dallas will have the squad making good on their drive to be more dangerous down the stretch.
ATTENDANCE: 19,645
MAN OF THE MATCH: Goalkeeper Dayne St. Clair
LINEUPS:
Minnesota United: GK Dayne St. Clair; D Kemar Lawrence, Bakaye Dibassy, Brent Kallman, DJ Taylor; M Kervin Arriaga, Wil Trapp (c), Franco Fragapane, Emanuel Reynoso, Robin Lod; F Bongokuhle Hlgonwane
LA Galaxy: GK Jonathan Bond; D Julian Araujo, Derrick Williams, Nick DePuy, Raheem Edwards; M Rayan Raveloson, Marky Delgado; F Kevin Cabral, Douglas Costa, Samuel Grandsir, Javier Hernandez (c)
UP NEXT:
MINNESOTA UNITED FC @ FC DALLAS
Toyota Stadium | Frisco, Texas
05.22.2022 | MLS Week No. 13 | MLS Game No. 13
6:00 pm CT (BSN, 1500 ESPN Radio)
MINNESOTA UNITED QUOTE SHEET
HEAD COACH ADRIAN HEATH
On whether it's one point earned or two dropped...
"Well, I think on clinical opportunities, a couple dropped. Really proud of the players for the way they kept going. To have the opportunities that we had before halftime and then to concede a goal the way we did was a kick in the teeth, but they kept going. Epitomized by D.J. [Taylor] getting all the way to the byline that late in the game, pulling the ball back and it was a great finish from Robin [Lod]."
On scoring late in the game after conceding goals in the 80th minute in the past four games...
"It means that we got something from the game. A game that it would've been a travesty if we hadn't gotten anything from the game. I don't think anybody didn't think that we probably weren't the best team this evening. Maybe you lot think differently because you generally do, but I actually thought there were a lot of positives this evening. You'll probably come up with some negatives, as we always do, but there are some positives there. Some big performances from people. If we keep playing like that, the same intensity, we'll win more games than we lose."
On the responsibility of the team that was discussed prior...
"We spoke about it the other day, about external pressure or internal pressure. I think one of the things, at times, in the MLS, players don't have the external pressure that you have everywhere else where you have to... you've got the fear of relegation, you've got the fear of 50-60,000 people getting all over you. So we have to create that internal pressure on each other to perform like we did tonight and I thought they did that. I thought there was a real togetherness in the group. They're devastated in there. They know they've done enough to have won a game and they deserve more than they've got. A point, for what they've done is not what they should get."
On his anger after the match and playing LA Galaxy...
"I am upset, yeah. Yeah, people forget that. Well, we've played a really good team. You made a good point. People don't look at who you play against. People don't look at what the teams that you play against spend. Whether it be on acquisition, whether it be on salary. Five MLS champions... five times. Let's give these guys some credit. They deserve it."
On the choice to start D.J. Taylor...
"We thought that we would get numbers up in wide areas and that's how it proved to be. We got in so many times down the right side in the first half and probably didn't get enough from it but the fact that we kept going... You know, they're dangerous. They leave three and four out at times, and then they have quality to go with. The fact that they don't defend as a block like a lot of teams do. If you turn it over, and don't make the most of your numerical advantage in certain areas, you are going to be in trouble when it turns over. A couple of times, they caught us on the break. As I said, the likes of [Douglas] Costa's won trophies in Italy, Juventus, Bayern Munich. Then you've got Chicharito [Javier Hernandez] and then [Victor] Vazquez comes on, incredibly talented player. [Samuel] Grandsir, [Kevin] Cabral... they've got a lot of forward pieces and I thought we handled it really really well. I knew that they were going to have opportunities because they're LA Galaxy."
On D.J. Taylor and his attacking mindset...
"Yeah, as I said before, we spoke about that we think that we can get two-v-one down the sides. If you can break the press and you break the pressure, then you go all the way. Don't be thinking about what's going on behind you. Everybody else has to do that and I thought he did it really really well. He was excellent."
On the perseverance showed by Robin Lod after his chances...
"He's very confident in his own ability. The one thing about him is a really strong mentality and belief in his own ability. It couldn't have fallen to anybody better at the edge of the box."
On Kervin Arriaga and Wil Trapp in the midfield...
"I thought that it was an incredibly difficult game for him the way they play. You know [Rayan] Raveloson plays deeper and then they bring the wide guys in and the attacking midfield player in there so numbers-wise, they make it difficult. [Julian] Araujo comes up really high on one side, so you can't leave your position too early. So I thought that the work rate that they put into tonight was immense and I'm really pleased with the pair of them."
On his opinion on the handball call, creating the penalty shot...
"I think it's a very difficult way of jumping up, I don't know what a handball is anymore. I've said that to you on numerous occasions. We've got all of these different interpretations, with hands in natural positions and I don't know."
On midweek matches...
"I thought the crowd was great again this evening. They got behind us and I honestly thought that when we equalize, we might go on and win it because the crowd got us going again. But no, under the lights, it's a really difficult place to play. A special atmosphere and our players obviously respond to it."
On Robin scoring 21 goals for the club...
"It's strange and playing wide left, he scores. Playing up through the middle he can score. Playing wide right, he scores. Today, he's played center midfield the last 10-15 minutes and he scored again. He's just a really good football player and that's what they can do... it's like their guy [Victor] Vasquez, you come on for that. The way playing on the field, he has an influence because he's very, very smart and Robin [Lod] is the same."
MIDFIELDER ROBIN LOD
On whether it's one point earned or two points dropped...
"I definitely feel it was two points dropped. We had so many chances in the first half to be, multiple goals, up in front and we didn't score. It definitely feels like we lost two points today."
On his feelings about being able to tie the match late...
"I don't know. I mean, one point is better than losing. Always the feeling is a little bit different especially coming back, but still playing at home and how we played today I feel like we should get three points."
On his achievement scoring 21 goals for Minnesota United...
"I guess I have played a lot of games then to be up there, to have the chance, it's great. It shows that I have done something right I guess. There's no more I have to say about that."
On his thoughts about the game...
"I feel like it was a good game for us if we just scored on the chances. We had so many chances and if we scored like three or four more goals everybody would [have] thought it was such a good and dominating game, but you can't say that after how horrible we were finishing today, especially me included."
On how many goals he think he could've had...
"At least, today a few more for sure."
On Jonathan Bonds save against him on a breakaway...
"I don't know. I just feel like I should do better there."
On DJ Taylor's performance and assist...
"It was amazing. Amazing effort. Amazing individual. Through there to come from the throw-in, I guess, if I remember correct, and making the push in the box and then making the right decision on the final pass. All the credit for him. It was amazing. Amazing setup."
On Jonathan Bond having a good night in goal...
"I have to give credit where it's due because he played amazing. Part of him doing a good job and part of us making him look really good. He did amazing, but I felt like we scored at least one at the end, which we did."
On feeling comfortable playing a false nine...
"I don't know if you should call me as a false nine. I feel like I'm playing just a striker in our setup. I don't know where that comes from, but I used to play when I was a kid, as a striker, so it's not like something totally new for me. My whole career I've been playing multiple positions. I'm just happy to be wherever the coaches want me to be and do the best I can at that position."
On any celebration plans when he breaks the goal record...
"I don't know. If it's a nice goal and we are leading I'm going to do it."
DEFENDER DJ TAYLOR
On his performance...
"It was mainly just about you know, being positive with everything that I do. The gaffer [Head Coach Adrian Heath] harmonized on me crossing all the time because he knows I have good quality of crossing and, sometimes I do play negative instead of positive. So my main focus was just to play positive and I knew you know, LA Galaxy's wingers weren't really kind of tracking back so that's why I was like if I get a chance just go ahead and go for it and create attacks."
On the goal scored and his assist...
"Yeah, so just a one-two play with Adrien Hunou. Quick throw in and a one-two to get around somebody. I saw the space, talking about being positive, I took a good first touch to take that space past Chase [Gasper], the defender. Then I just cut it back because we've been talking about it at halftime, cut back, because the LA Galaxy defenders dropped back really early so luckily, Robin Lod was there to tap it in with a great finish so it was a lot of good work for him too."
On the travesty if the team had dropped points instead...
"It definitely would have been a hit in the gut for sure. You know, we always defend very well and I think we deserved to be rewarded. Ever since I've been at the club, I don't think I've seen a game where we've missed so many chances but luckily we were still able to pull out a point playing a good opponent."
On the internal pressure of the club's position on the table...
"Yeah, I think it was big obviously, the unlucky handball with Boxy [Michael Boxall], it was tough mentally to realize it, but I think especially in the game of soccer, it's all about reaction. So, we can just sit there and wallow or we can react to it and that was my thinking. Once the referee blew the whistle, how can we still get a point out of this game and not lose three points and honestly I think it worked out because obviously gaf [Head Coach Adrian Heath] had us move all closer together and our training this week definitely felt better. Everybody's working to push each other. Honestly, we need more and I think we still showed that tonight that we're still resilient, we're gonna push the last three games and we're still going to keep pushing and fighting till the end."
On conceding goals in the eightieth minute and what can be done to change that trend defensively...
"One thing is just like focus, there's certain parts of the game, right before the first half, beginning of the second half, and then also the end of the game. Those are special moments where you gotta really focus, you gotta say, you can't get scored on in this moment, and it changes. I think previous games, the ones that we've lost, have just been our own mistakes. So it's kind of just eliminating our own mistakes and being better in that sense, kind of internally holding ourselves more accountable. I mean even today, it was kind of tough on Boxy [Michael Boxall], and Bongi [Bongokhule Hlongwane]. I better look back at it. But I wouldn't say that was our mistake, just kind of quick reaction play. The previous games are our own mistakes. So it's just, like I said, looking at ourselves in the mirror and pushing forward and saying, you know, as a backline, hey, let's lock in these last two minutes and make sure we finish this game whether it's a tie or a win."
On his performance despite all the opportunities the team missed...
"I'm excited for the away trip. I think we are just showing that we can do it, we can beat any team in this league, and that's our goal, is to be one of the top teams in this league. I mean, maybe a little tougher playing at LA, but you know, we're still gonna do our own thing whether we're home or away."
On preparations for the next fixture against FC Dallas...
"It's the same mentality we've had in this game, it's on us to win. It's not time to wait for other results or other people. We have to hold ourselves accountable. We're gonna go to Dallas and we're going to get these three points. It doesn't matter how ugly or how pretty it is."
• Discuss this story on the Major League Soccer message board...


Major League Soccer Stories from May 19, 2022
The opinions expressed in this release are those of the organization issuing it, and do not necessarily reflect the thoughts or opinions of OurSports Central or its staff.