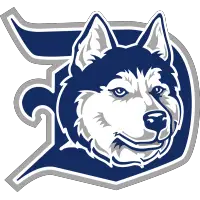 Huskies Lose 10-7 in Wild Friday Night Contest
July 5, 2019 - Northwoods League (Northwoods) - Duluth Huskies News Release



Duluth, Minn - The Duluth Huskies came into Friday's matchup with Eau Claire fresh off of two straight shutout wins against the Willmar Stingers to start the 2nd half with a 2-0 record. The last time the club got two straight shut outs was way back in 2009. Jared Milch took the mound for Duluth in his season debut and faced Alec Baker of the Express.
Nick Lopez scored the Express' first run of the game when he came home on a two-out RBI triple by Brock Burton in the top of the 2nd inning. That was the first run the Huskies have given up in 24 innings. Burton would then cross home on a Connor Laspina ground ball that went down as an error by Danny Zimmerman at 1st base.
Cole Cabrera would lead off the 3rd inning with a brilliant bunt that toed the line and bounced off the 3rd base bag for a single. The 2019 All-Star Matt Bottcher would be the one to bring him home with an RBI single into right field to make it 3-0. David LaManna would follow him up with a single of his own, but Vincent Martinez would hit into a 6-3 double play to keep it a three-run game.
Eau Claire continued to put guys in scoring position in the top of the 5th after back to back singles from Cabrera and Spencer Myers put men of the corners with one out for Matt Bottcher. Myers also advanced to 2nd on an error. Bottcher once again proved his worth with his 2nd RBI single to right field that brought home Cabrera. Spencer Myers would be the 5th run for the Express when he scored on a high bouncing ground out from David LaManna. Bottcher would be stranded at 3rd after a Vincent Martinez pop out, leaving Eau Claire with a 5-0 lead.
Alec Baker would take a perfect game bid into the bottom of the 5th until Danny Zimmerman broke it with a one-out walk. Baker would still hold a no-hitter as the 6th inning began.
Owen Meaney would enter the game in the top of the 6th, relieving Jared Milch. Milch gave up 5 runs (3 earned) on 9 hits, walked one, and struck out 3 over 5 IP in his Huskies debut. A two-out RBI double from Connor Laspina scored Brock Burton from 1st, giving Eau Claire a 6-run lead and double-digit hits on the night with 10.
Xavier Bussey finally logged the Huskies' first hit of the ballgame with a leadoff double down the left field line in the bottom of the 6th. But Baker would get three straight outs to strand him and keep the 6-0 lead intact.
The Express did not let up as they got their first two hitters on base to begin the 7th, giving Matt Bottcher a 3rd chance at hitting with a man in scoring position. However this time he would fly out to Matt Hogan in center field who fired it to 2nd base to get Spencer Myers out for an 8-4 double play.
Nic Kent and Max Guzman started off the bottom half the of the 7th with back to back singles and both advanced into scoring position on a passed ball. Alex Tappen would walk to load the bases for Danny Zimmerman who would also walk to bring home Kent, giving the Huskies their 1st run of the night. Baker would not completely come set while facing the next batter Tyler Lozano, which allowed Guzman to come home on the balk and make it a 4-run ballgame. Lozano would groundout to the second baseman Bottcher but bring home Tappen on the play, making the score 6-3.
Ethan Swanson would take over for Baker who gave up 3 runs on 3 hits, walked 3, and struck out 3 over 6.1 innings. Swanson entered with one out and a runner on 3rd. Xavier Bussey would get his 2nd hit of the night with a single through the 4-3 hole to score Zimmerman. Justin Moore would get the 3rd walk issued by Eau Claire, and on the next pitch, both Bussey and Moore advanced into scoring position on a passed ball. Swanson would then issue back to back walks to Matt Hogan and Wade Meckler, forcing home Bussey which made it a one-run game still just one out in the inning. Swanson was yanked from the game as Brannon Jordan came in for his 7th appearance. Back to back passed balls were allowed by Express Catcher David LaManna which gave Duluth the lead at 7-6. The inning would finally end after Alex Tappen flew out to center field to end the inning.
Alex Rao took the mound in the 8th inning and gave up no runs to keep the one-run lead intact. Owen Meaney allowed one run, walked none, and struck out 3 in 2 innings of work.
After the Huskies were set down in order in their half of the 8th, Rao returned to the mound to face the top of Eau Claire's batting order to try and earn the save. The Express' first three hitters combined to go 7/12 with 3 runs and 2 RBI's as the 9th inning began. Cole Cabrera and Spencer Myers would both get on base to start the inning, giving Bottcher his 4th at-bat of the game with a runner in scoring position. Rao would be pulled from the game as Keaton Carattini would attempt to close the door. Bottcher would smartly bunt into a gap between Carattini and 3rd baseman Justin Moore to load the bases. David LaManna found some space up the middle for a 2 RBI single to reclaim a one-run lead. But it wouldn't end there as Vincent Martinez followed up LaManna with a single up the middle to stretch their lead to 2. After a 4th consecutive single loaded the bases, Nick Lopez grounded into a fielder's choice that scored LaManna to make the score 10-7.
Jordan would set down the Huskies side in the 9th to earn the two-inning save and a comeback win for Eau Claire.
The Huskies will play game two against the Express tomorrow night. First pitch is set for 6:35 pm with live game coverage on 92.1 The Fan and twinportssportshub.com beginning at 6:25 pm. All Duluth Huskies and Northwoods League games are live streamed online at portal.stretchlive.com/nwl to watch.
Be sure to follow the Duluth Huskies on Facebook, Twitter, Instagram and Snapchat all season long. Check out duluthhuskies.com for tickets to upcoming games. For more in-depth news on the Huskies, be sure to follow @XtraInningsWithRyne and @JoeChatzHuskies on Facebook.
• Discuss this story on the Northwoods League message board...


Northwoods League Stories from July 5, 2019
The opinions expressed in this release are those of the organization issuing it, and do not necessarily reflect the thoughts or opinions of OurSports Central or its staff.