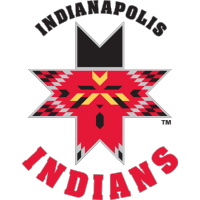 Game Information: Indianapolis Indians (33-29) vs. Toledo Mud Hens (39-24)
June 13, 2018 - International League (IL) - Indianapolis Indians News Release



The Indians ended a brief two-game skid with a 5-2 win over the Mud Hens last night. The victory pulled the Tribe with a half-game of both Buffalo and Norfolk for the wild card lead.
Location: Victory Field
First Pitch: 1:35 p.m. ET
Game #63 / Home #32: Indianapolis Indians (33-29) vs. Toledo Mud Hens (39-24)
Probables: RHP Clay Holmes (4-3, 4.00) vs. LHP Tyler Alexander (1-1, 6.75)
Radio: FoxSports975.com / iHeart app
TV: MiLB TV / Comcast 90
From the Notes
ABOUT LAST NIGHT: The Tribe scored five runs in the third inning en route to a 5-2 victory over Toledo last night, leveling the four-game series at one game apiece. Adam Frazier put Indy on the board first with a double off the right-field chalk line to score Kevin Newman -- who walked -- from first base. Following a Jung Ho Kang lineout to right for the second out, Jose Osuna doubled home Frazier to make it 2-0. Jordan Luplow then smacked an RBI single into right and later scored on a Kevin Kramer double off the right-center field wall. Christopher Bostick capped the outburst with a run-scoring single to center, marking the seventh time in 2018 where the Tribe have sent 10 or more batters to the plate. J.T. Brubaker surrendered both of his runs in the sixth inning, but Jesus Liranzo, Josh Smoker and Bo Schultz slammed the door with 3.2 shutout innings combined.
JUST GIVE IT A LITTLE TAPPY: The Indians scored four of their runs in the third with two outs last night, moving their two-out team RBI count to 98 on the season. Christopher Bostick contributed a two-out RBI single to add to his team lead in that category with 15. He led the club in that same category last year with 25. Kevin Kramer (12) and Jose Osuna (10) also got in on the act, and Jordan Luplow's RBI single to right gave him seven two-out RBI this season.
DOIN' THE BULL DANCE, FEELIN' THE FLOW, WORKIN' IT: Christopher Bostick is riding a season-high eight-game hitting streak entering play today. The Tribe outfielder is batting .375 (12-for-32) with two home runs, two doubles, five RBI and five runs scored during the stretch. He has hit safely in 44 of his 53 starts this season and is currently the league's batting leader with a .321 average (67-for-209) and team-high 19 doubles.
THAT'S TWO THUS FAR SHOOTER: The Indians' win last night marked their second over Toledo at Victory Field this season. The Tribe are now a remarkable 124-82 (.602) against Toledo in Indianapolis dating back to the 1988 season. Indy's other 2018 home win over the Hens was on April 10 when Nick Kingham bested Ryan Carpenter with a 4-1 victory. Over the last five years, the Indians have alternated having more or less wins against Toledo at The Vic. In 2013 Indy went 8-3 vs. Toledo at The Vic but followed that with a 5-6 showing in 2014. The Tribe bounced back to go 6-5 in 2015, only to lose seven of 12 home games to the Hens in 2016. Last year Indy finished 9-4 at home against Toledo, its most home wins in a single season vs. the Hens in the last three decades.
SOMEBODY'S CLOSER: Last night's victory pulled the Tribe back within 5.5 games of Toledo for first place in the IL West Division and just a half-game back of both Buffalo and Norfolk in the wild card race. Indy has split its eight matchups with the Hens this year and also split a pair of games in Buffalo back in April. The Indians do currently hold the head-to-head tiebreaker over Norfolk after taking two of three at Harbor Park last month. The Indians have been at least 4.5 games back of the Hens in the IL West since May 9.
CAN MAKE THINGS OUT OF CLAY: Clay Holmes, today's starter for the Tribe, has pitched great each of his last two times out. The 25-year-old right-hander fired seven shutout innings with no walks and eight strikeouts on June 2 against Scranton/W-B at The Vic, and he followed that with six innings of one-run ball at Pawtucket in an 8-1 win last Friday night. Over his last two starts, he has two wins, a 0.69 ERA (1 ER/13.0 IP) and a 1.08 WHIP with 15 strikeouts.
HARNESS GOOD, BLOCK BAD: Indy has played 11 games this season against teams currently leading their respective division. So far, the Indians own a 5-6 record against them, 4-4 against Toledo and 1-2 against Durham. Their run differential in bouts with division-leading squads is -11 (59 runs scored, 70 runs against). Indy has yet to square off against Lehigh Valley, who leads the IL North division, and won't see the IronPigs until August 7. Including the current Toledo series, the Tribe are scheduled for 26 more games against teams currently atop the three IL divisions.
I BEG TO DIFFER: The Indians clubbed three home runs in Friday night's win and two more Saturday night, giving them five in the Pawtucket series and 11 in a four-game stretch. The Tribe have hit 29 home runs in 31 road games. By comparison, they've hit just 11 long balls in 31 home games this season. Since 2005, the Indians have hit more home runs on the road than at home in nine of 13 seasons.
WHAT WOULD I KNOW? I'M JUST A DOCTOR: First baseman/outfielder Jerrick Suiter was placed on the 7-day DL (retro to June 11) with a left ankle sprain yesterday. Taking his place on the roster is starting pitcher Nick Kingham, who was optioned by Pittsburgh on June 10 following a six-inning, two-run outing on Saturday against the Cubs at Wrigley Field. Kingham won each of his first two big-league starts but suffered the loss in three of his last four with Pittsburgh. With Indy this season, he's 2-1 with a 2.12 ERA (7 ER/29.2 IP) and will start the series finale on Thursday against the Mud Hens.
THE GOLD JACKET'S YOURS: Johnny Hellweg and Tanner Anderson have been simply magnificent out of the Tribe bullpen this season. Since April 7, the right-handed throwing duo is a combined 2-0 with 10 holds, nine saves, a 0.49 ERA (3 ER/54.2 IP) and 1.00 WHIP. They have allowed just 42 hits and 14 walks since that date, fanning 46 along the way.
MUST BE BURT REYNOLDS OR SOMETHIN': The terrific trio of Tanner Anderson (1-1, 2.03 ERA, 7 ER/31.0 IP), Johnny Hellweg (1-0, 9 saves, 0.37 ERA, 1 ER/24.1 IP) and Bo Schultz (0-1, 1.45 ERA, 3 ER/18.2 IP) have combined for a 3-4 record, 12 saves and a 1.34 ERA (11 ER/74.0 IP) this season. Casey Sadler (2 ER/15.2 IP) and Josh Smoker (0 ER/10.2 IP) have also combined for a 0.68 ERA (2 ER/26.1 IP) over their last 15 appearances. On the season, Indy's entire relief corps has posted a collective 2.79 ERA (72 ER/232.0 IP).
• Discuss this story on the International League message board...


International League Stories from June 13, 2018
The opinions expressed in this release are those of the organization issuing it, and do not necessarily reflect the thoughts or opinions of OurSports Central or its staff.
Other Recent Indianapolis Indians Stories