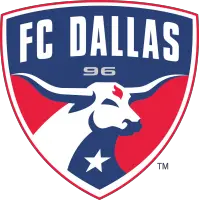 FC Dallas Falls to Los Angeles FC 2-0
May 17, 2019 - Major League Soccer (MLS) - FC Dallas News Release



Los Angeles, CA - FC Dallas falls to Los Angeles FC 2-0 at Banc of California Stadium courtesy of goals from Carlos Vela and Diego Rossi.
Game Summary
First Half:
10' - Carlos Vela hit the crossbar with an fantastic curling effort from a freekick outside FC Dallas' box.
20' - Latif Blessing received the ball at the top of Dallas' box and drove past Jacori Hayes to the end-line but Reggie Cannon was able to block the ensuing cross.
35' - Carlos Vela slipped a pass in for Latif Blessing who dribbled towards Jesse Gonzalez's goal but his shot was high over the bar.
39' - Eduard Atuesta connected with Vela inside the box and he curled a signature left-footed shot passed Jesse Gonzalez into the side netting to open the scoring.
43' - Carlos Vela nearly got his second goal of the night with a long-range effort but it landed just over the crossbar.
Second Half:
60' - Jacori Hayes attempted a shot from outside LAFC's box but it was blocked by Eddie Segura.
62' - Diego Rossi dribbled dangerously in FC Dallas' box and slipped past Reggie Cannon but Matt Hedges was able to intercept and clear.
67' - Latif Blessing dispossessed John Nelson and found Adama Diomande in the box but his volley went wide of the mark.
71' - Diego Rossi nearly doubled Los Angeles' lead after getting in behind Dallas' backline but he narrowly missed with a shot towards the far post.
74' - Jesus Ferreira set up Pablo Aranguiz after a quick counterattack but the Chilean's shot was high and wide.
77' - Pablo Aranguiz nearly levelled the game with a vicious volley from the edge of LA's box after a slick one-touch setup from Reto Ziegler but it was just wide of Tyler Miller's near-post.
83' -Diego Rossi doubled LA's lead with an easy tap-in after Adama Diomande evaded an on-rushing Jesse Gonzalez with a clever square pass.
89' - Carlos Vela nearly scored LAFC's third with a one-on-one opportunity against Jesse Gonzalez but his chip bounced narrowly wide.
Lineups:
FC Dallas - Jesse Gonzalez; Reto Ziegler, Matt Hedges, Matheus Bressan; Reggie Cannon, Jacori Hayes, Bryan Acosta, John Nelson (Ema Twumasi - 76'); Jesús Ferreira, Michael Barrios (Pablo Aránguiz - 49'); Zden?k Ondrášek (Ryan Hollingshead - 63').
Substitutes not used - Jimmy Maurer, Bryan Reynolds, Callum Montgomery, Thomas Roberts.
Los Angeles FC - Tyler Miller; Steven Beitashour, Walker Zimmerman, Eddie Segura, Jordan Harvey; Mark-Anthony Kaye, Eduard Atuesta (André Horta - 78'), Latif Blessing; Carlos Vela, Christian Ramirez (Adama Diomande - 60'), Diego Rossi (Lee Nguyen - 88').
Substitutes not used - Danilo Silva, Mohamed El Monir, Joshua Pérez, Pablo Sisniega.
Scoring Summary:
LAFC: Carlos Vela (Eduard Atuesta) - 39'
LAFC: Diego Rossi (Adama Diomande) - 83'
Misconduct Summary:
FCD: Bryan Acosta (caution) - 64'
LAFC: Walker Zimmerman (caution) - 68'
Weather: Sunny, 63
Attendance: 22,001 (sellout)
Referee: Allen Chapman
Assistant Referees: Jeremy Hanson, Mike Kampmeinert
4th Official: Alex Chilowicz
VAR Official: Guido Gonzalez Jr.
FC Dallas head coach Luchi Gonzalez
General thoughts on tonight's match...
I love this team. I love this group. I love the players that didn't come and have this experience. We're thinking of them. I love the players that left on the U-20 camp, we're missing three players. I thought we fought today. I thought we fought. It hurts to lose. I don't look at is as a streak because when we also won a few games, it's not a streak, it's one game at a time. We're taking it one game at a time. We're focused on the next game. Can we build in the next game from what we did tonight? Can we not just create moments around the box but have some concrete finishes and be a little more lethal in their box and dangerous? Defensively, a lot of sacrifice of the eleven players on the field today, to get pressure on the ball and some positive, high-pressure moments. We shared the same amount of passes as them and that shows that we're trying to play and have the ball. That's a heck of a team, LAFC. Bob [Bradley]'s training, and with that staff, you can see they're training well and they're playing well. They have great talent. It was an honor to coach against Bob and that staff. They're gonna move on and push for the next opportunity on Sunday.
On what he saw from Zden?k Ondrášek...
Cobra [Zden?k Ondrášek] had a start end of the game last game and had a positive week and he earned the opportunity [to start this week]. He worked really hard and he sacrificed being in a defensive position. When we wanted, we wanted him to be in a reference around the box in between the center backs and give us some hold of play, which he did, and he worked hard. He left it all on the field. We got some fresh legs in there to finish the job, but have to be really happy with his mentality.
On lineup and formation change...
I wanted to clog up the central spaces in our last line and have one of the three center backs always ready to break their line, put pressure on the midfield. We wanted to also have some ability to absorb and then break and counter into open spaces. And I felt we had the potential to do that well the first half. But as the game went on, and the pieces that we had coming into the game, we felt it was best to end the game in a 4-3-3 and get a little more pressure up the field. It almost resulted in us getting the tie. We had three opportunities in 3-v-2 or 4-v-3 in the transition, that we didn't end up scoring, but that was the idea. To create those unbalances and to expose them. But again credit to them. They're a fantastic team. They could've put away maybe a few more and that's the reality of this game because they created a lot, and they have some special players and they're great together. Looking forward to the next one. I know we're back at home and that's gonna be a great opportunity for us to respond.
Advantages of playing them three days later...
[There's] advantages and disadvantages to both. It's just the circumstance and it's great. It's fantastic. We get to see them again. We just lost. So we have an opportunity to play them. It's almost like the second half is on Sunday. We're going to rest, focus, move forward and get together and fight in the next one.
FC Dallas midfielder Bryan Acosta
On the rhythm of the team so far...
We have been able to adapt little-by-little to the rhythm of the league, the games, and to the rhythm of what the club wants. Unfortunately the results have not been what we have wanted but we still have the mindset, my teammates and the coaches, that if we can't get this match now, we have the rematch this weekend.
On his performance levels this season...
Maybe from the level that I want and from what people want out there, I feel that I can give more than what I am giving. This match was an opportunity, but it's already happened, so now there's the match on Sunday. I'm going to show every weekend and every game the Bryan that people want to see and the Bryan that I want to see. We are almost there, but we're going match-by-match and step-by-step.
FC Dallas forward Zden?k Ondrášek
On getting his first start for FC Dallas...
I'm happy that I started but I'm not happy with the result. I didn't shoot at the goal, I didn't finish, we didn't create any chances so I'm not happy with that. But next game is in three days against the same team, so we have to be ready and do much better in the offensive part.
On what the team needs to improve on for Sunday...
We need to do what we did in the second half and it can be better. The defense was pretty good today, offensively we still need more work there and we have three days to prepare for it.
• Discuss this story on the Major League Soccer message board...


Major League Soccer Stories from May 17, 2019
The opinions expressed in this release are those of the organization issuing it, and do not necessarily reflect the thoughts or opinions of OurSports Central or its staff.