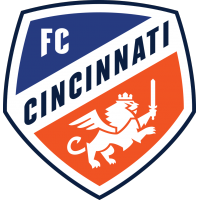 FC Cincinnati Academy Roundup: October 17
December 3, 2021 - Major League Soccer (MLS) - FC Cincinnati News Release



The FC Cincinnati Academy took a trip to Chicago this past weekend, and through weather delays and rescheduled matches, came away with five wins and a draw from six matches.
Here's a look at how each academy age group fared:
U13 | Sunday: FC Cincinnati Academy 3, FC United 1
Austin Fry's goal just 10 minutes into the match saw FCC take the lead, but FC United equalized from the penalty spot in the second half. Jonah Cogan secured the victory for the U13s with his first two goals for the Academy.
U14 | Sunday: FC Cincinnati Academy 2, FC United 1
After going down 1-0, Zeek Bautista netted a brace to bring home a win.
U15 | Sunday: FC Cincinnati Academy 4, FC United 0
Sam Weeter and Shaun Dickerson got things started for the Young Garys, then Reece Cousino added a pair of goals to go along with his earlier assist.
Jack Madsen and Cooper Wiseman each kept a clean sheet for a half in a combined shutout.
U16 | Sunday: FC Cincinnati Academy 3, FC United 3
It was an absolute goal fest for the U16s, as FC United scored 30 seconds into the match and then in the 7' added another, this time from the penalty spot. Marcel Ruszel got FCC on the board, and it went into halftime 2-1.
FC United went up 3-1 in the second frame, but FC Cincinnati peppered the hosts with chances until Daniel Martin finally broke through for a pair of goals to earn a 3-3 draw.
U17 | Sunday: FC Cincinnati Academy 4, FC United 0
A victory was certainly coming for the U17s, and thanks to goals from Ryder Mills (PK), Seballion Roy, Jío Gabriel and an own goal, FC Cincy came home with a 4-0 victory. Austin Wells kept the full 90-minutes clean in net.
U19 | Sunday: FC Cincinnati Academy 3, FC United 0
Dado Valenzuela (PK), Ben Goulding and Arnel Miscic scored to give the U19s a victory, while Paul Walters' 70 minutes were complemented by Jack Moxom finishing it out to keep a clean sheet.
UP NEXT:
The Young Garys are back in action and back at home, with ten matches across the weekend at Mercy Health Training Center. The U13 and U14 squads will play Kings Hammer on Saturday, while the U15 and U17 squads will match up with Chicago Fire SC. Sunday sees all six academy squads take on Midwest United.
The match times are as follows:
Saturday Oct 23
U13 v Kings Hammer - 1 p.m.
U14 v Kings Hammer - 3 p.m.
U15 v Chicago Fire - 1 p.m.
U17 v Chicago Fire - 3 p.m.
Sunday Oct 24
U13 v Midwest United - 1 p.m.
U14 v Midwest United - 3 p.m.
U15 v Midwest United - 1 p.m.
U16 v Midwest United - 5 p.m.
U17 v Midwest United - 3 p.m.
U19 v Midwest United - 5 p.m.
MLS NEXT, introduced in 2020, provides the best player development experience in North America. Founded on a collaborative approach to governance and a commitment to innovation, MLS NEXT players have access to the highest levels of competition and to training and personal development opportunities that will prepare them for their futures, both in soccer and in life.
For the latest information on the FC Cincinnati Academy, follow the program on Twitter @FCCincyAcademy and visit the academy's website at fccincinnati.com/academy.
For up-to-the-minute information about FC Cincinnati, visit the team's official website at fccincinnati.com, or follow the team on Twitter, Instagram and Facebook at @FCCincinnati. Additionally, fans are encouraged to download the team's official mobile app on the Apple App Store or Google Play for instant access to mobile tickets, team content and match notifications.
• Discuss this story on the Major League Soccer message board...


Major League Soccer Stories from December 3, 2021
The opinions expressed in this release are those of the organization issuing it, and do not necessarily reflect the thoughts or opinions of OurSports Central or its staff.