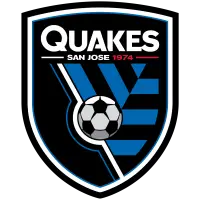 Earthquakes Drop Opener to Houston Dynamo FC, 2-1
April 16, 2021 - Major League Soccer (MLS) - San Jose Earthquakes News Release



HOUSTON, Texas - The San Jose Earthquakes fell to Houston Dynamo FC 2-1 on Friday evening at BBVA Stadium. Defender Paul Marie scored San Jose's lone goal, the second of his MLS career, while Chofis and Luciano Abecasis each made their MLS debut.
The Quakes were forced to make an early substitution when Tommy Thompson suffered a shoulder injury within the first five minutes of the match.
Houston took a 1-0 lead into halftime after a 39th-minute goal by Memo Rodriguez. Dynamo FC then doubled their lead in the 56th minute through Maxi Urruti.
The Quakes halved the deficit in the 74th minute when Marie fired a curling shot from distance just inside the far post. The Goal of the Week candidate ignited a comeback effort but San Jose could not find the equalizer.
The Earthquakes will now return to San Jose to prepare for their home opener on Saturday, April 24 against FC Dallas, presented by PayPal. Kickoff from PayPal Park is set for 12:30 p.m. PT and the match will be broadcast nationally on Univision, KNBR 1050 and 1370 KZSF.
GAME NOTES
The Earthquakes hold a 0-1-0 record during the 2021 MLS regular season.
The Quakes now hold a 9-14-3 all-time record against Houston Dynamo FC.
Defender Luciano Abecasis made his MLS debut, coming in as a substitute and playing 82 minutes.
Midfielder Chofis made his MLS debut, starting and playing 60 minutes.
Defender Paul Marie scored his first goal of the season and second of his MLS career.
Midfielder Shea Salinas tallied his first assist of the season and 52nd of his MLS career. It also marked his 49th assist for San Jose, extending his own record.
MLS Regular Season
Houston Dynamo FC 2 - 1 San Jose Earthquakes
April 16, 2021 - BBVA Stadium in Houston, Texas
Scoring Summary: HOU - Memo Martinez (Joe Corona) 52; HOU - Maxi Urruti (Tyler Pasher) 56; SJ - Paul Marie (Shea Salinas) 74.
Misconduct Summary: HOU - Fafa Picault (caution) 39, HOU - Matias Vera (caution) 41; SJ - Eduardo Lopez (caution) 51; SJ - Eric Remedi (caution) 52; SJ - Andy Rios (caution) 87; HOU - Derrick Jones (caution) 90+4.
SAN JOSE EARTHQUAKES: JT Marcinkowski; Marcos Lopez (Shea Salinas 60), Oswaldo Alanis, Florian Jungwirth, Tommy Thompson (Luciano Abecasis 8); Carlos Fierro (Chris Wondolowski 61), Eric Remedi, Jackson Yueill, Cristian Espinoza, Chofis (Andy Rios 60); Cade Cowell (Paul Marie 66).
Substitutes not used: Tanner Beason, Eric Calvillo, Said Haji, Daniel Vega.
SHOTS: 8, SHOTS ON GOAL: 4; FOULS: 15; CORNER KICKS: 2.
HOUSTON DYNAMO FC: Marko Maric; Adam Lundkvist, Zarek Valentin, Tim Parker; Memo Rodriguez (Derrick Jones 87), Joe Corona (Darwin Ceren), Matias Vera, Oscar Boniek; Fafa Picault (Ariel Lassiter), Tyler Pasher, Maxi Urruti (Christian Ramirez 87).
Substitutes not used: Mateo Bajamich, Alejandro Fuenmayor, Ian Hoffman, Michael Nelson, Darwin Quintero.
SHOTS: 17; SHOTS ON GOAL: 6; FOULS: 14; CORNER KICKS: 5.
SAN JOSE EARTHQUAKES HEAD COACH MATIAS ALMEYDA
On assessing the team's chemistry and performance:
"Making a quick analysis, Houston played better than us in the first half. In the second half, we began to demonstrate what we had practiced. I have said in the past that mistakes are costly in soccer, and I will always say this. The beginnings are always hard for us for many reasons. Firstly, we have not played in five months. This applies to both teams. Because we're in a pandemic, we weren't able to play many friendlies. We have to build our rhythm for the season, that is the reality. We hope to get there fast. In the first half, we saw a team that was out of rhythm, but we improved in the second half."
On how to improve possession and create more opportunities to score:
"When I make deeper analysis of the team and this match, I will find the reasons. We had a plan set for this match, because we showed what we had observed. Before the match, we showed what we saw in the opponent. We had five attacking plays we practiced in training. Because it was the first game, the players might have been tense and they weren't able to make plays knowing the opponent would pressure in this manner. In the second half, we saw a different team. It's going to take us time and hopefully it won't take long as we've seen in previous years."
On his message to the players at halftime and positive takeaways from the match:
"We talked at halftime about not doing what we had planned. They looked tense aside from the opponent playing well. We lacked mobility and we needed to take risks. In the second half, our mistakes resulted in their first and second goal of the match. Afterwards, there weren't many clear chances. In fact, they created better chances in the first half. It became more about possession and winning the second ball, but we were missing some steps. Our goalkeeper participated very little in the first half, but they were playing well. In the second half, we began looking for solutions for our passing, our dynamics and mobility. We brought the result to 2-1 and I appreciate the team's attitude in looking to equalize without becoming desperate."
SAN JOSE EARTHQUAKES DEFENDER PAUL MARIE
On the goal:
"Good evening, everyone. It was a great goal, and I was very happy to score and kind of give that push, getting subbed in and bringing some new energy. I wish we could have done a little bit more but that's the game."
On staying ready as a substitute and his chemistry with Shea Salinas on the left wing:
"Yeah, we're always ready. I think me and Shea have been working together for three years, so that helps a lot. We know each other. When you're on the bench, you have to be positive, be ready for what's coming. So, every time I get subbed on, I'll just give it my all."
SAN JOSE EARTHQUAKES MIDFIELDER JACKSON YUEILL
On his thoughts of the team's performance:
"Yeah, we'll take away the impression and the energy that the subs gave us. I think the second half was much better than the first. The energy was better and we created more chances. At the end, we were close to tying it. We wanted to start the season off with a win and start off with a lot of energy and credit to Houston for playing well in the first half. They outplayed us a bit and it took us a little bit to get into the game. It's a long season and I think there's still a lot to improve for the team. I think we're right there, just a few things to tweak to get better for next week."
On not being able to play MLS teams in preseason like Houston did:
"I think the first MLS games are always difficult because a lot of guys have been off for five months and haven't really played in high-level games during that time. It's definitely a difficult moment to come out. Credit to Houston. They looked really good and they were flying. As you said, they were very fit the whole game. The pandemic is still going on and I think it will affect everyone. Only being able to play two preseason games - we wish we could have played more - but that's the reality of it. I think we still could have given a little bit more in the game. As the games go on and on, I think you'll see that connection get better between everyone. I think there's a lot to learn from this game against Houston and we're looking forward to building on it and getting better as the season comes."
• Discuss this story on the Major League Soccer message board...


Major League Soccer Stories from April 16, 2021
The opinions expressed in this release are those of the organization issuing it, and do not necessarily reflect the thoughts or opinions of OurSports Central or its staff.
Other Recent San Jose Earthquakes Stories