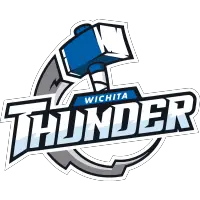 Thunder Weekly
March 24, 2014 - Central Hockey League (CHL) - Wichita Thunder News Release



LAST WEEK'S GAMES -
Wednesday, March 19th
Wichita at Allen, 6-3 L
-Wichita trailed by two with three minutes left in the third period, but got a goal from Tomas Klempa to cut the lead to one. Matt Robinson had a chance off a face-off that hit the post with less than two minutes to go and the Americans tacked on two empty-netters to make a one-goal game look worse on paper.
Friday, March 21st
Wichita at Tulsa, 3-2 W
-Erick Lizon and Tomas Klempa spotted the Thunder a two-goal advantage in the second period before Nathan Lutz cut into it with a tally before the intermission. Mike Wilson scored the game-winner that held up after a Tulsa rally fell short late in the third.
Saturday, March 22nd
Tulsa at Wichita, 5-2 L
-Tulsa scored three unanswered goals in the third period to pull away from Wichita on Saturday night. The game was tied entering the final frame at two. Wichita got goals from Ian Lowe and RG Flath. Shane Madolora was the difference as he stymied Wichita at every turn in the early going. The Thunder outshot Tulsa 14-6 in the first period.
Sunday, March 23rd
Allen at Wichita, 5-4 L (SO)
-After falling behind 4-1 after two, Wichita had a comeback to remember fall just short. Tomas Klempa got things started with eight minutes remaining. Wichita pulled David Brown twice down the stretch and scored two goals in the final minute 32 seconds apart from Matt Summers and Andrew Martens to tie the game and force overtime. Allen ended up with the extra point, winning in the shootout round 3-1.
THIS WEEK'S GAMES -
Wednesday, March 26th
Wichita at Arizona, 8:35 p.m., 92.7 KWME, 1550 KKLE
Friday, March 28th
Wichita at Arizona, 9:05 p.m., 92.7 KWME, 1550 KKLE
Saturday, March 29th
Wichita at Arizona, 9:05 p.m., 92.7 KWME, 1550 KKLE
(All times are central time zone)
**Pre-game begins 20 minutes prior to start of all games. All games can be heard on www.wichitathunder.com or on your smart phone with the Tune-In Radio App using the keyword, Wichita Thunder**
JUST SHORT - Wichita went 1-2-1 this week after taking on Allen twice and Tulsa in a home-and-home series. The Thunder lost 6-3 on Wednesday night followed by a 3-2 win at Tulsa to close out a three-game road trip. Wichita returned home on Saturday and Sunday for the final home-stand of the regular season. The Thunder lost 5-2 on Friday night followed by a 5-4 shootout loss on Sunday. Wichita sits six points back of Arizona for eighth place and falls just short of making the playoffs for the first time since 2009-10.
RALLY TOWELS - Wichita entered the third period last night down by three goals in a must-win situation to stay alive for a post-season chance. Although Allen was content to sit back and clear pucks out of the zone, Wichita played one of its best periods of the year and outshot the Americans 11-1 at one point. Tomas Klempa got the ball rolling with eight minutes left as the Thunder dominated the final frame of the contest. David Brown was pulled twice for the extra attacker and the Thunder scored twice with less than a minute remaining to pull even. It was the first time this season Wichita was able to rally from a three-goal deficit to force overtime. The comeback, however, fell just short as the Americans won in the shootout. Wichita's largest deficit this season was a two-goal lead by the opponent and it happened four times as the Thunder won each of those games.
MOD - Andrew Martens has had a flare for the dramatic this season and added to that list last night. He scored his 12th of the year with eight seconds left in regulation to tie the game and forced overtime. He has three game-winning goals this season including an overtime winner on January 28th against the Denver Cutthroats. His goal last night pushed his totals to 43 in his Thunder career, just five shy of Daniel Tetrault for second place all-time in a Thunder uniform for goals scored. He moves into a second-place tie with Sean O'Reilly for most points all-time by a Thunder defenseman (169). Martens (47 pts) trails Allen's Tyler Ludwig (52 pts) in the defenseman scoring race by five points. The two are both up for the Most Outstanding Defenseman Award that will be announced on March 26th.
SURGING SLOVAK - Tomas Klempa has been one of the best players in the league over the last two weeks. Playing with a chip on his shoulder against the team that waived him at the beginning of the season, Klempa had two points on Saturday night and followed that up with three more (1g, 2a) on Sunday against Allen. He extended his point-streak to six games with 12 points over that stretch (4g, 8a). In that span, he has four two-point contests that have come against the Oilers and a three-point outing against Allen. Klempa finishes with 12 points in 13 games against Tulsa during the regular-season series.
MOVIN' UP THE CHARTS - RG Flath recorded his 73rd goal in a Thunder uniform and sits alone in ninth place for goals scored all-time in Thunder history. In his career, the Park City, Utah native has 136 goals and 281 points. He has 23 goals this season, which is the third-straight year since he has been in Wichita that he has reached 20 goals. He extended his point-streak to seven games (3g, 6a). Flath was selected as a finalist for the CHL's Man of the Year Award and that will be unveiled on Tuesday, March 25th.
NEARING 50 - Matt Summers recorded a goal and an assist and was a +3 last night. His third-period goal cut into the Allen lead with 40 seconds remaining. He has points in his last three games, giving him 14 goals and 29 assists. He needs seven more to reach 50 points for the fourth year in a row with three games left on the schedule.
THUNDERBOLTS... Booras is 10th in the league with 64 points, eighth in assists (47) and tied for 11TH in power play assists (15)...Matt Robinson is tied for ninth in goals (27)...Dudas is seventh in power play goals (9)...Andrew Martens is sixth in power play assists (20)...Wichita is second in shots allowed per game (29.63)...Wichita is averaging 14.16 PIM per game, which is the second lowest in the league...
Wichita heads on the road for the final week of the regular season starting next Wednesday against the Arizona Sundogs at 8:35 p.m
2014-15 season tickets are on sale now! Don't delay! Contact the Wichita Thunder Monday-Friday, 9 a.m.-5 p.m. at (316) 264-4625. Stay up-to-date on all the news this season by visiting www.wichitathunder.com .
• Discuss this story on the Central Hockey League message board...


Central Hockey League Stories from March 24, 2014
The opinions expressed in this release are those of the organization issuing it, and do not necessarily reflect the thoughts or opinions of OurSports Central or its staff.