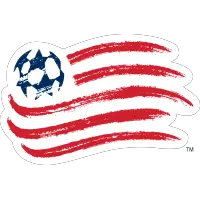 Revolution Rout Inter Miami CF, 5-0, for Second Straight Win
July 21, 2021 - Major League Soccer (MLS) - New England Revolution News Release



FORT LAUDERDALE, Fla. - The New England Revolution (9-3-3; 30 pts.) defeated Inter Miami CF (2-8-2; 8 pts.), 5-0, in the first-ever meeting between the two sides on Wednesday night at DRV PNK Stadium. New England moves to the top of the Supporters' Shield standings as the club posted its biggest margin of victory since 2014. Adam Buksa and Arnór Traustason each registered their first MLS braces, Carles Gil added his MLS-leading 11th assist, and Teal Bunbury logged his second goal of the season. The Revs defense allowed only one shot on target en route to its second consecutive clean sheet and fifth of the season.
New England's offense, which leads the league in goals scored, exploded for four goals in a half for the first time since 2017 - matching a club record. The Revolution's five-goal outburst was the team's first since a 5-2 win over Minnesota United on March 25, 2017. The win was the Revs' second in a row away from home and lifts the club's away record to 4-2-3 on the year. New England's 15 away wins across all competitions are the most in MLS since Bruce Arena took the helm in June 2019.
Traustason, who opened the scoring with a header on Carles Gil's free-kick assist in the 15th minute, recorded his first two MLS goals in his 10th start. Bunbury produced his second goal of the season, one of his game-high four shots on target, before the Icelandic international added his second with a right-footed strike on Jon Bell's first MLS assist in the 36th minute. Traustason completed 35 of 36 pass attempts on the night.
Buksa picked up his brace with goals in the late stages of both halves, the second of which was assisted by Gustavo Bou. Buksa and Bou are now tied for the team lead with seven goals each - tied for third most in MLS. New England's attacking trio of Bou, Buksa, and Gil have factored into 23 of the team's 28 goals scored this season, which is already halfway to setting a new club record for goals in a regular season (55 in 2003 and 2005).
On the defensive end, Andrew Farrell paired with Jon Bell in central defense while A.J. DeLaGarza submitted a 90-minute performance at right back for his first start with New England. Farrell (254) is now tied with Matt Reis for the third-most appearances in a Revolution uniform. Meanwhile, goalkeeper Brad Knighton improved his season record to 2-1-0 as he made his 75th career start.
New England will go for three consecutive wins on Sunday, July 25 as the club returns home to host CF Montréal at Gillette Stadium. The match kicks off at 6:00 p.m. ET and will air locally on WSBK-TV38, myRITV, 98.5 The Sports Hub, and WBIX 1260 AM Nossa Radio.
POSTGAME NOTES
New England Revolution 5, Inter Miami CF 0
July 21, 2021 - DRV PNK Stadium (Fort Lauderdale, Florida)
Team Notes:
The New England Revolution (9-3-3, 30 pts.) defeated Inter Miami CF, 5-0, in the clubs' first-ever meeting on Wednesday night. The Revolution remain in first place in the Eastern Conference, where they have been since May 16.
New England's 28 goals scored are currently most in MLS by a margin over three, and the team's +10 goal differential is tied for second best. The club's 16 first-half goals are also most in MLS.
The five-goal game was the Revs' first since March 25, 2017 against Minnesota. The club's last five-goal winning margin came on May 10, 2014 against Seattle.
The Revs scored four goals in a half for the 11th time in club history. The last time the club scored four goals in the opening half was on May 13, 2017 vs. Real Salt Lake.
New England improves to 4-2-3 on the road this season. The Revolution have won consecutive road games for the second time this season (May 29 and June 19). The club's four away wins are currently the most in MLS.
The Revs' 15 away wins (regular season and playoffs) under Bruce Arena are the most in MLS since he took the helm in June 2019.
New England's defense logged its fifth clean sheet of the season, one behind the MLS lead.
Despite making a season-high six changes to the starting lineup, the Revolution dominated the contest with 11 shots on target to Miami's 1.
Six different Revolution players have now scored multiple goals this season.
Player Notes:
M Carles Gil logged his MLS-leading 11th assist through 15 games this season. No other MLS player had more than six assists entering the week.
On the night, Gil completed 89.5 percent of his passes and recorded five chances created (pass leading to a shot). Gil now owns an MLS-high 78 chances created on the season.
M Arnór Traustason scored the first two goals of his Revolution and MLS career, notching a first-half brace with strikes in the 15th minute and 36th minutes. The Iceland international, making his 10th MLS start, successfully completed 35 of his 36 pass attempts.
F Adam Buksa recorded his first multi-goal game in MLS, scoring his sixth and seventh goals of the season to move into a tie with Gustavo Bou (7) for the team lead. Both players are tied for the third-most goals in MLS.
Buksa - making his ninth start of the season - has played in every match since the start of the 2020 season - 43 straight games across the regular season and playoffs.
F Teal Bunbury tallied his second goal of the year with an unassisted strike in the 27th minute. His 44 Revolution goals are fourth most in club history, while his career total of 33 goals on the road is tied for fourth most among active players.
D Andrew Farrell (254) tied Matt Reis for the third-most MLS appearances in a Revolution uniform. He is seven games away from tying Shalrie Joseph and Diego Fagundez for the most games played in Revs history.
GK Brad Knighton logged his 75th MLS start and 15th shutout in his third consecutive start in net. His record on the season improves to 2-1-0.
Two Revolution II alumni appeared in the starting lineup together for the fifth time - Maciel and Jon Bell. Maciel logged his 10th career MLS start, while Bell recorded his first MLS assist in his sixth start of the season in central defense.
D A.J. DeLaGarza made his second appearance and first start since joining New England as a free agent in the offseason. DeLaGarza, a 13-year MLS veteran, played 90 minutes at right back against his former club.
F Gustavo Bou came off the bench for a 27-minute shift in relief of Carles Gil and recorded an assist on Buksa's second goal, his third of the season.
GAME CAPSULE
Referee: Robert Sibiga
Assistant Referees: Jason White (AR1), Brooke Mayo (AR2)
4th: Kevin Broadley
Video Assistant Referee: Christina Unkel
Weather: 87 degrees and sunny
Attendance: 13,963
Scoring Summary:
NE- Arnór Traustason 1 (Carles Gil 11) 15'
NE- Teal Bunbury 2 (Unassisted) 27'
NE- Arnór Traustason 2 (Jon Bell 1) 36'
NE- Adam Buksa 6 (Unassisted) 45+4'
NE- Buksa 7 (Gustavo Bou 3) 83'
Misconduct Summary:
MIA- Nicolas Figal (Yellow Card- Hard Foul) 15'
MIA- Jay Chapman (Yellow Card- Hard Foul) 62'
New England Revolution: Brad Knighton; Andrew Farrell, Christian Mafla (Matt Polster HT), A.J. DeLaGarza, Jon Bell; Maciel (Emmanuel Boateng 78'), Tommy McNamara (Scott Caldwell 75'), Arnór Traustason, Carles Gil © (Gustavo Bou 63'); Teal Bunbury (Wilfrid Kaptoum 63'), Adam Buksa
Substitutes Not Used: Earl Edwards Jr., Brandon Bye
Inter Miami: Nick Marsman; Christian Makoun (Kieran Gibbs HT), Nicolas Figal, Leandro Gonzalez Pirez ©, Ryan Shawcross; Lewis Morgan, Blaise Matuidi (Jay Chapman HT), Rodolfo Pizarro (Indiana Vassilev 68'), Victor Ulloa; Gonzalo Higuain (Federico Higuain 80'), Robbie Robinson (Julián Carranza 62')
Substitutes Not Used: John McCarthy, Sami Guediri, Joshua Penn, Brek Shea
New England Revolution Team Statistics Inter Miami CF
13 (11) Shots (on Target) 15 (1)
0 Blocked Shots 4
1 Saves 6
3 Corner Kicks 10
1 Offsides 1
9 Fouls 13
447 (84.8%) Passes Attempted (% Completed) 404 (86.4%)
51.1% Possession 48.9%
POSTGAME QUOTES
Revolution Sporting Director & Head Coach Bruce Arena
On Inter Miami's strong start and the team's response:
Arena: "I thought [Inter Miami CF] started the game pretty strong. In the first 10 to 15 minutes, I thought they got after us a little bit. And then obviously the first goal relaxed us a little bit and gave us a little more confidence. Then clearly, the second or third goal killed Miami."
On making six changes to the lineup and still putting in a strong performance:
Arena: "It was good. We're encouraged by it. We were confident in the group we put on the field and they were confident they could get three points. So, I'm not surprised we walked off with three points. Obviously, the margin of victory is not something that I would have expected."
On Adam Buksa's performance:
Arena: "[Adam Buksa] keeps developing. He works hard. There's things that we really emphasize with him to get better at and he's improving. His background coming to MLS was not as technical and tactical as expected and it's taken him a little bit of time and a transition. But you see in year two that things are getting better and as we now begin to enter the second half of the season, he's looking like a real number nine."
On Arnór Traustason setting into MLS:
Arena: "Yeah, he's getting there. He's only been around - I don't even think he's been here for a dozen games. It'll take a little time, but he's a good player and he comes from a league that has some similarities to MLS. I didn't think the transition would be tremendously difficult as opposed to players who come from South America, for example. So, he's making the transition. I think the goal[s] tonight [were] very important for his confidence, because he's had some chances over the last 10 games or so and has failed to convert. So tonight, it's great to see that he got two goals."
On keeping a second straight clean sheet:
Arena: "I think both games were pretty solid. Tonight, I don't think Inter Miami posed that many threats, nor did Atlanta [on Saturday], so that's encouraging on the part of our backline and our whole team the way they worked. I think Brad Knighton, obviously, is getting a little bit more confidence with each game. Obviously, the Toronto game was not an easy one for him and he improved in Atlanta and certainly tonight he looked pretty comfortable."
On how relieved Arnór Traustason felt upon scoring his first MLS goals:
Arena: "I'm sure [Arnor Traustason] is relieved. I don't know if he is, but I would think that he is. Any player that is pushing to get a goal and finally gets it, it's important for their confidence, so I'm sure he's feeling good about it."
On if he began thinking early about managing minutes late in the match:
Arena: "No, not after the second or third goal. It's 2-0 or 3-0, it's still a ballgame. Obviously, the fourth goal, I think, was huge., and that allowed us to start thinking at halftime that we were going to use all five of our substitutions, and we obviously did."
Revolution Midfielder Arnór Traustason
On the relief he feels after scoring his first goals for the club, and passing on a hat trick opportunity late in the game:
Traustason: "Yeah, it was fantastic to get those goals. Some chip off my shoulder is gone now. But I felt Gustavo was in a better position than me, and unfortunately I didn't end in a goal."
On the team securing a 5-0 result despite making six lineup changes:
Traustason: "It just shows our roster is big. Everybody is on their toes. Everybody wants to play, so it's just when the time comes, everybody's ready. And we showed that definitely today."
On playing more centrally in midfield:
Traustason: "It's nothing new to me, this position. To be honest, I feel more comfortable there in that kind of formation. I played it a lot in Malmö, for example. I was playing in the midfield a lot. So, it's nothing new and I enjoy this position very much."
On finding his footing in MLS:
Traustason: "The game has just ended. I mean, it's nice to get those goals in, but I have to keep my head down and just work hard, because this league is not easy. It will not come on its own. So, work hard and just keep on going."
On his emotions after scoring his first goal:
Traustason: "It was fantastic. It was something that I've been waiting for. I've been getting close a couple of times. So, I thought about it and I want to thank my grandfather for this, he was watching over me."
On the connection he has made with Adam Buksa:
Traustason: "We are two guys that understand football, so it's just a matter of understanding each other. Now I've been here that long, so we were starting to form some connections. It's not just Adam, we're building some connections with other players as well. So, it was a great effort by everybody today, and especially Adam. He was fantastic up top."
On what makes MLS a more difficult league to play in:
Traustason: "I don't know exactly, but it's something that is much more different than I'm used to. And it's also one thing, like I didn't get any preseason with the team. So, it was almost just straight into training, some individual training to begin with then straight in with the team. It's always hard when you don't have any preseason at all. It took some time to build up and the league is especially different. I really can't answer your question, but something is different."
Revolution Defender A.J. DeLaGarza
On his view of Inter Miami's performance in tonight's match:
DeLaGarza: "I think they had a couple chances early, maybe half chances. They're obviously a very desperate team right now. They're going to have to throw numbers forward. We think we have one of the best attacks in the league. You can give the ball to Carles [Gil], to Adam [Buksa] who can hold it, Teal [Bunbury] who can run in behind. All those guys can make plays and they definitely did that tonight. We had to do our part on the defensive side, but all credit to those guys for scoring five."
On waiting to make his first start of the season and contributing to a clean sheet:
DeLaGarza: "Yeah, it's always tough when you're not playing. Up to today, I only played 45 minutes. At the same time, you have to be professional. I go and train every day and work my tail off and do whatever I can for the team. Whether that's helping the guys that are starting, DeJuan [Jones] and Brandon [Bye], because I have a lot of experience, obviously, and if I can pass down any amount of knowledge to those guys throughout the week, that's what I try to do. I have to play my part. Tonight, my number was called and I had to be ready. Obviously, I'm a different player than Brandon and DeJuan. I think our whole team played a little bit differently tonight than we usually do, not pressing so high. We got another shutout and that's another thing we can build on. It shows that we can press in games and we can also kind of be in our shape, defending as a group."
On his view of Jon Bell's performance in tonight's win:
DeLaGarza: "I thought he was really solid. I think coming into this year, we didn't know what to expect from Jon Bell, but he has surpassed, I think, what anyone really thought he was going to do. He's been a very good player for us. He had a mistake in Dallas, but he recovered. I think he hasn't played since then and he recovered tonight very well. It's still a learning process for him. He's still learning and I'm trying to teach him. I think he has a very bright future and he's from Maryland, so I have to help him out."
On Arnór Traustason:
DeLaGarza: "I thought he looked great tonight. I think the entire midfield [looked great.] I think that was his first goal as well. He'd been waiting for that for a while. He's had some chances and hopefully now it kind of opens up the flood gates for him because he does bring a different dynamic from some other guys on the team. The way he makes runs, his passing ability, and he's just a really good combination player as well. I'm happy for him to get his first goal."
On Henry Kessler's strengths and his call-up to the USMNT for the Concacaf Gold Cup:
DeLaGarza: "Yeah, he's a very good player. Obviously, he's very comfortable on the ball, very good one-v-one defender, communicator. He does all those things. When I first came in here, I was like 'What do we have to work on?' and I kind of told him, 'You can be the next Omar Gonzalez,' playing under Bruce, being a first-round pick and obviously playing a lot of minutes your first year. He was kind of sitting behind Jon Bell for a couple games this year and I told him, 'Just keep working, that's all you can do is to keep working. When your number is called again you have to perform.' Now he has done that and he's with the National Team. He, as well, has a very bright future for his club and the national team."
On the differences between playing under Bruce Arena with the L.A. Galaxy and with New England:
DeLaGarza: "I think the difference is I played a lot when I was in L.A. and here I'm that veteran. Like I said earlier, I still have to help the team like the guys did when I was in my first couple years, those veteran guys that were the ones teaching, there every day grinding and still performing. That's the difference but [he's] obviously the same guy, same sense of humor and I said it before that we're doing some of the same drills I've done when I was 21 and now I'm 33, so that stuff."
• Discuss this story on the Major League Soccer message board...


Major League Soccer Stories from July 21, 2021
The opinions expressed in this release are those of the organization issuing it, and do not necessarily reflect the thoughts or opinions of OurSports Central or its staff.
Other Recent New England Revolution Stories