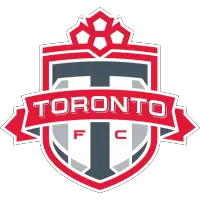 Toronto FC (1) - New York Red Bulls (1) Post Game Summary
July 21, 2021 - Major League Soccer (MLS) - Toronto FC News Release



SCORING SUMMARY
RBNY - Patryk Klimala 46'
TOR - Ralph Priso 62'
MISCONDUCT SUMMARY
RBNY - Tom Edwards 71' (caution)
TOR - Alejandro Pozuelo 72' (caution)
TOR - Ralph Priso 81' (caution)
TOR - Yeferson Soteldo 90'+2' (caution)
RECORDS (W-L-D)
Toronto FC 2-8-4 10 points
New York Red Bulls 5-5-3 18 points
LINEUPS
TORONTO FC - Alex Bono; Auro Jr. (Ralph Priso 18'), Omar González, Chris Mavinga, Justin Morrow; Michael Bradley (C), Mark Delgado, Tsubasa Endoh, Alejandro Pozuelo, Yeferson Soteldo; Dom Dwyer (Jozy Altidore 54')
Substitutes Not Used: Kevin Silva, Luke Singh, Julian Dunn, Noble Okello, Jacob Shaffelburg, Patrick Mullins, Jordan Perruzza
NEW YORK RED BULLS - Carlos Coronel; Kyle Duncan, Tom Edwards, Amro Tarek, John Tolkin; Wikelman Carmona (Caden Clark 54'), Dru Yearwood (Tom Barlow 84'), Sean Davis (C), Frankie Amaya (Omir Fernandez 73'); Fábio, Patryk Klimala
Substitutes Not Used: Luca Lewis, Andrew Gutman, Sean Nealis, Cristian Cásseres, Florian Valot, Cameron Harper
MEDIA NOTES
Ralph Priso scored his first goal for Toronto FC.
JAVIER PÉREZ - INTERIM HEAD COACH, TORONTO FC
Q. You must be pleased with the way your team fought back tonight. What did you think of the performance?
I'm happy again with the performance tonight. I cannot be happy with the result because here in this club, I think we strive for three points in every game, especially if we play at home, and the way we played, I think everybody wanted the three points.
But the performance, I like it. I think the first half, we knew it was going to be this kind of game where we find a side that plays with intensity, that they don't really play too much soccer; it's more disruptive the style, the type of style of soccer that they have. And we knew the first half was going to be like that.
But the second half we knew the game was going to open up. Our players were going to be able to play a little more with the ball and display the style of play that we like more.
Unfortunately, right away when we started the second half, we concede that goal. We fought back to get a tie. It's one more point. It is five points in the last three games, and then build up for Chicago with the mindset to go there and get another three points.
Q. You mentioned the goal you conceded in the second half. What did you make of the way that it came about? Could Omar have done more to prevent it?
Again, I think like I have to watch it, right. I didn't watch it on TV or on camera. I have to watch it a little bit more. Can you do a little bit more, you cannot do a little bit more. At the end, the goal, it put us in a situation of a disadvantage, and the team fought back, got the tie, confined the team to their own half and we got chances to get the win. But I think result is the result, right.
Q. Just wanted to get your thoughts on Priso's performance tonight and if there's an update?
Yes, I think right before the game, I mentioned that everybody on the game should be ready for a game like today. The chances the players are getting coming out of the bench are going to be limited, but they have to enjoy these chances.
I think Ralph proved today that he deserves that chance, and he earned trust, my trust and the trust of the team. He had a really good performance winning battles, 1v1s in the middle of the field. He scored, and first game I think he plays here at home and he came away with one goal. So I think it was a good night for him.
Q. How close is Jozy Altidore to starting again?
Yes, you can see tonight is a little bit closer than last week. We will evaluate. I need to see the players, maybe tonight, maybe tomorrow morning, how they recover, if they are ready for the next game in Chicago.
So I cannot make an evaluation right now. It's a very tight schedule. It's three games in ten days. We have to be cautious, right. I men, when he comes, he makes -- he change the team atmosphere, everything, right. Everything comes up, a player of his quality. The question is: Can he play from the beginning; can he play 60, can he play 90.
I have to discuss with my medical staff, with my staff, if it's something that he's ready for with him, as well. He will start when he will start. We are not in a hurry. We are very happy with the performances that he is doing in the last couple of games, and he takes the time just to make sure that he's 100 percent. At the moment we are very happy with his development.
Q. What did you say to your team at halftime there heading into the break still scoreless?
I said exactly what I think that happened; that we knew we were a little bit frustrated because we didn't play as well as the last game. I said to relax, to take a breath and in the first half we knew it was going to be like that because that's the type of opposition New York Red Bulls is. It's a disruptive team. They don't let you play.
But the second half, the legs, as they get a little bit more loaded, it's more difficult to cover ground and to put pressure. It will be better for us to start touching the ball, stay calm, and the plays are going to flow.
So I think that was the message at halftime, and that's I think what happened in the second half.
Q. Is there any kind of update on Auro Junior's condition?
At the moment I think he's struggling. I have to say, I just saw him after the game. The only thing I can say is that it doesn't look good. But it's unfortunate that he got hurt. Now he's going to be examined by our medical team and we will determine what is the injury.
Q. We've spoken before about solidifying the defense. It seems like the opponent's playbook is to come in and attack the first few minutes; how do you counteract that?
It's just attention, attention to detail. We work very hard in the background to provide the team with the most information possible so we minimize those risks, but these risks, they are always there. I think that we don't have to forget this is the third of the season, and I think those mistakes are going to go away as we progress, because we made that mistake once, but not twice. We have to minimize these mistakes.
RALPH PRISO - MIDFIELDER, TORONTO FC
Q. How did it feel to score at home and how did the play unfold for you?
It was good. The first goal I've scored at any level in a couple years, so it was good. I just saw a one-on-one with Yeferson and I thought to get in the box, because I knew he would beat his man and get in the box and I was alone, so if the ball got to me, which it did, I would be there to finish it and I did.
Q. Congratulations on your first goal. Your goal celebration was pretty low key, especially for a guy celebrating his first goal. Is that your nature or because of the timing of the goal that you didn't go too crazy or anything like that?
I guess a little bit of everything. I'm just like that in general, just calm, don't get too excited. A little bit was it was only one, so I didn't want to go celebrate too much. We wanted a second one, and a little bit of it was I just didn't really realize that I scored. I was just kind of, like, frozen in the moment, but until I took it in and I put it in the net. So a little bit of everything.
Q. After a good, long while spent on the road, you got to make your home debut. How has it been for you and the team being back in town and playing in BMO Field?
RALPH PRISO: It's been good to train at the training ground, see the fans and be with our families all the time and be in a familiar environment it helps us mentally to just kind of be more relaxed and more focused and more, just enjoy it a little bit more. It's good.
Q. You're a hometown kid and I believe this is your first time playing at BMO Field in front of fans. Can you just walk us through what was going through your mind when you were stepping into the match there for the first time and how was the environment overall today?
It was a great environment, when I got subbed in, I tried to just play my game, but I think before my goal, I was not good. I think I gave a couple balls away. I think I was processing things a little bit slowly. I think I wasn't good at all before my goal and after my goal, that just took a weight off me and I just started playing a little bit more freely and more just relaxed and being more comfortable and I think after that, I had a better performance.
So I think being able to just play, I stopped thinking. I was just playing, just finding space and combining with guys. I think after the goal, I really stepped up and showed my real level. Now I just have to keep doing that.
Q. Was your mom or your brother in attendance tonight?
My brother was here. My brother and a couple of my youth coaches were here tonight, so that's good.
• Discuss this story on the Major League Soccer message board...


Major League Soccer Stories from July 21, 2021
The opinions expressed in this release are those of the organization issuing it, and do not necessarily reflect the thoughts or opinions of OurSports Central or its staff.