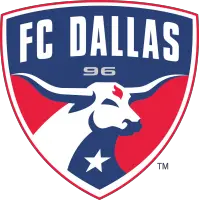 FC Dallas Falls 2-0 to Colorado Rapids
July 21, 2021 - Major League Soccer (MLS) - FC Dallas News Release



Commerce City, CO - FC Dallas (2-6-5, 11 points) fell to the Colorado Rapids (7-3-3-, 24 points) 2-0 Wednesday night at Dick's Sporting Goods Park.
Game Summary
First Half:
11' - SAVE (DAL) - Jimmy Maurer punched Diego Rubio's free kick near the top of the box for his first save of the night after Colorado's Cole Bassett was fouled by Ryan Hollinghead.
13' - SAVE (DAL) - Jimmy Maurer comfortably saved a shot from Andre Shinyashiki from outside the box after the Colorado forward connected with a pass from Braian Galván.
22' - SHOT (DAL) - Jesús Ferreira intercepted a pass from Colorado's William Yarbrough and connected with Hollingshead inside the box, but his chance was saved by Yarbrough.
29' - SHOT (DAL) - Franco Jara connected with a cross from Paxton Pomykal to potentially give Dallas a 1-0 lead but in the buildup to the play, Ryan Hollingshead's through ball towards Pomykal was deemed offside.
Second Half
48' - GOAL (COL) - Lalas Abubakar headed in a cross from Jack Price following a corner to give Colorado a lead.
55' - GOAL (COL) - Michael Barrios scored Colorado's second goal of the night from outside the box after connecting with a long ball from Diego Rubio.
66' - SHOT (DAL) - Jáder Obrian linked with a pass from Justin Che and fired a right-footed shot towards the goal, but it was saved by Colorado's Yarbrough.
Lineups:
FC Dallas - Jimmy Maurer; Justin Che, Nkosi Tafari, Bressan, Ryan Hollingshead; Facundo Quignon; Edwin Cerrillo (Brandon Servania - 56'); Ricardo Pepi (Jáder Obrian - 64'), Jesús Ferreira (Dante Sealy - 82'), Paxton Pomykal (Szabolcs Schön - 56'); Franco Jara (Andrés Ricaurte - 63').
Substitutes not used - Phelipe Megiolaro, John Nelson, Ema Twumasi, Freddy Vargas.
Colorado Rapids - William Yarbrough; Auston Trusty, Danny Wilson (Drew Moor - 81'), Lalas Abubakar, Keegan Rosenberry; Jack Price (Collen Warner - 74'), Cole Bassett; Braian Galván (Steven Beitashour - 65'), Diego Rubio (Nicolás Mezquida - 65'), Michael Barrios (Nicolas Benezet - 73'); Andre Shinyashiki.
Substitutes not used - Clint Irwin, Kortne Ford, Jeremy Kelly, Oliver Larraz.
Scoring Summary:
COL (0-1): Lalas Abubakar (Jack Price) - 48'
COL (0-2): Michael Barrios (Diego Rubio) - 55'
Stats Summary: FC Dallas/Colorado Rapids
Shots: 10/9
Shots on Goal: 2/4
Saves: 2/3
Corner Kicks: 2/5
Fouls: 12/15
Offside: 1/0
Misconduct Summary:
COL: Auston Trusty (caution) - 20'
DAL: Edwin Cerrillo (caution) - 34'
DAL: Facundo Quignon (caution) - 42'
COL: Collen Warner (caution) - 92'
Weather: Cloudy, 81
Attendance: 8,321
Referee: Jon Freemon
Assistant Referees: Ian Anderson, Cory Richardson
Fourth official: Alyssa Nichols
VAR: Matthew Franz
FC Dallas Postgame Quotes
FC Dallas head coach Luchi Gonzalez
Thoughts on the match...
I thought it was a pretty fair first half. Both teams created some chances. I think ours was offside in that one where we thought we had scored. We talked at halftime to set the tone again in the second half. Come in with another 5-10 minutes early in the second half to be aggressive, to be organized and get pressure on the ball and attack. We didn't show that early on. We conceded on a set piece, so that's not the way we wanted to start the second half. We need to respond better. Even though trailing 1-0 and giving up that early goal, we need to know we have time, and we need to have a better response right after that goal. We didn't do that well enough, and they capitalized on the second goal. On a goal that we talked about putting Barrios on his left foot and making sure we are tight and expecting him to do what he does. But credit to them for capitalizing on their chances. Then at 2-0 we're chasing [the game] and we did make some subs early in the second half to bring in some freshness. I thought they did help us with some energy and created some better momentum for us, but ultimately falling short. So disappointed with that. We have a game in two days. We don't have a lot of time. We need to recover quickly and go back home and show our fans what we are made of.
On not getting results away...
It continues to be key moments. If you look at all these games with the exception of the second half against Minnesota in Minnesota, with the exception of parts of LAFC, in the beginning of LA Galaxy... it's not like we've been pinned back and not able to play. We're there in terms of the game. We're there in terms of with and without the ball, concepts and organization. But there are key moments whether it's in small group numbers or in one-on-one moments that are on set pieces or in the run of play. There are key moments that the opposition is making plays and we're not so that's for us to hold ourselves accountable and responsible, including me as a head coach to hold myself accountable and responsible. We train a lot of duals. We train in situations with small numbers and one-on-ones, two-versus-two, in and around the box to kind of simulate that but we have to keep working. We have a young team. How many Homegrowns played tonight? Seven. Tell me when the last MLS team played seven Homegrowns on the field. There is youth on the field. There's inexperience on the field and we also have some veteran players too, but the balance is not easy to just go out there and show a complete game. We have to keep working and keep learning to show that with our young players who are gaining experience and our guys that have experience. We've yet to put that together, especially away, so that's a fight we are in and we've got to keep fighting for that.
FC Dallas goalkeeper Jimmy Maurer
On the breakdown at away games...
It's a tough moment for sure, we're playing pretty well for long stretches of these away games. It's just some critical moments we're having breakdowns, whether it's a set piece, a counterattack, a miss clearance. Tonight it was a set piece and then an uncharacteristic mistake from myself on the second goal. We've got to be better in the details, we have to be more clinical in both boxes, we have to find ways to make plays. That might be the toughest part right now, it's nothing tactical, it's just some key moments when we're letting the game slip away from us.
FC Dallas midfielder Edwin Cerrillo
On being back in the squad...
It's very good, it's been a long time. Last year I played maybe 20 minutes. I kept working but I just wanted to be ready for my opportunity. I already got three starts in a row under my belt but at the end of the day we're not getting the results. We're going to keep working and try to give everything I got for the team. We were trying to give our best performance out there, but in the end, we were not winning. I can take a positive from me starting and me wanting to do the best that I can. But it's not great when you don't get any points.
• Discuss this story on the Major League Soccer message board...


Major League Soccer Stories from July 21, 2021
The opinions expressed in this release are those of the organization issuing it, and do not necessarily reflect the thoughts or opinions of OurSports Central or its staff.