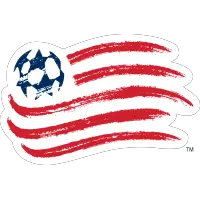 Revolution Defeat Montreal Impact, 3-2
October 14, 2020 - Major League Soccer (MLS) - New England Revolution News Release



FOXBOROUGH, Mass. - The New England Revolution (7-4-7, 28 pts.) defeated the Montreal Impact, 3-2, at Red Bull Arena on Wednesday night. Kekuta Manneh gave the Revolution an early lead in the 13th minute with his first goal since joining the team in August. Teal Bunbury doubled New England's advantage seven minutes later with his team-leading sixth goal of the season, a headed finish off a cross from Alexander Büttner. Montreal's Amir Sejdic pulled one back for the hosts in the 27th minute, but Adam Buksa responded on the other side of halftime with his fourth goal and first game-winning goal of the season. The Impact added a second goal in second-half stoppage time.
With the win, New England ascends into fifth place on the Eastern Conference table with five games remaining in the regular season. The result also marks the Revolution's sixth away win of the season - including a neutral site win in the MLS is Back Tournament group stage - which ties the club's single-season record. New England has three away games remaining on its regular-season slate, including visits to Nashville on Oct. 23, New York on Oct. 28, and Philadelphia on Nov. 8.
Bunbury now paces the Revolution with six goals through 18 appearances this season. That matches his output from 2019, when he scored six times through 32 games played. Alexander Büttner delivered the cross on Bunbury's headed finish, giving the left back three assists in his debut MLS campaign.
Manneh logged his first start with New England since joining the team via trade with FC Cincinnati on Aug. 17. He registered four shots, including three on target, as well as two chances created and two fouls won in 45 minutes played. Matt Polster and Buksa were credited with the assists on Manneh's goal, their first and second of the season, respectively. Buksa also found the back of the net in the 52nd minute - his fourth goal of the season and his second in the team's last five games.
In net, goalkeeper Matt Turner recorded four saves. He owns 58 saves on the year, which are good for fourth-most among MLS goalkeepers.
New England returns to action on Monday, Oct. 19, when the club hosts the Philadelphia Union at Gillette Stadium. The match kicks off at 7:30 p.m. ET, and will air on NBC Sports Boston, 98.5 The Sports Hub, and in Portuguese on WBIX 1260 AM Nossa Radio USA.
POSTGAME NOTES
New England Revolution 3, Montreal Impact 2
October 14, 2020 - Red Bull Arena (Harrison, New Jersey)
Revolution Defeat Montreal Impact, 3-1, at Red Bull Arena
The Revolution (7-4-7, 28 pts.) defeated the Montreal Impact, 3-2, at Red Bull Arena on Wednesday night behind goals from Kekuta Manneh, Teal Bunbury and Adam Buksa.
The Revs finish the regular-season slate against Montreal with a 3-1-0 record, with three straight wins after falling to the Impact in the season opener on Feb. 29.
New England registered its sixth win away from Gillette Stadium, including one win in the MLS is Back Tournament, matching a club record for away victories in a single campaign. The club's official road record in 2020 is 5-2-0.
New England has won three consecutive road matches for the first time since the Revolution logged four straight road victories from April 24-June 12, 2008. The Revolution are winners of five of their last six road games.
Tonight's win was New England's first-ever regular season victory at Red Bull Arena (1-9-2) in 12 matches.
Head Coach and Sporting Director Bruce Arena's all-time record improved to 217-128-104, including a 4-2-3 mark against Montreal.
Kekuta Manneh Makes First Start, Nets First Goal in Revolution Uniform
Kekuta Manneh made his first start and scored his first goal in a Revolution uniform, opening New England's scoring on a left-footed shot in the 13th minute.
The goal was Manneh's first of the 2020 season and his first since Aug. 25, 2019 with FC Cincinnati.
Adam Buksa and Matt Polster registered their second and first assists of the season, respectively, on Manneh's goal.
Manneh finished tonight's match with a team-best three shots on goal, four shots and 28 touches in 45 minutes of action.
Teal Bunbury Scores Sixth Goal of 2020, Passes Gustavo Bou for Team Lead
Teal Bunbury netted his sixth goal of the season on a 20th-minute header, with an assist from Alexander Büttner. Büttner's assist was his third of the season.
Bunbury now has sole possession of the team lead in goals scored. Gustavo Bou trails Bunbury with five goals in 2020.
The goal was Bunbury's 40th in a Revolution uniform. Bunbury's now one goal shy of matching Joe-Max Moore for fifth on the club's all-time scoring list.
Bunbury has scored in consecutive matches for the first time since he scored in four straight games from June 29-July 17, 2019.
Adam Buksa Tallies Fourth Goal of 2020 Campaign with Second-Half Strike
Adam Buksa scored his fourth goal of the season on an unassisted right-footed shot in the 52nd minute to close New England's scoring in tonight's win.
Buksa's tally was his first since Sept. 27, when the Revolution defeated Chicago Fire FC, 2-0, on the road.
The Revolution are undefeated (2-0-2) when Buksa scores a goal.
Buksa, who has appeared in every match this season, finished his 90-minute shift with one goal and one assist, and successfully completed 19 of 24 pass attempts.
Revolution Make Season-High Eight Changes to Starting Lineup
New England's lineup featured a season-high eight changes from its most recent Starting XI on Oct. 11 at New York City FC with Michael Mancienne, Antonio Delamea, Alexander Büttner, Kelyn Rowe, Matt Polster, Diego Fagundez, Kekuta Manneh and Adam Buksa starting in place of Henry Kessler, Andrew Farrell, Brandon Bye, Tommy McNamara, Scott Caldwell, Tajon Buchanan, Lee Nguyen and Cristian Penilla.
Diego Fagundez made his sixth consecutive appearance tonight. Fagundez (258) is now three appearances shy of equaling Shalrie Joseph (261) for the club's all-time regular season games played record.
Michael Mancienne made his first start and appearance since Sept. 2. Mancienne finished his 90-minute performance with six possessions gained, four clearances and one interception.
Antonio Delamea logged his first start since Sept. 6. Delamea recorded team-highs in clearances (5) and interceptions (4) in 90 minutes of action.
Brandon Bye was the lone Revolution player to start all 17 games this season until tonight's match. Bye entered tonight's contest in the 71st minute as a substitute for Alexander Büttner.
Gustavo Bou rejoined the match day roster and played 19 minutes off the bench after missing the last two contests due to injury.
Matt Polster made his first start since Sept. 27 and his 10th appearance with New England. Polster registered his first assist in a Revolution uniform and successfully completed 53 of 59 pass attempts.
GAME CAPSULE
Referee: Joe Dickerson
Assistant Referee: Claudi Badea (AR1), Ian McKay (AR2)
Fourth Official: Sergii Demianchuk
Video Assistant Referee: Chris Penso
Weather: 63 degrees and clear
Attendance: N/A
Scoring Summary:
NE- Kekuta Manneh 1 (Adam Buksa 2, Matt Polster 1) 13'
NE- Teal Bunbury 6 (Alexander Büttner 3) 20'
MTL- Amar Sejdic (Romell Quioto) 27'
NE- Adam Buksa 4 (Unassisted) 52'
MTL- Ballou Tabla (Romell Quioto) 90+2'
Misconduct Summary:
NE- Adam Buksa (Yellow Card- Unsporting Behavior) 57'
MTL- Luis Binks (Yellow Card- Unsporting Behavior) 83'
NE- Tommy McNamara (Yellow Card- Unsporting Behavior) 87'
New England Revolution: Matt Turner; DeJuan Jones, Michael Mancienne, Antonio Delamea, Alexander Büttner (Brandon Bye 70'); Kelyn Rowe (Gustavo Bou 70', Andrew Farrell 90+3'), Matt Polster; Teal Bunbury ©, Diego Fagundez (Tommy McNamara 77'), Kekuta Manneh (Tajon Buchanan HT); Adam Buksa
Substitutes Not Used: Brad Knighton, Henry Kessler, Scott Caldwell, Lee Nguyen
Montreal Impact: James Pantemis; Rudy Camacho, Luis Binks, Rod Fanni (Joel Waterman 45+2'); Victor Wayanma, Samuel Piette ©, Amar Sejdic, Clement Bayiha (Jorge Corrales HT), Shamit Shome (Maximiliano Urruti 72'); Mason Toye (Ballou Tabla 55'), Romell Quioto
Substitutes Not Used: Karifa Yao, Tomas Giraldo, Jonathan Sirois
New England Revolution Team Statistics Montreal Impact
22 (9) Shots (on Target) 14 (6)
5 Blocked Shots 1
4 Saves 6
7 Corner Kicks 2
2 Offsides 0
14 Fouls 12
419 (78%) Passes Attempted (% Completed) 404 (79%)
51.1% Possession 48.9%
POSTGAME QUOTES
New England Revolution Head Coach Bruce Arena
On making eight changes to the starting lineup and the importance of depth this season:
Arena: "It's important. I think most of the teams in the league are in a very difficult stretch. I think you can see the Montreal team had a little bit of fatigue as well. And it's been difficult. You see some of the scores tonight, they're surprising. I think teams are worn out. To be able to make eight changes and get three points on the road is very good. I think the players for the most part showed very well."
On Kekuta Manneh and Adam Buksa:
Arena: "Kekuta [Manneh] has played very little for us this year. I think probably going into the game, maybe a total of 35, 40 minutes. He's trained hard. We knew he was only going to be good for 45 minutes tonight, and he had a good first half and he was very aggressive. Adam [Buksa] had a very good goal on an excellent pass from Diego [Fagundez]. He held up pretty well. He fatigued at the end of the game, because his minutes have been limited. A good performance by both players."
On Gustavo Bou returning from injury and if he's fit enough to start on Monday night:
Arena: "Don't know that. We'll know more on Friday when we get back together as a team. He's been out for a couple of weeks and he looked a little tired. We thought we could get 20 minutes out of him tonight, and that's what we tried to do. We'll see what he's like when he shows up on Friday."
On Carles Gil's status and if he will play again in 2020:
Arena: "I have no updates. Of course, I would be hopeful that he plays. He has played in 2020, but play again, perhaps."
On Cristian Penilla's injury status:
Arena: "Cristian [Penilla] has a fifth metatarsal injury that's going to require surgery."
On the effectiveness of the team's press tonight:
Arena: "I thought we started well. I think I give our team a lot of credit for three points, but I told them at the end of the game in the locker room that if we aspire to be a better team, the result is better than 3-2. We conceded two goals, we were sloppy over the last 20, 30 minutes of the game. I wasn't pleased with that, but again, I give our guys credit for getting a win on the road."
On his positive takeaways from the match:
Arena: "We're going to take the three points on the road any day. I think large segments of the game, we played well, but we had some sloppy moments. And that, we need to get better. If we continue to grow as a team and become a better team, days like tonight should be much more decisive in our win. That part is disappointing, but having said that, teams don't win that many games on the road. We've done very well in that regard, so I have no complaints."
Revolution Forward Adam Buksa
On his confidence over the past two games:
Buksa: "Missing a penalty is still a part of the game. Obviously, I wanted to score the goal but it happened so you cannot think about one penalty for the rest of the year. I'm trying to focus on every upcoming game and that was the situation three days ago and today I was trying to do the best for the team. I want to score goals but to perform well and I think last game against New York City and today against Montreal, both were good games. Even against Toronto, it was a good game and a good performance but just the penalty, it kind of didn't confirm my good performance. I know I have to score goals and this is what you demand from a striker so I'll take it."
On team depth and making eight changes to the starting lineup:
Buksa: "I think every guy on the roster deserves to play because of the way we train really well. There's no second team on our roster, I think we're all responsible for the results and many of the guys got a chance today to show what they can do and we managed to win a game against a tough opponent. So it shows that whoever is on the field, they're guaranteed to be good quality which is very important for the rest of the season because the schedule is crazy and we play every third day so we need to have a deep roster and we do. Obviously we conceded two easy goals which shouldn't have happened but this is part of the process and at the end of the day we got three points and that's why we came here so it's very good."
On taking pride in his defensive work and pressing:
Buksa: "Well, I like pressing. I know that soccer nowadays is progressing more and more and strikers sometimes have to be the first defenders the same way defenders have to attack well. So this is part of my job, not only to score goals because I'm not saying it's easy but it's not enough simply. That's the way I played in Poland. I know many teams had problems with me starting the pressing and I want to do that here as well because it helps the team to push a little bit forward, to make pressure on the opponent and it's very important. The point is you cannot do it the whole game because you simply cannot afford that. We had a little bad moment in the second half at the end of the game, we were a little bit tired and we let Montreal play and this is also a part we need to improve. Even if we are tired, we need to keep the ball better and avoid conceding a goal."
On missing his call-up to the Poland National Team:
Buksa: "Well I received a call-up for the previous National Team camp that was in September. I wanted to go for the camp very much because it's a big privilege to be called up to the National Team. The Polish National Team has always been my dream. I've never made a debut and this is a part of my plan to gain that debut as soon as possible. I was very disappointed, I have to tell you, but I understand the rules and I understand that the world has been crazy over the last year so I'll have to respect that and hopefully I'll be performing as good as I did today to receive another call-up. Maybe then I'll be able to go to Poland to play for my National Team."
Revolution Defender Alexander Büttner
On assisting Teal Bunbury's goal in the 20th minute:
Büttner: "We were talking about it before. We had a chance to take a short corner. So we did it. Diego gave me the ball and I saw Teal running inside, so I gave the ball to him and we scored. The first ref said it was offside but we scored a good goal and it was the right moment for Teal, the run. I'm happy that we scored the goal."
On how he feels physically after missing games on Sept. 27 and Oct. 3 due to a hamstring injury: Büttner: "I'm working hard every day, even when I had an injury. I keep fit. I did some things with the group and with the staff. I did extra things for myself. If you saw today, I felt good. It looks like I didn't miss the games. I try to work hard in training every day and try to do some extra stuff because I'm coming from an injury. I'm happy I can be important for the team."
On the eight changes and key contributions across tonight's starting lineup:
Büttner: "This shows that everybody's ready to play. This was a good win for us. For me personally, I think we give goals away that normally don't have to be goals. I think we can win this game, maybe 4-0. All the guys, let's say, who played today who didn't play for a while, they did a great job. They're also working hard in training and waiting for chances, and that showed today. Everybody's part of the team, even when you don't play every week. I think we did a good job in that."
On being comfortable with the ball as a defender and his ability to impact the game:
Büttner: "I'm a player who likes to go forward and I like to be important for the team. I had some good crosses. I went forward a lot of times today. That's my game. I think, in this soccer world, the left and right back are very important for the team. They can give something extra in attacking and I think we did that well today. I like to play the game like this and to be important to the team, and give assists, like today. I'm happy and happy we got the three points."
On his thoughts during the VAR review of Teal Bunbury's goal:
Büttner: "At first, when he called offside we all didn't know because it was difficult to see. So when we went to check it again, most of the time he'll give the goal. I was happy he gave that. That was an important goal for us. The finish from Teal was very good. I hope I can give more assists to Teal and try to find him every game."
• Discuss this story on the Major League Soccer message board...


Major League Soccer Stories from October 14, 2020
The opinions expressed in this release are those of the organization issuing it, and do not necessarily reflect the thoughts or opinions of OurSports Central or its staff.