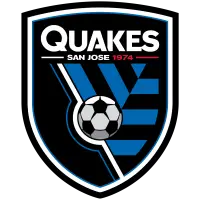 Quakes defeat top team in Western Conference, extend unbeaten streak to five
July 31, 2021 - Major League Soccer (MLS) - San Jose Earthquakes News Release



SEATTLE, Wash. - The San Jose Earthquakes defeated Western Conference leaders Seattle Sounders FC 1-0 on Saturday afternoon at Lumen Field. The win sees the Quakes extend their unbeaten streak to five, tied for the second longest active streak in MLS. Seattle had lost just one of their previous 15 home matches prior to today's result.
Moments before the halftime whistle, San Jose opened the scoring. Florian Jungwirth won a header, feeding a pass to Cristian Espinoza. Espinoza took on multiple defenders before striking a low shot with his left foot to beat goalkeeper Stefan Cleveland at his near post.
Earthquakes goalkeeper JT Marcinkowski made several important saves to keep Seattle and the league's leading goal scorer Raul Ruidiaz from equalizing.
The Earthquakes will now return to San Jose before hitting the road again to face the Portland Timbers on Wednesday, Aug. 4. The match kicks off from Providence Park at 7:30 p.m. PT and will be broadcast live on NBC Sports California, KNBR 1050 and 1370 KZSF.
GAME NOTES
The Earthquakes now hold a 4-7-5 record (17 pts.) during the 2021 MLS regular season and are currently in 9th place in the Western Conference.
The Quakes extended their unbeaten streak to five matches (1-0-4). It marks the club's first unbeaten stretch of 5+ matches since July/August 2019 (4-0-1).
San Jose earned their first victory since May 7, snapping an 11-game winless run (0-6-5).
The Quakes earned their first win over Seattle since June 20, 2015, snapping a 14-game winless streak in the series (0-8-6). Today's win is also the first at Lumen Field since June 20, 2015, where San Jose was winless in their last seven (0-5-2).
Saturday's result was Seattle's second loss in their last 16 home matches (vs. SKC, 7/25/21).
The Quakes are now 11-14-8 all-time vs. Seattle Sounders FC, including a 6-10-2 record on the road.
Midfielder Cristian Espinoza scored his second goal of the season and seventh of his MLS career.
Defender Florian Jungwirth tallied an assist on Espinoza's goal, marking his first assist of the season and 10th of his MLS career.
Goalkeeper JT Marcinkowski made three saves to record his second shutout of the season and seventh of his MLS career.
MLS Regular Season
Seattle Sounders FC 0 - 1 San Jose Earthquakes
July 31, 2021 - Lumen Field in Seattle, Wash.
Attendance: 32,704
Michelob Man of the Match: Cristian Espinoza
Scoring Summary: SJ - Cristian Espinoza (Florian Jungwirth) 45+1.
Misconduct Summary: SEA - Jimmy Medranda (caution) 31; SJ - Luciano Abecasis (caution) 49; SEA - Joao Paulo (caution) 53; SJ - Cade Cowell (caution) 62; SEA - Josh Atencio (caution) 90+3; SJ - Nathan (caution) 90+4.
SEATTLE SOUNDERS FC: Stefan Cleveland; Xavier Arreaga, Shane O'Neill (Danny Leyva 70), Yeimar Gomez Andrade; Joao Paulo, Alex Roldan, Reed Baker-Whiting (Fredy Montero 55), Kelyn Rowe (Will Bruin 83), Josh Atencio, Jimmy Medranda (Alex Villanueva 83); Raul Ruidiaz.
Substitutes not used: Ethan Dobbelaere, Spencer Richey, Andrew Thomas, Obed Vargas
SHOTS: 11; SHOTS ON GOAL: 3; FOULS: 17; CORNER KICKS: 7; SAVES: 1
SAN JOSE EARTHQUAKES: JT Marcinkowski; Luciano Abecasis (Andy Rios 86), Oswaldo Alanis, Nathan, Tanner Beason; Judson, Florian Jungwirth, Shea Salinas (Eric Remedi 86), Cristian Espinoza, Chofis (Chris Wondolowski 71); Cade Cowell (Marcos Lopez 64).
Substitutes not used: Siad Haji, Paul Marie, Jack Skahan, Daniel Vega
SHOTS: 5; SHOTS ON GOAL: 2; FOULS: 16; CORNER KICKS: 1; SAVES: 3
SAN JOSE EARTHQUAKES HEAD COACH MATIAS ALMEYDA
On his first victory against Seattle Sounders FC:
"Firstly, I am happy for the three points. I'm also pleased with the interpretation from the players. When we change our system, it's because we practiced it. San Jose has not won in this stadium since 2015. It's a big joy because we deserved the victory considering the quality of the opponent. Whenever we played this team, we were always routed. I think we played a really smart game and fortunately we got the win."
On the positive qualities he currently sees in the team:
"The team is more compact. When the team was losing so many games in a row, there were matches in which they played well. Obviously, the results weren't what we expected. We believe in hard work, humility, and desire. When you believe in your work and virtue, sooner or later the sun will shine."
On players taking up different roles:
"After such a long time, we want to enjoy the victory. [Chofis] did that well. We took away the reference from [Seattle's] three center backs. He is really smart. I think since he's arrived at San Jose, he's been growing after every game. Tomorrow we will begin to prepare for another difficult opponent which is the Portland Timbers. We will see how the players recover and we will think of ways to get points on the road again."
SAN JOSE EARTHQUAKES GOALKEEPER JT MARCINKOWSKI
On his recent form:
"I think I'm just trying to be more present. Just trying to be more in the moment and focus on doing everything well, having a really positive mindset and not letting big things get out of control. I think at the beginning of the year, I was putting too much pressure on myself. I was thinking too much in the future, too much in the past. In the last five or six games, just trying to be more present. It's something that I work on consistently with Curtis [Hisao]. He's our massage guy but he's a lot more than that to me. He's a really good friend of mine. Him and I work on trying to be more present and breathe; just be in the moment."
On the quick turnaround between games:
"Yeah, we get home tonight, thankfully, with the chartered flight and that makes a massive difference, so really appreciate that from the League. I think it's a huge part of our recovery and then try to get a good sleep tonight and then try to get in tomorrow, into the training room, whatever guys have to do to get recovered the best way they can, whether it be ice bath, massages. Probably going to get a good training under our belts tomorrow, Monday, Tuesday. All eyes are on Portland. They're going to be another tough team. I can't remember the last time we won away there. So, going to try and do it again and prepare and take this same mentality that we had today into Portland Wednesday night."
• Discuss this story on the Major League Soccer message board...


Major League Soccer Stories from July 31, 2021
The opinions expressed in this release are those of the organization issuing it, and do not necessarily reflect the thoughts or opinions of OurSports Central or its staff.
Other Recent San Jose Earthquakes Stories