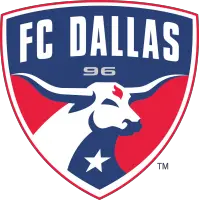 FC Dallas Defeats Sporting Kansas City 2-1 at Children's Mercy Park
July 31, 2021 - Major League Soccer (MLS) - FC Dallas News Release



Kansas City, KS - FC Dallas (4-7-5, 17 points) defeated Sporting Kansas City (9-4-3, 30 points) 2-1 thanks to goals from Homegrowns Paxton Pomykal and Jesús Ferreira.
Game Summary
First Half:
3' - GOAL (DAL) - Paxton Pomykal fired a right-footed shot past SKC's Tim Melia after connecting with a pass from Ryan Hollingshead to give Dallas a 1-0 lead.
8' - SAVE (SKC) - Melia made a sliding save with his feet after Pomykal found Ricardo Pepi inside the box.
20' - SHOT (DAL) - Szabolcs Schön beat his defender inside the box and fired a right-footed shot but Melia was quick to make the save.
32' - SAVE (DAL) - Jimmy Maurer made his first save of the night after saving a header from Gadi Kinda.
35' - SHOT (DAL) - Schön made a run up the sideline and took a shot from outside the box but it went over the crossbar.
Second Half
51' - GOAL (DAL) - Jesús Ferreira fired a right-footed shot to the top right of the goal following a short pass from Schön at the top of the box.
60' - SAVE (DAL) - Maurer denied Kinda's shot from outside the box to keep the game 2-0.
80' - SAVE (DAL) - Kinda connected with a pass from Dániel Sallói and fired a left-footed shot but Maurer pushed it over the crossbar.
85' - GOAL (SKC) - Johnny Russell cut Dallas' lead after heading in a cross from Sallói past Maurer.
Lineups:
FC Dallas - Jimmy Maurer; Ema Twumasi, Nkosi Tafari, Bressan (Matt Hedges - 80'), Ryan Hollingshead; Edwin Cerrillo, Facundo Quignon; Paxton Pomykal (Brandon Servania - 77'), Jésus Ferreira (Johnny Nelson - 77'), Szabolcs Schön (Jáder Obrian - 72'); Ricardo Pepi (Franco Jara - 81').
Substitutes not used - Phelipe Megiolaro, Edwin Munjoma, Matt Hedges, Johnny Nelson, Brandon Servania, Freddy Vargas, Kalil ElMedkhar, Franco Jara.
Sporting Kansas City - Tim Melia; Luis Martins, Andreu Fontàs, Nicolas Isimat-Mirin, Graham Zusi; Gadi Kinda, Remi Walter (Ilie Sanchez - 61'), Roger Espinoza; Dániel Sallói, Khiry Shelton (Wilson Harris - 77'), Johnny Russell.
Substitutes not used - John Pulskamp, Jaylin Lindsey, Roberto Punčec, Graham Smith, Kayden Pierre, Kaveh Rad, Ozzie Cisneros.
Scoring Summary:
DAL (1-0): Paxton Pomykal (Ryan Hollingshead) - 3'
DAL (2-0): Jesús Ferreira (Szabolcs Schön, Ricardo Pepi) - 51'
SKC (2-1): Johnny Russell (Dániel Sallói) - 85'
Stats Summary: FC Dallas/Sporting KC
Shots: 12/20
Shots on Goal: 5/4
Saves: 3/3
Corner Kicks: 2/7
Fouls: 14/12
Offside: 2/2
Misconduct Summary:
SKC: Dániel Sallói (caution) - 68'
DAL: Ema Twumasi (caution) - 74'
DAL: Bressan (caution) - 81'
DAL: Franco Jara (caution) - 84'
DAL: Matt Hedges (caution) - 90'+1'
Weather: Cloudy, 76
Attendance: 19,975
Referee: Alex Chilowicz
Assistant Referees: Cory Richardson, Ryan Graves
Fourth official: Matthew Corrigan
VAR: Malik Badawi
POSTGAME QUOTES
FC Dallas head coach Luchi Gonzalez
General thoughts on the match...
"Honestly, just very proud of the 90-minute performance. It was back-and-forth, not perfect obviously, with a lot of mistakes. But the mentality I thought was good. They were fierce, they played with courage with the ball. There was mobility, there were combinations, the goals were great examples of taking chances and putting them on frame. But collectively, leading up to goals, were good plays with the ball. Defensively had to sacrifice a lot, Kansas City is a machine here at home. They've got a lot of support with the fans and I don't think they had lost here at home. But we knew it was going to be a battle, it was going to be difficult. But why not come in here and play and get pressure on the ball and create our chances and take them."
On defender Ema Twumasi's performance...
"Twumasi is a big character in our locker room. Even last year when he wasn't getting opportunities he was still always lively, with a smile on his face, ready to train and give his best, supporting his teammates. He has his personality, his style that we all embrace. Just to see him now, back up his personality and style on the field with courage, physicality, competitiveness and energy, it's great to see him take those steps. He still has a lot of work to do to reach his potential but we are happy for him to get his first away win as an FC Dallas first team player and we need to keep him on his feet and continue to improve."
On coaching against Peter Vermes...
"Peter runs a machine of a team. They're very clear on the roles of each player and they show a lot of commitment to each other. I'm not surprised to see where they are in the table. I have so much respect for Peter. He's been a coach in the league for the longest-consecutive years with the exception of maybe Bruce (Arena) leaving and coming back. Every time we get to play this club and coach against Peter it's an honor and I want to do it with respect and compete. He's a competitor, he's passionate. I take notes on the things he shows with this team and with this club to take it to the next step. I really admire his work and his staff and that team."
FC Dallas forward Jesús Ferreira.
On building confidence on attack...
"Obviously it's been a rough start of the season. We all know that, and we all know we need to do better. Last week was an amazing win, but it was going to count as nothing if we didn't continue that. I think last week was a good step in the right direction of where we want to go and the type of game we want to play. Today we showed that we are keeping the momentum. This is a good start of where we want to go, so it's up and three points at a time. We're kind of showing the game we want to play. There's times like you said where the timing is off. But we are working on it and make it better till we perfect it."
On facing Seattle...
"We have to keep the momentum. We know we are a young team that can play with the ball. If we have to suffer for a little bit we can do that also. We are a team that can suffer without the ball but we can also counter. We know we are going into a hard stadium to play. Seattle is at top of the league right now and we go in as we always go. Trying to win the game. We just keep the momentum going from these past two games. These games don't count for nothing if we don't play good soccer and keep going."
FC Dallas midfielder Paxton Pomykal
Initial thoughts on the game...
"First off, I'm feeling good. That's four straight starts for me in two weeks so that's a testament to all the work I've put in to get back healthy. And to the medical staff and doctors as well who helped me get back to where I was before. It's been a long road but I'm finally feeling back to myself and making an impact in games, first and foremost. Whether that's scoring goals and making assists or just doing my part for the team to help us win, I feel like in the past month or so we've played a lot better soccer than at the beginning of the season and the results are starting to come."
On how the attacking players worked together...
"I felt like the combinations were very good today. I felt the final service was still lacking a little bit. I ahd some combinations and passes that went astray and clipped defenders. There's still definitely room for improvement game by game, that we're hitting more in sync and comfortable with each other in the final third. We scored two goals today that you might not score on a different night but I felt like we had other opportunities that might have been better chances in front of goal. It's just making the most of the opportunities and taking risks and taking chances, so I think we've been doing a pretty good job of that. Jesús (Ferreira) had a banger also."
• Discuss this story on the Major League Soccer message board...


Major League Soccer Stories from July 31, 2021
The opinions expressed in this release are those of the organization issuing it, and do not necessarily reflect the thoughts or opinions of OurSports Central or its staff.