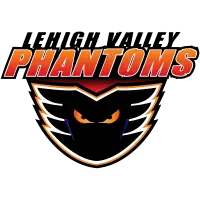 Phantoms Rally Late Again, Stun Bears in Shootout
March 26, 2023 - American Hockey League (AHL) - Lehigh Valley Phantoms News Release



Hershey, PA - It was perhaps déjà vu all over again for Artem Anisimov who scored a tying goal on the power play in the third period for a second straight night as the Phantoms once again rallied from behind to post an extra-session win. This time it was a 4-3 shootout stunner at the Hershey Bears after the Lehigh Valley Phantoms had trailed 2-0 and 3-1 in the final frame.
Sam Ersson recorded his 21st win with a career-high 37 saves, including 19 stops in the second period alone to thwart a hard Hershey push and keep the Phantoms within striking distance for the dramatic comeback action to come.
In his first game back with the Phantoms, Tyson Foerster wound up from the left circle appearing as though he were ready to unload his massive one-timer. But instead, the sharp-thinking first-rounder ended up freezing goalie Zach Fucale when he offered a perfect shot-pass to the top of the blue paint for the Anisimov tying chip-in to forge a 3-3 deadlock with 10:13 left. Louie Belpedio (6th) and Ryan Fitzgerald (1st) also scored in the exciting rally while Jordy Bellerive and Bobby Brink converted in the shootout. Bellerive's conversion in the first round held up as the game-winner.
In the process, the Phantoms trimmed their Magic Numer to clinch a playoff spot to 12 points (points acquired by the Phantoms or points missed by Hartford) with eight games remaining in the regular season. Lehigh Valley currently occupies a fifth-place playoff spot in the Atlantic Division and pulled to within one point of fourth-place Springfield for a potential home-ice advantage in the first round.
Lehigh Valley (33-25-6) came out flying in the first period and offered nine quality shots at Fucale while receiving two power plays. But the Bears hung on to keep the game deadlocked at 0-0.
Hershey (38-16-9) took advantage of the intermission to hit the reset button and dominated most of the second period which included a 19-1 shots advantage at one point. Lehigh Valley's penalty issues didn't help. Hershey had six power plays in the middle frame and scored on two of them. Goals for Garrett Pilon and also a Sam Anas deflection at 5-on-3 staked the Bears to a 2-0 lead. But it was really Sam Ersson who stole the show with several tremendous stops through the Hershey onslaught to keep the Phantoms close enough.
The Phantoms had the better energy in the third period and were ready for a big push of their own. Louie Belpedio blasted home Lehigh Valley's first goal of the night with 26:28 remaining to get the Phantoms on the board at 2-1. Egor Zamula had the first of his two assists in his first game with the team setting up the Belpedio one-timer and Anisimov had rotated the puck over from the right boards to start the sequence to commence his second consecutive multi-point game.
Julian Naparvnik converted for Hershey out in front on a strong centering pass just 86 seconds later to re-establish the two-goal margin at 3-1.
Then it was Zamula connecting up ice with Ryan Fitzgerald who muscled his way through two Hershey defenders to score off Fucale on a puck deflected up in the air that then rolled off Fucale's back and in. Fitzgerald's first goal of the season with 13:35 remaining was a just reward for the third-year Phantom who earned his spot in the lineup for a second game in a row following a strong performance at Wilkes-Barre/Scranton on Friday. It was only Fitzgerald's 11th game of the season.
Anisimov was again responsible for the tying third-period tally when he made it 3-3 with 10:13 remaining. Foerster's fake shot set up the Anisimov conversion with newcomer Emil Andrae quarterbacking the power play for his second assist in his first two games with the Phantoms.
Hershey had a couple of big chances in the overtime but Sam Ersson continued to make the big stops.
Eventually, it was shootout time with Jordy Bellerive scoring stick side on Fucale in the first round and then Bobby Brink inducing Fucale to go down in the third round allowing the skilled rookie to elevate a backhander over the right pad of the downed netminder to seal the win. Meanwhile, Ersson slammed the door with consecutive stops on Mike Sgarbossa and Julian Napravnik.
The Phantoms improved to 4-3 in shootouts and 10-6 in decisions past regulation (6-3 in OT and 4-3 in SO). Lehigh Valley is now 19-6-6 in one-goal games. It was the seventh time this season the Phantoms have rallied from behind for a win when trailing at the second intermission.
Five home games remain among the eight total contests left in the 2022-23 regular season. The Phantoms return to PPL Center on Friday and Saturday for back-to-back home tilts against the Wilkes-Barre/Scranton Penguins and Hartford Wolf Pack
SCORING SUMMARY
2nd 4:05 - HER, G. Pilon (8) (A. Ness, M. Sgarbossa) (PP) 0-1
2nd 10:31 - HER, S. Anas (10) (J. Snively, E. Frank) (PP, 5x3) 0-2
3rd 3:32 - LV, L. Belpedio (6) (E. Zamula, A. Anisimov) 1-2
3rd 4:58 - HER, J. Napravnik (5) (H. Rybinski, M. Morelli) 1-3
3rd 6:25 - LV, R. Fitzgerald (1) (E. Zamula, A. Brooks) 2-3
3rd 9:47 - LV, A. Anisimov (18) (T. Foerster, E. Andrae) (PP) 3-3
Shootout:
LV - J. Bellerive GOAL, T. Foerster X, B. Brink GOAL
HER - M. Sgarbossa X, J. Napravnik X
Shots:
LV 24 - HER 40
PP:
LV 1/5, HER 2/6
Goalies:
LV - S. Ersson (W) (37/40) (21-14-1)
HER - Z. Fucale (SOL) (20/23) (19-10-4)
Records:
Lehigh Valley (33-25-6)
Hershey (38-16-9)
PHANTOMS GAME TICKETS
UPCOMING SCHEDULE
Friday, March 31 (7:05) vs. WILKES-BARRE/SCRANTON PENGUINS
Saturday, April 1 (7:05) vs. HERSHEY BEARS
Sunday, April 2 (3:00) at Bridgeport Islanders
UPCOMING AT PPL CENTER
Friday, March 31 (7:05) vs. Wilkes-Barre/Scranton Penguins - Berks $1 Hot Dogs
Saturday, April 1 (7:05) vs. Hershey Bears - Saturday Night Hockey Live! Jimmy and the Parrots
Friday, April 7 (7:05) vs. Charlotte Checkers - Berks $1 Hot Dogs
Saturday, April 8 (7:05) vs. Springfield Thunderbirds - Star Wars Night! SNHL with DJ Jamal "Jedi" Knight
Friday, April 14 (7:05) vs. Charlotte Checkers - Regular Season Home Finale. Berks $1 Hot Dogs
PHANTOMS GAME TICKETS
Stay current with the latest Phantoms news with the Phantoms 365 app available for Apple and Android devices and at www.phantomshockey.com
Follow the team on Facebook (www.facebook.com/lehighvalleyphantoms), Twitter (@lvphantoms), and Instagram (@lehighvalleyphantoms).
Images from this story
• Discuss this story on the American Hockey League message board...


American Hockey League Stories from March 26, 2023
The opinions expressed in this release are those of the organization issuing it, and do not necessarily reflect the thoughts or opinions of OurSports Central or its staff.