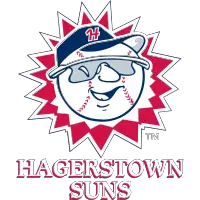 Maryland ballparks; unique and different
by Marc Viquez
August 20, 2009 - South Atlantic League (SAL) - Hagerstown Suns



Two ballparks, two leagues in one state; sounds like a perfect opportunity to watch minor league baseball in a day.
This was recently the case as I attended both the Hagerstown Suns and Frederick Keys' game. The two ballparks that each team plays in are as unique and different from one another, however, they are both filled with minor league charm that is somewhat hard to find these days across the eastern seaboard of the United States.
Municipal Stadium is definitely a relic of a ballpark and a reminder of minor league baseball's past. It features a covered grandstand, wooden bleacher seating and a press box that is perched up high on the roof. The 4,600 seat stadium was constructed in 1931 and completed in only six-weeks. Seventy-eight years later, the stadium is still hosting baseball in the South Atlantic League.
The experience is warm and friendly, concession prices are reasonable and there are a few signs of minor league kitsch. A staff member was manning a prize wheel and prizes included a 2007 team program and a game used broken bats, nothing fancy, but it seemed perfect in a place like this. The interior walls were decorated with vintage team pictures.
The stadium adjacent to neighborhood homes and beyond the outfield walls are trees and homes, while a hand operated scoreboard sits in leftfield. This might not be the casual fan's choice of ballparks, but there is a genuine atmosphere here in Hagerstown that is purely legit. It is a ballpark for the baseball purest.
A few miles down the interstate is Harry Grove Stadium, home of the Keys in the Carolina League. The stadium was built in 1990 and seats 5,400 fans; it features many of the accommodations of current minor league ballparks: open concourses, stadium suites, whacky promotions, etc. I was unaware that it was Harry Potter Night and was wondering what was with the strange wizardly garb worn by quite a few fans in attendance.
The ballpark was built before the recent renaissance of minor league ballpark designs, but follows similar patterns to its predecessors. However, it does stray away from current ballpark features; the seats are orange and navy-instead of forest green-and the exterior is sandy brown-in place of red brick. The view from beyond the outfield wall is that of the interstate, not as picturesque as in Hagerstown, but downtown Frederick is must visit for all; I pleasantly surprised by the row houses along the canal.
It was an interesting mix of the old and the new that was all within a thirty minute drive on I-70. The state of Maryland has plenty of baseball options from the major league Baltimore Orioles and Washington Nationals, but throw in minor league teams in Bowie, Aberdeen and Waldorf and you can visiting a different ballpark all week long.
I am not sure if it is fair to pick which one was the better of the two, it will depend on what you are looking for in a minor league ballpark. They always say you have two types of people in this world and perhaps these two baseball palaces are the home fields for these particular folks. Then again, it is refreshing to have the opportunity to watch minor league baseball at two ballparks that were built in different eras.
• Discuss this story on the South Atlantic League message board...


South Atlantic League Stories from August 20, 2009
The opinions expressed in this article are those of the writer(s), and do not necessarily reflect the thoughts or opinions of OurSports Central or its staff.
Other Recent Hagerstown Suns Stories