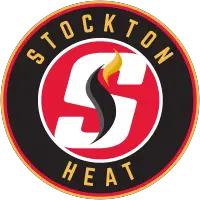 Heat Try to Play Spoiler During Final Regular Season Game in San Jose
April 17, 2016 - American Hockey League (AHL) - Stockton Heat News Release



TONIGHT
The Stockton Heat closeout their inaugural season with a road tilt against the San Jose Barracuda with a chance to knock San Jose out of the playoffs.
Stockton enters tonight less than 24-hours removed from a third period comeback win over San Jose at home on Saturday.
San Jose needs only a single point in tonight's contest to get themselves into the Calder Cup Playoffs. The Heat will look to spoil that with their first win at SAP Center this season.
LAST TIME VS. SAN JOSE
Just last night, Kenny Agostino led the Heat in a 5-4 win over San Jose with a four-point effort - his second on the season.
Agostino earned his fourth point with the primary assist on Hunter Shinkaruk's game-winning goal in the third period, which pushed the Heat to their third win this season after trailing heading into the final frame.
WHO TO WATCH
There is little doubt that over the last stretch of games one of the more impressive players on Stockton's roster has been rookie Mark Jankowski.
The 2012 first rounder has been a huge factor from day one in Stockton and that fact has never been more apparent than in the last few games.
Jankowski is currently riding a four-game point streak and has scored at least one point in all but two of his pro games to date. Needless to say, the Providence College product has certainly shown that he is more than capable to produce at the AHL level.
A full summer of NHL level workouts will turn Jankowski into a scary player no doubt, but tonight he'll look to finish off his first small taste of pro hockey with a big season finale against San Jose.
WILLINGLY PLAYING THE SPOILER
No one interviewed after last night's win, players or Coach Huska, shied away from the fact that playing the role of spoiler to San Jose's playoff hopes contributed to the team's furious third period comeback.
As pointed out in postgame interviews by just about everyone, it's tough sometimes to play when there is nothing on the line. However, the Heat have made it their goal to eliminate San Jose from the playoff picture with back-to-back wins in regulation.
Halfway to that goal now, tonight will surely be no different of a mindset for Stockton. They will be a much more confident group off the heels of last night's win and will look to finish the job here in San Jose.
CAREER YEAR WATCH
Eight players have already surpassed their previous career high in points (Morrison, Sieloff, Shinkaruk, Agostino, Grant, Kulak, Van Brabant and the latest Shore) but two other players have a chance to do that tonight.
Turner Elson has matched his career high of 30 points, so a point would give him a new career high, while Freddie Hamilton just tied his career high last night with his 43rd point on the season.
A single point from either of those players will give them new AHL career highs.
PLAYOFF PRIMER
As has been stated, the Stockton Heat can no longer mathematically reach the postseason, as the Charlotte Checkers have a minimum points-percentage that is higher than Stockton's maximum points-percentage.
For San Jose, it is simple - all they need is to collect a single point. Whether that is by way of an overtime loss or a win in regulation or overtime, it doesn't matter. San Jose collects one point, they are in.
INTERESTING FACT
Last night's win over San Jose was not only the first win for Stockton in regulation against the Barracuda, but was also the first time the Heat put an L next to Aaron Dell's name in net. That previous two victories for the Heat came against Troy Grosenick.
Sunday, April 17, 2016
Arena: Stockton Arena
Date: April 17, 2016
Time: 3:00 p.m. PST
Broadcast: AHL Live, Spreaker & iHeartRadio beginning at 2:45 p.m. PST
Leading Scorer: STOCKTON: F Kenny Agostino (64GP, 23-34-57)
SAN JOSE: F Ryan Carpenter (65GP, 18-37-55)
For the live, in-game tweets, follow @AHLHeatPR. Stay tuned at the end of the game for the Chase Chevrolet Big Moment of the Game with your chance to win an autographed Morgan Klimchuk puck.
• Discuss this story on the American Hockey League message board...


American Hockey League Stories from April 17, 2016
The opinions expressed in this release are those of the organization issuing it, and do not necessarily reflect the thoughts or opinions of OurSports Central or its staff.