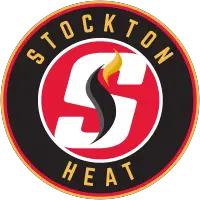 Heat Finish Inaugural Season as a .500 Hockey Club
April 17, 2016 - American Hockey League (AHL) - Stockton Heat News Release



San Jose, Calif. - The Stockton Heat entered the SAP Center in San Jose Sunday evening in hopes of thwarting the San Jose Barracuda's playoff hopes once and for all, but Stockton just didn't quite have the offensive performance they had hoped for as they fall in San Jose in the final game of the 2015-16 regular season. Nick Schneider made numerous acrobatic saves in net and, despite the loss, added some more positives to his young resume. Unfortunately for the Heat, Aaron Dell was strong between the pipes for San Jose and his 41 stops led the way for San Jose, as the Barracuda clinched their playoff birth with the two points. The Stockton Heat round out their inaugural season with a 32-32-2-2 record and look forward to a summer of training leading up to the 2016-17 regular season.
SCORING SUMMARY
1st Period
San Jose goal: F Barclay Goodrow (20) turnaround shot attempt from the bottom of the nearside faceoff circle squeezes into the net between the goaltender's body and the post (Young, Ryan assists), 5:11
San Jose goal: F Jeremy Langlois (12) puck is collected at the bottom of the farside faceoff circle and is shot through the goaltender's five-hole and into the net (Goldobin, Morin assists), 6:39
Shots: STK - 11 | SJ - 13
2nd Period
San Jose goal: F Trevor Parkes (18) odd-man rush leads to a centering pass towards the top of the crease that is tapped into the net past the goaltender's outstretched pad (Lerg, McCarthy assists), 12:54
San Jose goal: F Nikolay Goldobin (21) catch-and-shoot opportunity from the slot goes high gloveside and beats the goaltender just under the crossbar (Langlois, Morin assists), 18:59
Shots: STK - 16 | SJ - 12
3rd Period
San Jose goal: F Jeremy Morin (16) partial breakaway attempt leads to a backhand shot that sneaks under the goaltender and into the net (Goldobin assist), 3:40
San Jose goal: F Alex Gallant (1) wrist shot right off the draw beats the goaltender and goes into the net (Sims assist), 19:30
Shots: STK - 14 | SJ - 5
GOALIES
W: Aaron Dell (41 shots, 41 saves
L: Nick Schneider (30 shots, 24 saves)
NOTABLE STATISTICS
Three Stars: 1- Aaron Dell (41-save shutout) 2- Nikolay Goldobin (1 goal, 2 assists) 3- Jeremy Morin (1 goal, 2 assists)
Final Shots: STK - 41 | SJ - 30
Power Plays: STK - 0/2 | SJ - 0/3
Mark Jankowski has his four-game point streak snapped (2 goals, 3 assists)
Freddie Hamilton has his three-game point streak snapped (2 goals, 2 assists)
Kenny Agostino finishes the season as Stockton's leading scorer (23-34-57). It is the second-straight season he finishes with the most points on the team
The Stockton Heat closeout the 2015-16 regular season with a record of 32-32-2-2
Heat finish the year 22-11-1-0 at home and 10-20-1-2 on the road
Against San Jose, Stockton's final record reads 3-7-1-0
QUOTES
"We gave them two goals early and when you're up against a team that is fighting for their playoff lives, there is a pretty good chance they're not going to relinquish that lead." - Head Coach Ryan Huska with his thoughts on tonight's game.
"For a couple periods I thought we had the work and we had the push. The third period, thought, we were down by four already and it becomes tough for the guys to play. It was one of those downer situations I thought and it hurt us." - Coach Huska on his team's effort tonight.
"I thought there were definitely some guys that had good seasons for us and I think there is a lot look to improve out of that as well. We have to do a much better job of defending and preventing some of the chances that we do give up. We made our jobs much more difficult than they have to be." - Coach Huska on his feelings of the season as a whole.
• Discuss this story on the American Hockey League message board...


American Hockey League Stories from April 17, 2016
The opinions expressed in this release are those of the organization issuing it, and do not necessarily reflect the thoughts or opinions of OurSports Central or its staff.