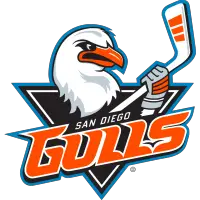 Gulls Blasted at Home by Abbotsford
February 2, 2023 - American Hockey League (AHL) - San Diego Gulls News Release



The San Diego Gulls fell 6-1 to the Abbotsford Canucks tonight at Pechanga Arena San Diego, bringing their overall record to 12-32-0-0 and 5-17-0-0 at home.
Rocco Grimaldi scored in a second consecutive game (2-0=2) with 4:16 remaining in the second period, earning his team-best 18th goal of the season and maintaining his position as the Gulls leading scorer with 18-24=42 points. Grimaldi's 8-9=17 points on the man-advantage also rank first among San Diego skaters in power-play goals and points.
Michael Del Zotto posted his 18th assist of the season on the play. Del Zotto's 4-10=14 points in 16 games since joining San Diego on Dec. 19 are tied for fourth in points among American Hockey League blueliners and mark the most earned by a Gulls defenseman over the span.
In addition, the Gulls' defense accounts for 32.1% of the team's offense (26-of-81 points) over the last 13 games, with 3-9=12 of those points (46.2%) coming from Del Zotto.
Benoit-Olivier Groulx also recorded his 18th assist of the season on the Gulls' lone goal, extending his point streak into a season-best four games (2-4=6).
The Gulls went 2-for-3 on the penalty kill tonight, finishing the game with an 81.0% success rate to rank tied for fourth in the Pacific Division, eighth in the Western Conference and 13th in the AHL.
Lukas Dostal stopped 22-of-28 shots in the loss.
The Gulls travel to Coachella Valley to take on the Firebirds in back-to-back contests at Acrisure Arena beginning this Friday, Feb. 3 (7 p.m. PST).
POSTGAME QUOTES
SAN DIEGO GULLS
Defenseman Austin Strand
On the loss to the Abbotsford Canucks
I mean, I think in the third, we just kind of - when we needed to have a push back, you know, they scored one kind of earlier in the third and then yeah, I mean going into the third I thought we were going to have a good push and make a comeback. But you know, it's 4-1 going into the third and then we just, they came out and scored one and then it's kind of hard to - they kind of took a bit of the life out of us. Yeah, it just was not the third that we needed to at least try and make a push and make a comeback.
On drawing positives from the loss
Yeah, I mean, we're just not scoring so we're getting some good shots, some good chances. Shots are pretty close, think somewhere - we both had high 20s. I think we might have been mid-20s. But yeah, I think, I mean as a d(efense)man, I think we just need more...we need net traffic and just, well we need to just maybe get a couple here hopefully and then guys started getting confidence back. And you know, maybe guys are kind of overthinking it, shooting it too high, just trying to score and when we haven't scored in a little while, so maybe guys are kind of trying to rip it too hard or overthinking. You know the shooting high and this and that, so maybe just trying to get like some ugly goals and get some screens in front of the net, take away the goalie's eyes. When you're shooting, you know the goalie in the first, it seemed like he was out so far and at the top of the crease just grabbing them and making easy saves and so yeah, I think just maybe get a little bit more net traffic.
On the special teams play
Special teams have been a lot better lately. Power play scored tonight, which is great. I think, you know, Sparresy's (Gulls assistant coach Kris Sparre) been working a lot with them, I know, and he's getting a lot of feedback from the guys, what they want to do and yeah, just I think trying new things and finding what clicks. And I think right now they're finding something that's clicking, so it's good.
Gulls center Benoit-Olivier Groulx
On the turning point in the loss to Abbotsford
I thought we had a really good first. We were only down one goal and I thought were really good defensively. Offensively, we had a lot of chances. In the second period, we were just soft defensively. We were missing assignments defensively, and that cost us. We knew they had a lot of really good players offensively and that's what happened. Good players make plays, and they can finish and that's what they did.
On simplifying the team's gameplan
We could simplify things a little bit, but I think we just got too many brain cramps sometimes. I feel like we're doing stupid turnovers sometimes that really cost us, and we've been doing that for a long time, and it seems like we don't learn from mistakes. I'm part of that. I did some turnovers today that are just unacceptable. I think it's everybody's fault tonight. Obviously, when Dos (Gulls goalie Lukas Dostal) is in the net, we have a really good goaltender, but when we leave him chances like that right in front of the slot, like there's nothing you can do. No, I think it's all on us right now, but we just got to be better for our next game.
On Grimaldi's power-play goal
It wasn't a bad play. It was something we talked about just before the intermission. They were just coming down on us really, really hard. So, I just thought to myself, like, 'I'm going to go on the goal line, maybe it's going to open up some space for Rocco Grimaldi,' and his first shot got blocked but he got it through on his second one, and he scored so that was a nice play. I think (the) power play was good today. I think that's something that would be really improved on and hopefully we're going to keep it that way.
On finding positives to bring into the games against Coachella Valley
I thought our defensemen got their shots through a little bit tonight. More than often, so that's really positive. Every time we can get some shots through, when we have some boys at the net, gives us one more chance and can just create some chaos in front of the net. So, I thought we did a good job on that tonight.
Head coach Roy Sommer
On the loss to the Abbotsford Canucks
You know, it's a fragile team, I'm not gonna lie. You know, we played the first period, it was good. You know, kind of tit for tat (at) both ends and I think we were out shooting 8-4 or something like that going into the second. You know, then they get one quick one and then they get another one right after and we just kind of lost our bearings after that. You know, we're just having a hard time concentrating for 60 minutes and you know putting a full game together; that's what's been killing us. You know, we play in spurts but it's not enough.
On simplifying the game plan
That team, they lost a couple in a row and they were a desperate team we played, and I thought they did a really good job of reloading, which was getting above us and getting pucks back again. And you know, when we had a chance to skate through the neutral zone with any kind of speed, their d(efense) were staying up and they were catching us from behind and we were turning it over and then coming back in our own end again. You know, and we didn't get any blocks from our forwards. No one came out on pucks when it did go back to their end. You know, they score two from the point, which is unusual for us. It was a hard game, and we played a desperate team that was a hell of a lot more desperate than we were. And for what reason, I can't tell you. We just have a lot of guys that aren't playing that well right now. And this is a team that's got to, you know, win by committee and not just have a couple of guys going. That's the way it's looking.
On finding positives to bring into the games in Coachella
Well, I think there's some stuff we could take out of the first period, but then we had a couple of good looks. I thought the power play moved it around alright, but, you know, we're playing the best team in the league coming up next three games in a row, and we're gonna have to play a hell of a lot better than we did tonight.
• Discuss this story on the American Hockey League message board...


American Hockey League Stories from February 2, 2023
The opinions expressed in this release are those of the organization issuing it, and do not necessarily reflect the thoughts or opinions of OurSports Central or its staff.