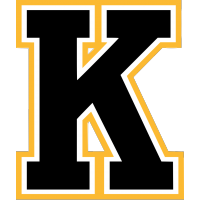 Game Day Preview: KGN vs OTT
February 18, 2022 - Ontario Hockey League (OHL) - Kingston Frontenacs News Release



The Kingston Frontenacs (26-12-3-0) look for a third three-game winning streak of the season tonight at 7:00 pm versus the Ottawa 67's (20-21-1-3) at Leon's Centre. The East Division rivals meet for the seventh time, with the Black and Gold winning four of six matchups, including a 5-1 win in the last game on December 5 in the Limestone City. Kingston sits one point back of the Hamilton in the division standings coming off two significant victories over the Bulldogs and Conference-leading Mississauga Steelheads last weekend, scoring 14 goals against two of the OHL's best. Ottawa enters action losing three straight sittings fourth in the East Division, 11 points back of second-place Kingston.
Kingston got out to a two-goal lead in the last game between the division rivals en route to the 5-1 home win. A first period that saw the Black and Gold only give up three shots. The Fronts won on a Shane Wright game-winner in the final moments of the first period. Wright, the games' first star, had three points (1G,2A), and Jake Murray chipped in with three assists. Kingston's penalty-killing units did an excellent job killing off all seven penalties called against the weak 67's powerplay, currently 16th in the league.
Head coach Luca Caputi is happy with the team's late successes but understands the need to reset and refocus this weekend, regardless of the team's standings. He said, "You can't overlook any team in this league; we will focus on our process; the things that we need to do to have success against any team. Little things that can help us through the way they play is something we talk about the day before the game. There's lots to learn, we gave up a bunch, so a little bit of a teaching day through video and reps on the ice and some areas we have to clean up to have success. We did a good job in practice working on those things. We just need to apply it to the game."
Rookie Gage Heyes became the seventh Frontenacs skater to record a goal with a beauty tally versus Hamilton on February 13. The Oshawa, Ontario native, while young, is understanding of the increased importance of each game. "All points matter at this point of the season. We're not going to take any games lightly, and we will continue to battle."
Francesco Firing
Forward Francesco Arcuri will play career game 100 tonight. He had an eight-game point streak that ended last game (7G,7A). The Dallas Stars prospect scored at least once in seven of his last 11 games, with 22 goals, passing a seven-goal rookie season. He leads all Kingston scorers with five game-winning goals. The forward has enjoyed success on a line with team goal leader Jordan Frasca and points/assist leader Lucas Edmonds. After two huge wins over perennial favourites Hamilton and Mississauga last weekend, the Woodbridge, ON native is confident his team is prepared to get back to what makes the team successful on Friday night. "We have good chemistry and working hard, so just playing a 200-foot game, we will have good things happen," said Arcuri after Thursday's practice. "It was hard throughout the week and just preparing the same way we did last week."
Peric Pouncing
Overage defenceman, Lucas Peric has been providing secondary offence from the blueline for coach Caputi's squad, leading defenders in points. After eight goals in his first three campaigns, the former Ottawa 67 rearguard has recorded a career-high nine goals in just 35 games this season. The defenceman has more than doubled his offensive output from previous seasons with a 0.71 points-per-game (6th KGN), sitting seventh in team scoring this season. He has utilized his ability to get shots to the net from various angles through traffic, helping spurn an increased offensive presence. The six-foot, 180-pound puck-mover has 97 shots after just 35 games entering action tonight, closing in a career-high 106 in 58 games during 2019-20.
Special Teams
Powerplays
KGN - 25.6% (1st Eastern Conf / 3rd OHL)
OTT - 17.2% (7th Eastern Conf /16th OHL)
Penalty Kill
KGN - 77.0% (7th Eastern Conf/15th OHL)
OTT - 74.3% (8th Eastern Conf / 17th OHL)
Fronts Notes:
Lucas Edmonds tied 1st OHL assists (50), 4th points (71), 2nd PP assists.
Edmonds on a six-game point streak (2G,9A).
Jordan Frasca on a six-game point streak (7G,5A).
Maddox Callens, Matthew Soto, Martin Chromiak listed day-to-day.
Shane Wright has points in 10 of last 13 games (8G,13A).
Jordan Frasca one of five OHL players with 30+ goals - Tied 4th (30) - 13 powerplay goals second-most in OHL.
Jake Murray tied fifth-overall OHL defencemen (+19).
Rookie Paul Ludwisnki has four points last two games 2G,2A.
Ludwinski and Captain Shane Wright will attend the CHL Prospects game in Kitchener, Ontario on March 23.
Team Stat Pack - GP (41)
(26-12-3-0) 55 pts - 1st East Div / 4th Eastern Conference (0.671 winning percentage 4th OHL)
Leaders
Goals - Frasca (30), Arcuri (22), Edmonds (21)
Assists - Edmonds (50), Wright (33), Frasca, Chromiak (27)
Points - Edmonds (71), Frasca (57), Wright (52)
PIMs - Haché (52), Poole (40), Budnick (39)
Shots- Edmonds (187), Wright (141), Frasca (140)
Powerplay Points - Edmonds (25), Frasca, Wright (19),Chromiak (17)
Rookie Points - Ludwinski (26), Soto (21), Thibodeau (8)
Defence Points - Peric (23), Murray (22), Bélanger (11)
Plus/Minus - Frasca (+26), Arcuri, Murray (+19), Edmonds (18)
On The Front
The Frontenacs hit the road Saturday for a afternoon game against the Hamilton Bulldogs starting a 4:00pm. Kingston returns home on Monday, February 21 for Family Day. Join the Frontenacs as they host the Ottawa 67's at the Leon's Centre starting at 2:00pm.
Tickets are available at ticketmaster.ca or at the venue box office. The Capacity at the Leon's Centre has increased to 50%. The venue should be operating at 100% as of March 1, 2022.
Listen to all the action on 104.3 Fresh Radio with Frontenacs play-by-play voice Jim Gilchrist. Fans can also follow along with team social media channels at Twitter, Facebook and IG for updates. Watch the games on YourTV Kingston (channel 700) or on CHL TV/OHL Live.
• Discuss this story on the Ontario Hockey League message board...


Ontario Hockey League Stories from February 18, 2022
The opinions expressed in this release are those of the organization issuing it, and do not necessarily reflect the thoughts or opinions of OurSports Central or its staff.