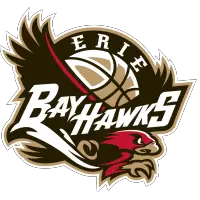 Erie BayHawks Finalize Training Camp Roster
October 26, 2019 - NBA G League (G League) - Erie BayHawks News Release



ERIE, PA - The Erie BayHawks, NBA G League affiliate of the New Orleans Pelicans, announced today their 2019 training camp roster. Camp will begin on Monday, October 28 at 7 p.m. at Penn State-Behrend, Erie Hall.
This year's training camp roster features a pair of New Orleans Pelicans two-way players, Zylan Cheatham and Josh Gray, four Pelicans affiliate players, Jalen Adams, Javon Bess, Kavell Bigby-Williams, and Aubrey Dawkins, two G League Expansion Draft players, Quinton Chievous and Scottie Lindsey, and three 2019 NBA G League Draft selections, EC Matthews (Round 1, Pick 16), Ryan Martin (Round 2, Pick 44) and Devin Watson (Round 3, Pick 72). Rounding out this year's training camp roster includes four local player tryout invitees and one returning player via trade with the Stockton Kings.
Erie BayHawks 2019-20 Training Camp Roster:
Name Pos. Ht. Wt. Date of Birth College / Home Country Status
Jalen Adams G 6-3 195 12/11/95 Connecticut/USA Pelicans Affiliate Player
Javon Bess F 6-6 220 4/1/96 Saint Louis/USA Pelicans Affiliate Player
Kavell Bigby-Williams F 6-11 250 10/7/95 Louisiana State/England Pelicans Affiliate Player
Zylan Cheatham F 6-8 220 11/17/95 Arizona State/USA Pelicans Two-Way Player
Quinton Chievous G 6-6 225 12/31/92 Hampton/USA Returning Player
Luquon Choice G 6-3 235 10/25/93 Lincoln Memorial/USA Local Tryout Player
Aubrey Dawkins G 6-6 205 5/8/95 Central Florida/USA Pelicans Affiliate Player
Josh Gray G 6-1 170 9/9/93 Louisiana State/USA Pelicans Two-Way Player
Dominic Green F 6-6 190 3/29/97 Washington/USA Local Tryout Player
Scottie Lindsey G 6-5 210 5/20/96 Northwestern/USA Returning Player
Ryan Martin F 6-9 225 11/9/91 Tennessee Tech/England Draft (Round 2, Pick 44)
EC Matthews G 6-5 200 10/3/95 Rhode Island/USA Draft (Round 1, Pick 16)
Zachary Monaghan G 6-2 175 12/1/92 Minnesota State-Mankato/USA Local Tryout Player
Rakim Sanders F 6-5 228 7/8/89 Fairfield/USA Local Tryout Player
Taren Sullivan F 6-6 220 7/30/95 Findlay/USA Returning Player via Trade with Stockton
Devin Watson G 6-1 172 9/6/95 San Diego State/USA Draft (Round 3, Pick 72)
General Manager: Marc Chasanoff
Assistant General Manager: Billy Campbell
Head Coach: Ryan Pannone
Associate Head Coach: Greivis Vasquez
Assistant Coaches: Mery Andrade, TJ Saint
Video Coordinator: Perry Huang
Athletic Trainer: Royal Milton III
Strength & Conditioning Coach: Lee Applequist
Equipment Manager: Dillon McGowan
Cheatham (6-8, 220), appeared in two preseason games with the New Orleans Pelicans, averaging 2.0 points and 1.5 rebounds in 4.9 minutes. The Phoenix, Ariz. native played collegiately at Arizona State where he led the Pac-12 in rebounds per game (10.3), while ranking sixth in the NCAA in defensive rebounds (278) during the 2018-19 season. The 2018-19 All-Pac-12 First Team honoree was the only player in the NCAA last season with 400+ points, 350+ rebounds and 100+ assists.
Gray (6-1, 170) comes to the BayHawks with two years of NBA G League experience under his belt. Undrafted out of Louisiana State in 2016, Gray averaged 16.2 points, 5.4 assists, 4.2 rebounds and 1.9 steals in 29.3 minutes over 95 games (37 starts) with the Northern Arizona Suns. He also spent five games on assignment with the Phoenix Suns during the 2017-18 season.
A native of Roxbury, Mass., Adams (6-3, 195) comes to the BayHawks after a four-year career with Connecticut. The 2019 All-AAC Third Team recipient appeared in 124 games (99 starts) with the Huskies, averaging 13.8 points, 4.1 assist and 3.7 rebounds in 30.0 minutes. Bess (6-6, 220) finished his collegiate career garnering Atlantic 10 Defensive Player of the Year and A-10 All-Second Team honors with the Saint Louis Billikens. Bigby-Williams (6-11, 250) heads to Erie after helping lead Louisiana State to a Sweet 16 appearance in the 2019 NCAA Tournament, averaging 7.7 points, 7.7 rebounds and 2.0 blocks throughout the tournament. After transferring from Michigan to Central Florida following the 2015-16 season, Dawkins (6-6, 205) became the first Knight in the program's DI history to score in double figures in his first 18 games with UCF. The Durham, N.C. local averaged 15.6 points, 5.0 rebounds and 1.4 assists in 33.4 minutes during the 2018-19 season with Central Florida.
• Discuss this story on the NBA G League message board...


NBA G League Stories from October 26, 2019
The opinions expressed in this release are those of the organization issuing it, and do not necessarily reflect the thoughts or opinions of OurSports Central or its staff.