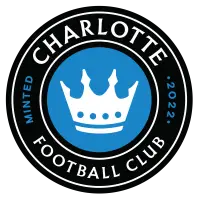 Cristian Ortíz Is 'One of the Best Number Tens for Our Specific Game Model'
January 19, 2022 - Major League Soccer (MLS) - Charlotte FC News Release



Positions in soccer are an ever-evolving part of the game and there is no better example than the attacking midfield position, commonly known as the number ten.
Traditionally, the number ten role is given to a highly creative, technical player whose sole job is to pull the strings on the offensive side of the game with little to no defensive duties.
However, while there are still remnants of traditional tens, especially in Major League Soccer, the modern attacking midfield role has morphed more into a box-to-box role with defensive responsibilities in addition to the attacking ones. Attacking midfielders are now more complete on both sides of the pitch.
Still their most important role is to use their creative abilities to create those all-important goals and assists.
Charlotte FC's latest signing and first-ever number ten, Christian "Titi" Ortíz, who played under Charlotte FC Head Coach Miguel Ramírez at Independiente Del Valle, epitomizes this modern attacking midfielder.
Attacking Catalyst
Despite the defensive duties that now accompany the role, being the creative, attacking outlet in the midfield remains the primary job of the number ten. This position requires good technical ability, spatial awareness, and creativity, all boxes that Titi ticks.
The Argentine possesses good acceleration and speed which - combined with his low center of gravity, great first touch, and tight ball control - makes him quick off the dribble and difficult to defend against. Even in congested areas, he's capable of dribbling into threatening spaces or out of pressure.
Like many of Charlotte FC's midfielders, Titi has excellent spatial awareness which he utilizes to get into good spaces to either receive the ball or make threatening runs into the box. He makes intelligent runs with good timing, helping create goal scoring opportunities for himself or his teammates.
"Ortiz has good awareness of when to move into the penalty area without the ball, something that really compliments us with the recent departure of Riley McGree who was also good at that," said Schaling. "He also brings an elite set piece taking ability that is invaluable."
A good example of his ability to arrive in the box to score (9:04) is demonstrated in his game against Brazilian side Gremio in the prestigious continental tournament, Copa Libertadores.
Titi also does a good job of getting shots off without much need of a run up or repositioning of his body. Even with minimal set-up, he generates a lot of power in his shots, which helps when he has defenders closing him down and pressuring him.
This also makes Titi a genuine goal scoring threat at distance which can surprise defenses with the occasional goal from outside the box.
An underappreciated trait, Titi is also a superb set piece taker. Whether it is a direct or indirect free kick or a corner, he is precise in his delivery to create threatening set-pieces.
Defensively Sound
Naturally, attacking midfielders tend to be significantly stronger in their offensive capabilities compared to their defensive ones, which can expose them and their team. Titi is an exception where his defensive ability shines just as much as his offensive abilities
"In our game model, it is equally important what players do without the ball, than what they do with the ball," said Charlotte FC Director of Scouting Thomas Schaling, "For a number ten, Christian is extremely hard working defensively and probably one of the best number tens for our specific game model that we've seen."
Titi has a high defensive work rate, knows when to press, and puts in good tackles to help win the ball back for his team. While some number tens can be a liability on defense, Titi certainly isn't one of them.
This is important for Ramírez's game model, which requires every player on the pitch to be locked in defensively. Some teams, particularly in MLS, have number tens with minimal defensive responsibilities, but this can lead to numerical disadvantages when defending.
It's crucial for Ramírez that each player contributes to defending as a unit and Ortíz will provide just that.
All these traits, abilities, and skills combine to make for a well-rounded playmaker that excels in the midfield and is versatile enough to play out wide as a winger if needed.
Charlotte FC has their maestro, adding a vital attacking piece to the inaugural squad puzzle. Under Ramírez, Titi played some of the best soccer of his career and will be looking to continue that magic under him in Charlotte.
• Discuss this story on the Major League Soccer message board...


Major League Soccer Stories from January 19, 2022
The opinions expressed in this release are those of the organization issuing it, and do not necessarily reflect the thoughts or opinions of OurSports Central or its staff.