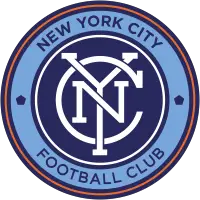 New York City FC Sign Nicholas Benalcazar, Jonathan Jimenez and Samuel Owusu to Homegrown Contracts
January 19, 2022 - Major League Soccer (MLS) - New York City FC News Release



NEW YORK, N.Y. - New York City FC (NYCFC) today announced that Forward Jonathan 'JJ' Jimenez and Defenders Nicholas 'Nico' Benalcazar and Samuel 'Kwaku' Owusu have signed MLS Homegrown contracts. The intention is that all three will participate with NYCFC II in MLS Next Pro competition in 2022.
Benalcazar, featured on the original U-14 Academy Team during the 2015/2016 season. Shortly after becoming team captain for the U-16 GA Cup Championship team in the Spring of 2017. The following spring, the Wilton, C.T., native lead the U-18/19 Development Academy to a championship and was also part of the Spring 2019 championship despite being sidelined by injury. In 100 games with the Academy, the defender started 96 games and scored nine goals from the back line, in addition to being named NYCFC 2018 Academy Player of the Year.
Benalcazar said: "I am excited for the opportunity to be a part of this new adventure. I enjoyed my time at the Academy and want to replicate the same success. This Club has given me everything I need to succeed and take the next step of playing at this level, I look forward to paying back the belief that they have in me."
Jimenez has played for the NYCFC Academy since 2017 and was vital in the team's back-to-back U-18/19 Development Academy Championships, scoring in the 2019 final. In 2021, the forward played 18 games for the University of North Carolina, tallying one goal and two assists, finishing third on the team in shots.
Jimenez said: "Returning to the Club where I experienced such wonderful memories was a no brainer for me. I look forward to continuing my development here and feel this is the perfect place for me to continue to grow and progress in my career. I look forward to creating more memories with this Club and hoping to play a part in bringing the team success in the first season."
Owusu was also a member of the U-16 GA Cup and U-18/19 Development Academy Championship teams. Originally from Ghana, the defender joined NYCFC in the fall of 2016 and attended Riverside High School in Yonkers, NY.
Owusu said: "I am really excited for the next chapter in NYCFC history. I have been around this Club for a long time, and it means a lot to me as they have always had my development and best interests at heart. I am really excited to be working with the coaching staff and the Club who have always provided me with the right tools to grow as a player and as a person. I hope to continue the success of the Club and maybe even add more trophies to the cabinet."
David Lee, NYCFC Sporting Director added: "We are really excited to welcome back Nico, JJ and Kwaku to the Club and sign them to Homegrown contracts. While we intend for them to play a significant role for our newly created NYCFC II team, this gives us the flexibility for them to be available on our MLS roster as well.
"Over the years we have seen them grow and develop, and all display the professionalism both on-and-off the pitch which we believe gives them the best opportunity to continue to improve. They have already been important players for our Academy and played pivotal roles in the Development Academy National Championships.
"The addition of an MLS Next Pro team has been crucial in us being able to provide a suitable pathway and development experience for all three players with regular competitive games and we're excited to have them back with us to continue their development. They will also be part of our pre-season for the invaluable experience of training with the first team for an extended period of time."
More details about NYCFC MLS Next Pro affiliate, NYCFC II, will be released in the coming weeks.
Transaction: New York City FC signs Nicholas Benalcazar, Jonathan Jimenez and Samuel Owusu to Homegrown contracts
Name: Nicholas Benalcazar
Position: Defender
Height: 5'11"
Weight: 170 lbs
Date of Birth: 06/06/2001
Age: 20
Hometown: Wilton, Connecticut
Name: Jonathan Jimenez
Position: Forward
Height: 5'10"
Weight: 169 lbs
Date of Birth: 04/25/2001
Age: 20
Hometown: Norwalk, Connecticut
Name: Samuel Owusu
Position: Defender
Height: 6'2"
Weight: 185 lbs
Date of Birth: 12/13/2000
Age: 21
Hometown: Yonkers, NY
• Discuss this story on the Major League Soccer message board...


Major League Soccer Stories from January 19, 2022
The opinions expressed in this release are those of the organization issuing it, and do not necessarily reflect the thoughts or opinions of OurSports Central or its staff.