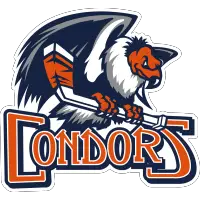 8,929 Condors fans donate record 7,614 stuffed animals at Teddy Bear Toss
December 1, 2008 - ECHL (ECHL) - Bakersfield Condors News Release



BAKERSFIELD, Calif. - The Bakersfield Condors drew their second-largest crowd ever on Saturday night, as 8,929 fans packed Rabobank Arena to standing-room-only capacity for the 10th annual Teddy Bear Toss game against the Idaho Steelheads. The game, a 4-3 setback, brought in a Condors record of 7,614 stuffed animals. The Condors embark on a five-game road trip, starting with a three-game series against the Alaska Aces in Anchorage this week.
The Condors are 6-9-3 on the season, and in 5th place in the Pacific Division with 15 points. Bakersfield is just one point behind the Las Vegas Wranglers in the division standings.
THIS WEEK (ALL TIMES PACIFIC):
Wednesday, Dec. 3 @ Alaska (8:15 p.m.)
Friday, Dec. 5 @ Alaska (8:15 p.m.)
Saturday, Dec. 6 @ Alaska (8:15 p.m.)
WEEK IN REVIEW (Home team in CAPS):
Friday, Nov. 28
ONTARIO 2 vs. Condors 1, SO
The Condors kept a 1-0 lead intact until late in the third period due to the performance of G Ryan Nie (right) in net, but the Ontario Reign managed to force overtime and eventually win, 2-1, after taking the shootout. Nie finished with 39 saves on 40 shots, stopping all 29 Ontario shots through the first two frames. F Matt Pope was the Condors lone goal-scorer.
Saturday, Nov. 29
Idaho 4 vs. CONDORS 3
Attn: 8,929
With 8,929 fans on hand for the 10th annual Teddy Bear Toss and G Yutaka Fukufuji in net for the Condors, the Idaho Steelheads held on to a one-goal lead for the 4-3 win on Saturday. Idaho opened the scoring early in the first, but F Dale Reinhardt (left) brought Bakersfield back with a shorthanded goal at 14:28 in the first, sparking the Teddy Bear Toss. After the stuffed animals were scooped up, Idaho netted two more goals to pull ahead, 3-1, but F Tylor Michel ended the period with his first pro goal to make it a one-goal game. Both teams exchanged power play tallies in the second, with F Andrew Ianiero scoring for the Condors, but Idaho held on to the 4-3 lead through a scoreless final frame.
CARUANA RECALLED TO IOWA:
Rookie F Matt Caruana (right) was recalled to the Iowa Chops, the AHL affiliate of the Anaheim Ducks, on Monday. He was originally reassigned to Bakersfield during training camp, and has suited up in all 18 Condors games this season. Caruana's 10 goals are second on the team and tied for 4th among ECHL rookies, while his 14 points are tied for 17th among the league's rookies.
Caruana joins D Andrew Thomas and G Dave McKee as Condors currently recalled to Iowa, while LW Mark Derlago is on recall to the Manitoba Moose.
RECORD-SETTING TEDDY BEAR TOSS DRAWS 8,929 FANS SATURDAY:
A standing-room-only crowd of 8,929 fans, the second-largest in team history, filled The Nest for the 10th annual Teddy Bear Toss game on Saturday and flung a record amount of fur, donating 7,614 stuffed animals. Four of the six highest attended games in Condors history have been Teddy Bear Toss games, including last season's mark of 8,895 (now the third-highest attendance in team history). Throughout the last five years, the Teddy Bear Toss games have averaged 8,717 fans and have drawn at least 8,200 fans each year.
The record amount of stuffed animals this season surpassed the previous high of 7,149 in 2004-05 and propels the Condors all-time total of collected stuffed animals to more than 52,400. This season's total marks the second consecutive season, and third in the last five years, in which more than 7,000 stuffed animals were donated.
For video from the Teddy Bear Toss, click here and visit Condors.TV.
PLAYER AND TEAM NOTES:
The Condors are 2nd in the league in overall attendance at 58,552 and in average attendance at 6,506 per game.
G Yutaka Fukufuji (right) made his season debut for the Condors on Saturday, stopping 19 of 23 shots in the game and 13 of 14 shots in the last two periods.
F Matt Pope had a five-game scoring streak snapped Saturday, with 4g-3a during that stretch. He leads the team, is tied for 7th in the ECHL and tied for 2nd among the league's rookies with 11 goals.
Pope is also tied for 8th among rookies with 18 points and 4th with a 28.2% shooting percentage. He is the Condors nominee for ECHL Rookie of the Month in November after scoring 12 points (8g-4a) in 11 games during the month.
Rookie F Dale Reinhardt is on a three-game point streak (1g-2a), and ignited the Teddy Bear Toss with his first goal of the season on Saturday.
LW Mark Derlago made his season debut in the AHL with the Manitoba Moose on Friday, and not only scored a goal on his first shift of the game, but also netted one in the shootout to help the Moose win.
Derlago is the Condors nominee for ECHL Player of the Month for November after racking up 16 points (6g-10a) in 11 games during the month.
D Scotty Balan (right) is tied for 4th among ECHL defensemen with 50 PIM.
The Condors power play ranks 11th in the league at 17.4% and is 3rd best in the ECHL on the road, clicking at 24.5% away from The Nest.
The Condors have earned a point in six of their last 10 games (4-4-2).
LW Bobby Bolt was placed on the 7-IR on Saturday and is eligible to be activated on Saturday, Dec. 6. D Kevin Truelson was placed on the 3-IR on Friday and is eligible to be activated. C Dave Bonk remains on the 30-IR and is eligible to be activated on Dec. 22.
AFTER ROAD TRIP, CONDORS RETURN HOME FOR SCOOBY-D00:
The Condors begin a five-game road trip with a three-game series against the Alaska Aces this week. The two teams will face off Wednesday, Friday and Saturday, with all three games starting at 8:15 p.m. On their way home, the Condors will conclude their trip with stops in Victoria on Dec. 9 (7:05 p.m.) and Fresno on Dec. 12 (7:35 p.m.). All the games will be broadcast live on ESPN Radio 1230, B2 Networks and Bakersfieldcondors.com, and be sure to tune in 15 minutes before the opening draw for Condors Countdown.
The Condors return to the Mercy & Memorial Hospitals Home Ice at Rabobank Arena on Saturday, Dec. 13 to host the Las Vegas Wranglers. Scooby-Doo (right), presented by Bright House Networks, 101.5 KGFM and Bakersfield Marriott, will be at the game to meet fans and pose for pictures in the Condors Photo Booth. Doors open at 11 a.m., the puck drops at noon.
That game will also feature choirs from local schools singing Christmas carols as part of the Condors Sing for Santa fundraising event. For more information on how to get involved with Sing for Santa, contact the Front Office at (661) 324-PUCK (7825).
Individual game tickets are on sale and may be purchased through the Rabobank Arena Box Office, which is open from 10 a.m. - 6 p.m. Monday through Friday and 10 a.m. - 4 p.m. on Saturday with extended hours on game days. Tickets may also be purchased by phone at 322-2525, online at Bakersfieldcondors.com, or at any Ticketmaster location. Season tickets, mini-plans and group outings are available at the Condors office located at 1001 Truxtun Avenue or by calling 324-PUCK (7825).
LEAGUE LEADERS:
Total Attendance - 58,552 (2nd)
Average Attendance - 6,506 (2nd)
F Matt Pope - 11 goals (t-2nd rookies, t-7th overall)
F Matt Pope - 18 points (t-8th rookies)
F Matt Pope - 28.2% shooting percentage (t-4th)
D Scotty Balan - 50 PIM (t-4th defensemen)
Condors Power Play - 17.4% (11th)
Road Power Play - 24.5% (3rd)
CONDORS LEADERS:
Points- LW Mark Derlago (20)
Goals- F Matt Pope (11)
Assists- LW Mark Derlago (11)
PIM- D Scotty Balan (50)
Plus/Minus- F Matt Pope (+4)
GAA- G Ryan Nie (2.77)
Save Percentage- G Ryan Nie (.907)
• Discuss this story on the ECHL message board...


ECHL Stories from December 1, 2008
The opinions expressed in this release are those of the organization issuing it, and do not necessarily reflect the thoughts or opinions of OurSports Central or its staff.
Other Recent Bakersfield Condors Stories