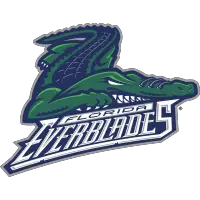 Florida Everblades Weekly
December 1, 2008 - ECHL (ECHL) - Florida Everblades News Release



ESTERO, FL - The Florida Everblades enter this week two thirds of the way through their season-long nine game road trip. This past week the Everblades were 3-1-0 allowing the team to enter this week's action with a record of 13-3-1 (27 pts., 1st South Division).
THIS WEEK (All Times Eastern)
Wednesday, December 3 at Elmira Jackals 7:05 p.m.
GAME NOTES: The Everblades head into the home stretch of their long road trip on Wednesday night at Elmira. The game is the first ever between the two teams and is the only time the clubs will meet during the 2008-09 season. So far on this trip the Everblades are 2-1-0 vs. North Division opponents. The Jackals enter this week's action with a record of 9-6-2 (20 pts., 5th, North Division).
Friday, December 5 at Trenton Devils 7:30 p.m.
GAME NOTES: The Everblades return to the site of their only loss during this nine-game road trip on Friday night when they meet up once again with Trenton. The meeting is the second of two on the trip and the final meeting of the regular season between the teams. The Everblades are 0-1-0 all-time vs. Trenton after falling 7-6 earlier in this trip. The Devils enter this week's action with a 5-11-3 record (13 pts., 6th, North Division).
Saturday, December 6 at Reading Royals 7:05 p.m.
GAME NOTES: The Everblades' season-long road trip comes to an end on Saturday night the they face the Royals for the second of two match-ups. The Everblades are 1-0-0 vs. Reading this season after collecting a 4-0 win earlier in this road trip. Reading is coached by former Everblades associate coach Jason Nobili. The Royals enter this week's action with a record of 5-14-1 (11 pts., 7th, North Division)
LAST WEEK'S RESULTS
Tuesday, November 25 at Gwinnett Gladiators 5-0 Win
The Everblades recorded their second consecutive shutout with a 5-0 blanking of the Gladiators. Anton Khudobin picked up his third shutout of the season in the effort stopping all 23 shots he faced. Offensively the Everblades improved to 4-0-0 vs. Gwinnett thanks to a pair of goals each by Kevin Baker and Jacob Micflikier. The other Florida goal came off the stick of Harrison Reed. Florida special teams: PP: 2-of-8; PK: 9-of-9.
Friday, November 28 at Reading Royals 4-0 Win
The Everblades extended their shutout string to three straight games and increased their overall winning streak to 10 straight games thanks to a 21 save performance by David Leggio who earned his second shutout of the season. In the process the Everblades set an all-time ECHL record by pushing their shutout string to 211:58. Offensively the Everblades collected goals from Jacob Micflikier, Kevin Baker, Doug O'Brien and Yannick Tifu. Florida Special Teams: PP: 1-of-10; PK: 6-of-6.
Saturday, November 29 at Trenton Devils 7-6 Loss
The Everblades suffered their first loss on their nine-game road trip and saw their 10-game winning streak come to and end after a wild 7-6 loss at Trenton. Despite jumping to a 5-2 lead after on period on goals by Jacob Micflikier (2), Danick Bouchard, Mathieu Roy and Ryan Lang, the Devils stormed back with three second period goals to tie the game at five entering the third period. Micflikier completed his first career hat-trick in the third period, but the Devils tacked on two third period goals to get the win. In goal David Leggio took the loss in relief, allowing five goals on 21 shots over the final 4 minutes of the game. Anton Khudobin started in net but was pulled after allowing two goals on five shots in the first 15 minutes of the game. Florida Special Teams: PP: 3-of-8; PK: 3-of-5.
Sunday, November 30 at Johnstown Chiefs 4-3 OT Win
The Everblades finished off their busiest week of the season with a hard-fought 4-3 overtime win at Johnstown. The Everblades peppered the Johnstown net with a season-high 57 shots as Doug O'Brien became the hero, scoring with 33 seconds left in overtime. Johnstown forced overtime by scoring with 33 seconds left in regulation. All three Everblades goals in regulation came on the power play with Peter Metcalf scoring twice and Ernie Hartlieb adding the other. Anton Khudobin matched a person career mark by winning his eighth in a row after stopping 28 shots. Florida Special Teams: PP: 3-of-10; PK: 6-of-7.
EVERBLADES ITINERARY:
Monday, Dec. 1: OFF DAY
Tuesday, Dec. 2: Practice @ Cornell University
Wednesday, Dec. 3: GAME vs. Elmira Jackals, 7:05 p.m. @ First Arena
Thursday, Dec. 4: Practice @ Trenton
Friday, Dec. 5: GAME vs. Trenton Devils, 7:30 p.m. @ Sovereign Bank Arena
Saturday, Dec. 6: GAME vs. Reading Royals, 7:05 p.m. @ The Sovereign Center
Sunday, Dec. 7: Coming Home!!
2008-09 EVERBLADES REGULAR SEASON NUMBERS
Quick Stats
Overall Record 13-3-1
Home Record 6-2-0
Road Record 7-1-1
Overtime Record 1-1
Shootout Record 1-0
Power Play 29-127 (2nd)
Penalty Kill 105-117 (1st)
Leading Scorers
Kevin Baker 13-13-26
Jacob Micflikier 8-10-18
Ernie Hartlieb 6-10-16
Ryan Lang 6-10-16
Ross Carlson 7-8-15
Danick Bouchard 7-7-14
Leading Goaltenders
Anton Khudobin 1.72 GAA, 8-1-0
David Leggio 2.16 GAA, 5-2-1
Plus/Minus Leaders
Ernie Hartlieb +13
Ross Carlson +10
Colin Nicholson +8
Kevin Baker +7
Special Teams Breakdown: Here's a look at the special teams of the Everblades and how it breaks down overall, home and away: Power play: 29-of-127 (22.8%) which ranks the Everblades 2nd in the ECHL. At home the Everblades are 5-of-51 (9.8%) which ranks 23rd. On the road the Everblades are 24-of-76 (31.6%) which ranks 1st in the league. Penalty Kill: 105-of-117 (89.7%) which ranks the Everblades 1st in the ECHL. At home the 'Blades are 50-of-56 (89.3%) which is 4th. On the road the Everblades have killed off 55-of-61 (90.2%) which ranks 1st in the league.
Record Setting Streak!: The Everblades' impressive shutout streak during this road trip not only set and all-time Everblades record, but also set two all-time ECHL records. The three consecutive shutouts starting on Nov. 22 at Augusta with a 12-0 pasting of the Lynx, continued into this past week's action with a 5-0 blanking of Gwinnett and a 4-0 shutout of Reading. The streak was broken just over two minutes into Florida's game at Trenton ending the run at 214:19. The previous ECHL record for shutout streak during the regular season came during the 1996-97 season when Hampton Roads posted a streak of 203:05. The Everblades also set an all-time ECHL record for the longest road shutout streak breaking the previous mark of 214:16 set by the Trenton Titans during the 2000-01 season.
Who's Hot: Here's a look at who's been playing well for the Everblades of late: Forward Kevin Baker has tallied points in his last six games (7g, 7a)...F Jacob Micflikier has at least one point in five straight games (8g, 8a)...F Ernie Hartlieb is currently riding a five-game point scoring streak (1g, 4a) and has points in 12 of the last 14 games...FRyan Lang has points in five of the last seven games (3g, 7a)...F Yannick Tifu has notched a point in six straight games (2g, 8a)...D Peter Metcalf has recorded at least on point in seven straight games (3g, 8a)...G Anton Khudobin has registered eight straight wins after losing his first start of the year and has recorded three shutouts.
Milestones Reached: Everblades defenseman Peter Metcalf skated in his 400th career game on Nov. 28 at Reading.
Upcoming Milestones: Here are some other milestones that Everblades players could reach this upcoming season: Defenseman Peter Metcalf is three goals shy of 50 in his career...forward Ernie Hartlieb is 23 games away from playing in his 500th career contest...forward Mathieu Roy is only 12 games shy of his 100th career game...forward Brad Herauf is 27 games away from skating in his 300th career match...defenseman Doug O'Brien is only 10 games away from playing in his 300th career game.
Ticket Information: Everblades 2008-09 group tickets and individual game tickets are on sale now! Fans can purchase tickets at the Germain Arena box office, which is open from 10:00 a.m. - 6:00 p.m. Monday through Friday, and 10:00 a.m. - 2:00 p.m. on Saturday. Tickets can also be purchased over the phone by calling TicketMaster at (239) 334-3309, or online at www.ticketmaster.com. For additional information, contact the Everblades office at (239) 948-7825.
On the Air: Everblades games, home and away, can be heard on 770 ESPN Radio and via the internet courtesy of Waterman Broadcasting by logging on to www.floridaeverblades.com or www.abc-7.com/sports. In addition, Everblades games can be viewed via the internet thanks to B2 Networks by logging on to www.b2livetv.com. Join the voice of the Everblades Kevin Reiter as he calls all the action! The Everblades pre-game show begins 20 minutes prior to game time.
• Discuss this story on the ECHL message board...


ECHL Stories from December 1, 2008
The opinions expressed in this release are those of the organization issuing it, and do not necessarily reflect the thoughts or opinions of OurSports Central or its staff.