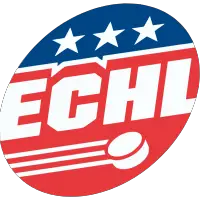 ECHL Today
December 1, 2008 - ECHL (ECHL) News Release



Alaska Aces (12-5-1) at Ontario Reign (10-6-2) 7 p.m. PT

- Ontario rookie Geoff Walker scored career-high two goals in 3-2 win against Alaska on Sunday.
- Aces defenseman Matt Shasby had 14 points (4g-10a) in 13 games in November.
- Reign are 7-2-2 in one-goal games including 2-0 in shootouts and 2-2 in overtime.
- Alaska's Colin Hemingway has a five-game point streak (5g-5a) and a three-game goal streak (3g).


Fresno Falcons (12-5-1) at Las Vegas Wranglers (7-7-2) 7 p.m. PT

- Wranglers are 6-1-3 in their last 10 home games against Fresno and 23-9-9 overall against the Falcons.
- Falcons are 3-0-2 in their last five games at Las Vegas and 18-18-5 overall against the Wranglers.
- Las Vegas' Shawn Limpright has nine points (2g-7a) in his last five games.
- Fresno rookie Kyle Hagel has four points (3g-1a) in his last two games.


Watch Games Live on B2 Networks, the "Official Broadband Broadcast Provider" of the ECHL
Premier 'AA' Hockey League Fast Facts
- The ECHL celebrated its 20th Anniversary in 2007-08 and is the third-longest tenured professional hockey league behind only the National Hockey League and the American Hockey League.
- ECHL began in 1988-89 with five teams in four states and has grown to be a coast-to-coast league with 23 teams playing 828 games in 16 states and British Columbia in 2008-09.
- The Reading Royals, the City of Reading and the Sovereign Center will host the 17th Annual ECHL All-Star Game on Jan. 21, 2009 and the 12th Annual All-Star Skills Competition on Jan. 20, 2009.
- The league officially changed its name from East Coast Hockey League to ECHL on May 19, 2003.
- Affiliations with 26 of the 30 teams in the National Hockey League marking 12th consecutive season that the league has had affiliations with at least 20 teams in the NHL.
- 372 former ECHL players have played in NHL.
- 116 have played their first NHL game in the last four seasons.
- 17 former ECHL players have made their NHL debut this season: former Wheeling Nailers and ECHL All-Star defenseman Paul Bissonnette (Pittsburgh on Oct. 4) , former Bakersfield Condors center Alexandre Bolduc (Vancouver on Nov. 27), former Las Vegas Wranglers and Wheeling Nailers goaltender John Curry (Pittsburgh on Nov. 26), former Greenville Grrrowl goaltender Jeff Drouin-Deslauriers (Edmonton on Oct. 17) , former Johnstown Chiefs center Andre Deveaux (Toronto on Nov. 27), former Gwinnett Gladiators right wing Pat Dwyer former Columbus Cottonmouths and Tallahassee Tiger Sharks left wing Mitch Fritz (New York Islanders on Oct. 30), former Charlotte Checkers center Dwight Helminen (Carolina on Oct. 28), former Trenton Devils right wing Pierre-Luc Letourneau-Leblond (New Jersey on Oct. 22), former Charlotte Checkers defenseman Steve MacIntyre (Edmonton on Oct. 15), former Phoenix RoadRunners and Wheeling Nailers center Cam Paddock (St. Louis on Nov. 14), former Las Vegas Wranglers defenseman Adam Pardy (Calgary on Oct. 9), former Gwinnett Gladiators center Jared Ross (Philadelphia on Oct. 11) , former Alaska Aces goaltender Marek Schwarz (St. Louis on Oct. 25), former Greenville Grrrowl and Stockton Thunder center Tim Sestito (Edmonton on Nov. 26), former Dayton Bombers and Las Vegas Wranglers defenseman Tyler Sloan (Washington on Oct. 21) and former Augusta Lynx defenseman Brett Skinner (New York Islanders on Oct. 27).
- There were 72 former ECHL players on NHL opening-day rosters.
- Twenty-six former ECHL players made their NHL debut in 2007-08 including six who played in both the ECHL and the NHL: Chris Beckford-Tseu (Alaska and St. Louis), Adam Berti (Pensacola and Chicago), Joe Jensen (Wheeling and Carolina), Dan LaCosta (Elmira and Columbus), Jonathan Quick (Reading and Los Angeles) and Danny Taylor (Reading and Los Angeles).
- Record 47 former ECHL players played their first NHL game in 2005-06.
- ECHL is represented for the eighth consecutive year on the National Hockey League championship team in 2008 by Aaron Downey of the Detroit Red Wings.
- Former ECHL coaches working as head coaches in the NHL are Bruce Boudreau of the Washington Capitals, Scott Gordon of the New York Islanders and Peter Laviolette of the Carolina Hurricanes. Boudreau, who coached Mississippi for three seasons winning the Kelly Cup championship in 1999, was named NHL Coach of the Year in 2007-08 becoming the first former ECHL coach to receive the award. Laviolette, who began his coaching career with the Wheeling Nailers, led Carolina Hurricanes to the Stanley Cup in 2006.
- There are 18 assistant coaches in the NHL who were players or coaches in the ECHL.
- There are 18 former ECHL officials scheduled to work as part of the NHL officiating team in 2008-09 with referees David Banfield, Chris Ciamaga, Ghislain Hebert, Marc Joannette, Mike Leggo, Wes McCauley, Dean Morton, Dan O'Rourke, Brian Pochmara, Kevin Pollock, Kyle Rehman, Chris Rooney, Justin St. Pierre and Ian Walsh and linesmen Steve Barton, Brian Mach, Tim Nowak and Jay Sharrers. Barton, Joannette, Leggo, McCauley, Nowak, Pollock, Rooney and Sharrers all worked the 2008 Stanley Cup Playoffs.
- ECHL has affiliations with 25 of the 29 teams in the American Hockey League and for the past 19 years there has been an ECHL player on the Calder Cup Champion.
- In the last six seasons the ECHL has had more call-ups to the AHL than all other professional leagues combined with over 2,000 call-ups involving more than 1,000 players since 2002-03.
- Further information on the ECHL is available from its website at ECHL.com.


• Discuss this story on the ECHL message board...


ECHL Stories from December 1, 2008
The opinions expressed in this release are those of the organization issuing it, and do not necessarily reflect the thoughts or opinions of OurSports Central or its staff.