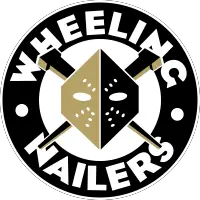 Wheeling Nailers Weekly Report, October 15
October 15, 2018 - ECHL (ECHL) - Wheeling Nailers News Release



Last Week
Saturday, October 13th: WHEELING NAILERS 3 @ Norfolk Admirals 5
The Wheeling Nailers opened their 27th season on Saturday night, as they visited the Norfolk Admirals for the first of four straight road games to start off the campaign. After falling behind 4-0, Wheeling put forth a strong surge in the third period, lighting the lamp three times on the power play. Eliot Grauer scored the first two goals for the Nailers in his ECHL debut, and Dan Fick added the final tally. Renars Krastenbergs dished out two assists in his professional debut. Wheeling put tons of heat on Norfolk goaltender Ty Reichenbach, who stopped 45 of 48 shots to earn a 5-3 win for his squad. Zane Schartz (2 goals) and Connor Hurley (1 goal, 2 assists) led the offensive attack for the Admirals.
This Week
Saturday October 20th: WHEELING NAILERS @ Cincinnati Cyclones, 7:35 p.m.
Divisional play begins for the Nailers this weekend, as they visit the Cincinnati Cyclones for the first of eight head-to-head meetings this season. Wheeling and Cincinnati split their preseason series, with both teams winning on the road. Last season, the Cyclones were a thorn in the side for the Nailers, as Cincinnati won five of the six battles, including two during the final weeks of the campaign. On Saturday night, the Cyclones got their season off to a good start, avenging a playoff defeat to the Fort Wayne Komets with a 5-2 win at U.S. Bank Arena. Arvin Atwal and Spencer Dorowicz both scored twice, while Michael Houser made 24 saves to thwart his former club.
Notes
- Nick Saracino and Dan Fick were named co-captains prior to Saturday's tilt. Saracino will wear the "C" on the road, while Fick will wear the "C" at home.
- Saturday's game ended a seven-year run in which the Nailers earned at least one point in their season opener (5-0-2).
- 14 of the 17 players in Saturday's lineup were making their Wheeling debuts, with Cam Brown, Dan Fick, and Kevin Spinozzi serving as the only three from previous seasons.
- With the 14 new faces, 806 players have now suited up with the Thunderbirds and Nailers, since hockey came to Wheeling in 1992.
- Renars Krastenbergs is the youngest player in the ECHL this season at 19 years, 292 days, edging Cincinnati's Shaw Boomhower by just under two months.
- The game in Cincinnati will be the first of 43 against Central Division opponents, making up nearly 60% of the schedule.
Central Division Standings
1. Cincinnati Cyclones 1-0-0-0, 2 pts.
2. Indy Fuel 1-1-0-0, 2 pts.
3. Toledo Walleye 1-1-0-0, 2 pts.
4. Fort Wayne Komets 1-1-0-0, 2 pts.
5. WHEELING NAILERS 0-1-0-0, 0 pts.
6. Kalamazoo Wings 0-1-0-0, 0 pts.
Team Leaders
Goals: Eliot Grauer- 2
Assists: Renars Krastenbergs & Zac Lynch- 2
Points: Eliot Grauer, Renars Krastenbergs, Zac Lynch- 2
Penalty Minutes: Cedric Lacroix- 11
Plus/Minus: Seven Players tied- Even
Goals Against Average: Evan Cowley- 5.12
Save Percentage: Evan Cowley- .828
Next Big Promotional Night
Saturday, November 3rd- Home Opener, Pregame Party, Concert by Logan Wojcik, Wheeling Hockey Hall of Fame Induction Ceremony, Rally Towel Giveaway
Family Four Packs are available for the home opener. Fans can get 4 tickets, 4 hats, and 4 McDonald's Meal Vouchers for $60.
• Discuss this story on the ECHL message board...


ECHL Stories from October 15, 2018
The opinions expressed in this release are those of the organization issuing it, and do not necessarily reflect the thoughts or opinions of OurSports Central or its staff.