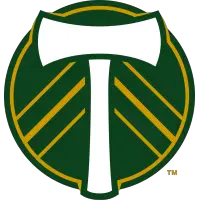 Timbers Advance to Quarterfinals of Scotiabank CONCACAF Champions League Behind 5-0 Win over C.D. Marathón
April 13, 2021 - Major League Soccer (MLS) - Portland Timbers News Release



PORTLAND, Ore. - Receiving a hat trick from Yimmi Chara, the Portland Timbers advanced to the quarterfinals of the 2021 Scotiabank Concacaf Champions League tournament, defeating C.D. Marathón 5-0 in the second leg of the Round of 16 at Providence Park on Tuesday night. Diego Valeri added a goal and an assist in the match, while Dairon Asprilla and Josecarlos Van Rankin both tallied assists. Additionally, Marvin Loría tallied his first goal of 2021 as a second-half substitute, while Cristhian Paredes tallied an assist off the bench.
With a 7-2 aggregate score over two legs, the Timbers move on to the quarterfinal round of the tournament for the first time in the club's history. Portland will square off against the winner of Club América and C.D. Olimpia.
Back With Fans
Tuesday's match against Marathón marked the Timbers first match with fans in a span of 401 days. Portland last played in front of fans in the club's 2020 MLS home opener on March 8, 2020, against Nashville SC.
Timbers At Home In SCCL Play
In six Champions League contests held at Providence Park, the Timbers are undefeated with a 5-0-1 record, outscoring their opponents 22-5. The match marked Portland's first home CCL match since 2016 when the team played host to Deportivo Saprissa on Oct. 19, 2016.
Yimmi Chara Hat Trick
Yimmi Chara's hat trick was the second in the club's MLS era since Frederic Piquionne (2013 US Open Cup vs Wilmington Hammerheads). Notably, Chara's hat trick was the second ever by an MLS player in Concacaf Champions League play. The hat trick was the 14th in Portland's all-era history with Chara becoming the 11th player in club history to score three or more goals in a single match. Dating back to the end of the 2020 season, Chara has four goals in his last five matches across all competitions.
Goal-Scoring Plays
POR - Yimmi Chara (Diego Valeri), 18th minute: Dairon Asprilla dribbled the full length of the field and delivered a cross into the center of the box. Diego Valeri settled Asprilla's cross after it took a deflection and laid the ball off to Yimmi Chara, who fired a swerving strike in the left side of the goal.
POR - Yimmi Chara (Dairon Asprilla), 36th minute: Asprilla dribbled down the left side of the field and played a cross to Chara at the top of the six-yard box for the finish.
POR - Diego Valeri (Carlos Van Rankin), 66th minute: Near the right corner of the box, Van Rankin cut the ball back and delivered a pass to Valeri, who slotted a well-placed shot inside the left post.
POR - Yimmi Chara, 78th minute: Marathón goalkeeper Denovan Torres made the initial save on Marvin Loría's long-distance strike, but was unable to hold onto the ball. Chara pounced on the loose ball and converted from close range.
POR - Marvin Loría (Cristhian Paredes), 89th minute: Paredes played a perfectly-weighted pass from midfield in behind the Marathon backline. Loría controlled the ball off his chest from just inside the box and slid the ball into the right corner of the goal.
Notes
The Timbers have advanced to the quarterfinals of the SCCL for the first time in club history.
Portland improved to 6-2-2 in 10 all-time appearances in SCCL play, including a mark of 5-0-1 in home matches.
Claudio Bravo, Ismaila Jome and Josecarlos Van Rankin made their Providence Park debuts in the match.
Diego Valeri scored his third goal in SCCL play with his previous two goals coming in the 2016 edition of the tournament.
Valeri has scored 97 goals in all competitions for the Timbers.
Marvin Loría scored his first goal for the club since 2019. He has now scored three goals across all competitions for the club.
Van Rankin tallied an assist for a second consecutive match.
Dairon Asprilla delivered his first assist of the season and his 13th across all competitions with the Timbers.
Valeri notched his first assist of the season, increasing his career assist total to 101 across all competitions.
Cristhian Paredes recorded the seventh assist of his Timbers career in the match.
Blake Bodily made his Concacaf Champions League debut, becoming the first Homegrown Player in MLS history to make in an appearance in the MLS is Back Tournament, the Audi MLS Cup Playoffs and the CCL before playing in the regular season.
Bill Tuiloma, Bodily and Loría each made their Concacaf Champions League debut.
Next Game
The Timbers square off against Vancouver Whitecaps FC in their opening match of the MLS season on Sunday, April 18, at Rio Tinto Stadium in Sandy, Utah. The April 18 match kicks off at 7 p.m. (Pacific) and will feature a television broadcast on ROOT SPORTS and radio broadcasts on 750 The Game (English) and La GranD 93.5 FM (Spanish).
Portland Timbers vs. C.D. Marathón - 2021 Scotiabank Concacaf Champions League - Round of 16 (Leg 2)
April 13, 2021 - Providence Park (Portland, Ore.)
Goals by Half 1 2 F
Portland Timbers 2 3 5
C.D. Marathón 0 0 0
Scoring Summary:
POR: Y. Chara (Valeri), 18
POR: Y. Chara (Asprilla), 36
POR: Valeri (Van Rankin), 66
POR: Y. Chara, 78
POR: Loría (Paredes), 89
Misconduct Summary:
POR: Zuparic (caution), 8
CDM: Perdomo (caution), 43
POR: Bodily (caution), 86
Lineups:
POR: GK Clark, D Van Rankin, D Mabiala, D Zuparic (Tuiloma, 88), D Bravo, M D. Chara, M Williamson, M Y. Chara (Bodily, 80), M D. Valeri © (Paredes, 80), M Asprilla (Jome, 88), F Mora (Loría, 68)
Substitutes Not Used: GK Attinella, D Bonilla
TOTAL SHOTS: 19 (Y. Chara, 6); SHOTS ON GOAL: 10 (Y. Chara, 4) ; FOULS: 20 (Asprilla, D. Chara, 5); OFFSIDES: 2; CORNER KICKS: 4; SAVES: 2
CDM: GK Torres, D Crisanto (Hoyos, 45), D Perdomo, D Techera, D Vega, M Garrido, M Arriaga (García, 63), M Izaguirre, M Solano (Suazo, 70), F Ramírez (Calix, 45), F Castillo (Palermo, 45)
Substitutes Not Used: GK Ortiz, M Guevara
TOTAL SHOTS: 10 (Arriaga, 3); SHOTS ON GOAL: 2 (Arriaga, Solano, 1) ; FOULS: 14 (Izaguirre, 3); OFFSIDES: 1; CORNER KICKS: 0; SAVES: 4
Referee: Ivan Barton
Assistant Referees: Juan Francisco Zumba, Geovany Garcia
4th Official: German Martinez
Weather: Sunny, 45 degrees
All statistics contained in this box score are unofficial
• Discuss this story on the Major League Soccer message board...


Major League Soccer Stories from April 13, 2021
The opinions expressed in this release are those of the organization issuing it, and do not necessarily reflect the thoughts or opinions of OurSports Central or its staff.