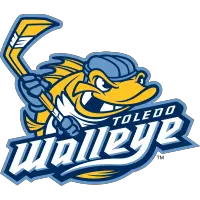 Storm notes
April 11, 2005 - ECHL (ECHL) - Toledo Walleye News Release



END OF REGULAR SEASON STORM NOTES
- Finished! The Toledo Storm completed the 2004-05 regular season at 41-26-5. The 41 wins is the fifth most in franchise history tied with 97-98 team (41-21-8) and the 94-95 squad (41-22-5).
- Manning the Net! Goaltender Scott Fankhouser set a franchise record for goals against average in a single season (2.34). Scott's mark shattered the previous record held by Drew MacIntyre (2.61 03-04), and David Goverde. Fankhouser finished the season 10th among goaltenders in GAA, 3rd in wins (29), 2nd in minutes played (2,968), and 4th in shootout save percentage (39-48, 81.3%).
- Four Goal Manias! Carl Mallette had the first 4 goal game (March 12th against Peoria) for a Storm player since Andrew Williamson 2/10/01 against Johnstown. Carl finished with 15 points (6g, 9a) in 9 games with Toledo. Mallette finished the season second the ECHL in scoring with 80 points (30g, 50a) behind Alaska's Scott Gomez (13g-73a-86p).
- Home Cooking! Toledo went 24-10-2 at home this season. Only Pensacola (26), Reading (25), and South Carolina (25) won more home games.
- Season Records! This year's version of the Storm set three franchise records.
1.Toledo set a single season record for the fewest power play goals against at 41. Previous record: 48, set in the 1997-98 season.
2. Toledo set a new single season record allowing 194 goals. Previous record: 196 (02-03).
3. Toledo's 6 shutouts set a new mark. Previous mark: 5 (96-97, all by David Goverde).
- Ten Points! The Following is a list of Season Highs for the 2004-05 Storm.
1.Toledo's longest winning streak was 5 straight from January 23 to February 4th. The Storm did go unbeaten in regulation time at home for 12 straight from December 19th to February 23rd.
2.Toledo was 27-7-1 when scoring first, 17-3-0 when leading after one period, 26-1-0 when leading after two periods.
3.Toledo was 25-9-3 when out-shooting opponents. The Storm had a season high 56 shots March 30th against Dayton.
4.Toledo was 21-6-5 in one goal games.
5.Toledo scored 14 shorthanded goals this season, which is 1 shy of the Team Record (15 in 2001-02).
6.The Storm was 29-7-2 when scoring 3 or more goals, and 40-9-3 when allowing 3 or less.
7.Toledo had a record of 10-3-1 in the month of January. Only December (5-6-0), did Toledo finish a month below the .500 mark.
8.The Storm out-scored opponents 74-56 in the third periods this year. Only Reading (54) and Pensacola (41) allowed fewer goals in the third stanza. 9.Forward Scooter Smith had the longest point streak of the season collecting at least one point in eight straight games from February 5th to February 23rd.
10.On February 25th, Rick Judson became Toledo's all-time leader in goals passing Andrew Williamson. Rick finished his ninth season with Storm as the all-time leader in goals (197), assists (244), points (441), and games played (452).
STORM PLAYOFF WATCH
- The Toledo Storm opens the 2005 Kelly Cup Playoffs Thursday night in Reading. This will be the first playoff series between the two franchises since the Columbus franchise moved to Reading in 2001. The 2 franchises did meet twice with Toledo holding a 5-3 games edge, and with each team winning one playoff series. Toledo is 3-6-0 against the Royals this season, with 1 of the wins coming in Reading (2-1 on 2/5/05). The Storm converted 6 of 32 power play chances against Reading in the season series. Scooter Smith had 6 assists in 7 games, and goaltender Scott Fankhouser was 2-4-0 with a 2.83 GAA and a .899 save percentage against the Royals this season.
- This is the 11th of 14 seasons that the Storm has made the playoffs.
- Due to the travel schedule to Reading, the Toledo Storm Coach's Show will not air Tuesday night. Future dates of the Coach's Show will be determined at a later date.
STORM PLAYER OF THE WEEK NOMINATION:
Pierre Luc Sleigher (2 goals - 2 assists = 4 points)
Pierre clinched the nomination for the second straight week thanks to his 4-point performance Friday night against the Peoria Rivermen.
STORM GOALTENDER OF THE WEEK NOMINATION:
Scott Fankhouser (1-1-0, 5GA & 55SV)
Scott collected his 29th win of the season Friday night.
• Discuss this story on the ECHL message board...


ECHL Stories from April 11, 2005
The opinions expressed in this release are those of the organization issuing it, and do not necessarily reflect the thoughts or opinions of OurSports Central or its staff.