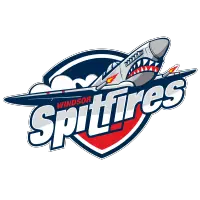 Spitfires Comeback and Win in a Shootout over Soo 3-2
January 21, 2022 - Ontario Hockey League (OHL) - Windsor Spitfires News Release



The Spitfires were in for a tough matchup versus the #1 Soo and after a huge 2-win weekend in the Soo just 2 weekends ago. The Spitfires got down early but battled back for a massive win.
In the first period, the Soo came out flying throwing 14 shots on Medina and scoring on one. The Spitfires mustered 7 shots through the first twenty and came close to evening the score but hit the post and the puck stayed out.
In the second period, just over five minutes in Savard extended the Soo lead to 2-0. The Spitfires only registered 3 shots while the Soo had 11 in the middle frame.
In the third period, the Spitfires found their legs and their goal scoring touch. Wyatt Johnston fed Maggio who passed it to Cuylle in front of the net who shot it under the glove and above the pad to bring the Spitfires back within one just 8:26 into the period. The Spitfires were trying to find a equalizer but Tynan stood tall for the Soo. In the dying embers of the game, the Spitfires tied it with Maggio in the slot ripping home his 16th on the season with the net empty. Time of the goal was 19:35 with Johnston and Perrott getting the assists. After 60 minutes we were tied at 2 a piece and headed to overtime.
In the overtime period it was all about possession. The Soo were strategic in their attack and Medina stood tall with five saves in OT while the Spitfires didn't register a shot. Overtime solved nothing and we were off to a shootout.
In the shootout, Wyatt Johnston was up first and he was stopped by Tynan. Kartye was up for the Soo and shot the puck wide. D'Amico was up next and did what he does best by scoring in the shootout to put the Spitfires up 1-0. Kerins was up next for the Soo and he was stopped by Medina. Maggio was up for the Spitfires with a chance to end it but he was poke checked and the game was left in Medina's hands. Dickinson went in and Medina shut the door for the big win on his 20th birthday. The Spitfires are 4-1 against the Soo this season and won a thriller tonight.
The Spitfires are back in action Friday January 21st when they travel to Kitchener for a home and home series. Puck drop is scheduled for 7:30pm on Friday. Then the Spitfires will play at home on Sunday vs Kitchener at the WFCU Centre, puck drop is scheduled for 4:05pm.
• Discuss this story on the Ontario Hockey League message board...


Ontario Hockey League Stories from January 21, 2022
The opinions expressed in this release are those of the organization issuing it, and do not necessarily reflect the thoughts or opinions of OurSports Central or its staff.