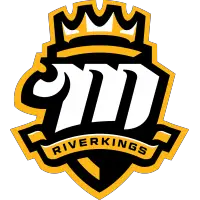 RiverKings Weekly
February 14, 2011 - Central Hockey League (CHL) - Mississippi RiverKings News Release



SOUTHAVEN, MS --- The Mississippi RiverKings have a trio of games on the Central Hockey League schedule this week, with a home game Tuesday evening against the Evansville IceMen at 7:05 PM in Southaven's DeSoto Civic Center, followed Friday with a road trip to Wichita, followed by another road game in Colorado on Saturday. Friday's game time in Wichita is 7:05 PM, while Saturday's contest in Colorado starts at 8:05 PM Central time.
RIVERKINGS RECAP: The Mississippi RiverKings finished last week 1-1-2, falling at home to the Missouri Mavericks 1-0 on Tuesday, losing at Bloomington in overtime 4-3, and again in overtime Saturday at Tulsa 4-3, before claiming a 4-1 victory Sunday afternoon at home against Wichita. Mississippi starts the week with a 23-22-4 record for fifth place in the Central Hockey League Berry Conference standings, one point short of fourth place Texas and two points away from a tie for second place with Bossier-Shreveport and Tulsa.
In Friday's overtime loss at Bloomington, the RiverKings scored goals by Matt Boyd, Derek Landmesser, and Brennan Sarazin, and Larry Sterling made a season-high 39 saves in the effort. Saturday, Patrik Levesque, Louis Dumont and Jeff Christian netted goals for the RiverKings and Alexander Pechurskiy made 29 saves in goal.
Sunday, Landmesser, R.G. Flath, Sarazin, and Christian scored goals and Sterling made 33 saves in posting his 11th victory of the season against Wichita.
RIVERKINGS SPECIAL TEAMS: Mississippi scored once on the power play in Sunday's victory. The RiverKings are 4-for-28 on the power play in the team's last five games and enter the week ranked 13th in power play success at 16.8%. On the penalty kill, Mississippi was 1-for-7 against Wichita Sunday afternoon. In the team's last five appearances, the RiverKings are 3-for-29 on the penalty kill and for the season ranks seventh on the PK at 83.8%. Mississippi ranks first in the CHL for shorthanded goal scoring with 13 and has allowed nine shorthanded goals this year. Eight of the team's 13 shorthanded goals have been scored on DCC ice this year.
SPECIAL TEAMS NOTES: RiverKings forward Louis Dumont is tied for the CHL lead in shorthanded goals scored with four. Chris Auger leads all CHL rookies in shorthanded goals scored with three. Matt Summers is tied for the CHL lead in power play goals scored with 11. Nathan Lutz ranks fourth in the CHL for power play assists with 20, which is first among league defensemen, and teammate Derek Landmesser is third in power play helpers at 16.
MASTERS ADDED TO RIVERKINGS ROSTER: The RiverKings added forward Rusty Masters to the roster Sunday prior to their game with the Thunder. A native of Grafton, Ontario, Rusty came to the RiverKings from the Mississippi Surge of the Southern Professional Hockey League (SPHL), where he was the team's leading point producer and ranked ninth in the SPHL for points with 45. The total included 19 goals and 26 assists. Masters assisted on a goal in his first game for the RiverKings Sunday afternoon against Wichita.
PLAYER NOTES:
Chris Auger is in a tie for third in plus-minus for rookies in the CHL at +9. Jeff Christian scored the final goal in Sunday's victory over Wichita and has two goals and three points in his last three appearances. Christian has 499 career CHL points entering this week's play. Louis Dumont is tied for second in the CHL in shootout goals scored with three. Dumont assisted on the RiverKings' first goal Sunday afternoon and now has three points in his last two games (1 goal, 2 assists). The assist Sunday was also Dumont's 1300th career professional point. R.G. Flath scored a goal and added an assist Sunday against Wichita and has two goals and four points in his last five games. Derek Landmesser ranks tenth in the CHL for points by a defenseman with 30. Landmesser opened the scoring in Sunday's win against Wichita has two goals and four points in his last five games. Landmesser is within two of 100 career RiverKings goals scored. Nathan Lutz continues to lead all CHL defensemen in points with 42, adding an assist to the total in Sunday's victory. Lutz now has ten goals and 32 assists for the season. The 32 assists leads all D-men in the league. Lutz assisted on a goal Sunday against the Wichita Thunder and has two assists in his last five appearances. Alexander Pechurskiy ranks tenth in the CHL for goals-against-average at 2.72. Chris Richards assisted on the RiverKings' final goal in Sunday's win against Wichita and has three assists in his last three games. Brennan Sarazin ranks fifth in the CHL for shooting percentage with his seven goals coming on 31 shots for a .226 shooting percentage. Sarazin scored a goal and added an assist Sunday against Wichita, giving him three goals and five points in the last five games. Russell Smith is tied for fourth in the CHL overall and also among league defensemen for minor penalties taken with 40. Smith is third in the league for penalty minutes by a defenseman with 135. Smith has taken 24 penalty minutes in his last six games, a streak dating back to February 4th and a streak that is now the longest of its type in the CHL. Matt Summers assisted on the RiverKings first goal Sunday afternoon against Wichita and has two assists in his last two games.
TEAM NOTES: Mississippi continues to lead the CHL in penalty minutes taken at 1207 for the year. The RiverKings have taken a league-leading 14 game misconducts this season and have one match penalty charged against them. However, the team's 24.63 penalty minutes per game average is now second to Arizona. The RiverKings are now 9-0-0 when ahead after two periods in home games this season, but are 0-10-0 on the road when trailing after forty minutes. Mississippi has not won on the road in its last three appearances away from the DCC, a run that dates back to January 13th, but has not lost in its last three outings going back to February 11th.
RIVERKINGS STATISTICAL LEADERS:
GOALS: Matt Summers (17)
ASSISTS: Nathan Lutz (32)
POINTS: Chris Richards (44)
PLUS-MINUS: Derek Landmesser (+12)
PENALTY MINUTES: Russell Smith (135)
POWER PLAY GOALS: Summers (11)
SHORTHANDED GOALS: Louis Dumont (4)
GAME-WINNING GOALS: R.G. Flath (4)
RIVERKINGS GOALTENDING LEADERS:
GAMES PLAYED: Larry Sterling (25)
MINUTES PLAYED: Sterling (1394)
WINS: Alexander Pechurskiy, Sterling (11)
SHUTOUTS: Sterling (2)
GOALS-AGAINST-AVERAGE: Pechurskiy (2.72)
SAVE PERCENTAGE: Pechurskiy (.898)
BROADCAST SCHEDULE: All three RiverKings games this week will be heard in the Mid-South on Sports 56, WHBQ-AM and www.sports56whbq.com. Air time Tuesday and Friday night will be 6:50 PM, while Saturday's broadcast begins at 7:50 PM. Veteran broadcaster Bob Bakken calls the action for all home and away RiverKings games on the radio and the Internet.
RiverKings hockey is also available through the CHL-TV webcasting service, accessed through the Watch Live link on the team's official web site, www.riverkings.com. Friday night, the CHL-TV broadcast with Bob Bakken calling the action will be part of an Official Away Game Watch Party at the Southaven Buffalo Wild Wings, located north of Goodman Road on Airways Boulevard.
TICKETS: For RiverKings ticket information, call 662-342-1755 or go online to www.riverkings.com today!
• Discuss this story on the Central Hockey League message board...


Central Hockey League Stories from February 14, 2011
The opinions expressed in this release are those of the organization issuing it, and do not necessarily reflect the thoughts or opinions of OurSports Central or its staff.
Other Recent Mississippi RiverKings Stories