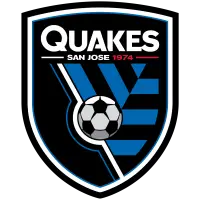 Quakes snap three-match winning streak; face LA Galaxy on Wednesday
October 12, 2020 - Major League Soccer (MLS) - San Jose Earthquakes News Release



PORTLAND, Ore. - The San Jose Earthquakes fell to the Portland Timbers 3-0 on Sunday night at Providence Park, snapping their three-match winning streak.
The Earthquakes will now return to San Jose before traveling to face the rival LA Galaxy on Wednesday, Oct. 14, presented by Sutter Health. Kickoff from Dignity Health Sports Park is set for 7:30 p.m. PT and the match will be broadcast on NBC Sports California, KNBR 1050 and 1370 KZSF.
GAME NOTES
San Jose now holds a 5-7-5 record in the 2020 regular season and remains above the playoff line in seventh place in the Western Conference.
The Earthquakes now hold a 3-1-0 record in their last four matches.
Quakes defender Oswaldo Alanis started and played 90 minutes. It marked his first appearance since suffering an injury on Sept. 16, also against Portland, that caused him to miss four matches.
MLS Regular Season
Portland Timbers 3 - 0 San Jose Earthquakes
Oct. 11, 2020 - Providence Park in Portland, Ore.
Scoring Summary: POR - Jaroslaw Niezgoda (Diego Chara, Eryk Williamson) 46; POR - Jaroslaw Niezgoda (unassisted) 52; POR - Felipe Mora (Yimmi Chara, Marvin Loria) 86.
Misconduct Summary: POR - Eryk Williamson (caution) 18; POR - Marco Farfan (caution) 29; SJ - Tanner Beason (caution) 69; SJ - Andy Rios (caution) 79.
SAN JOSE EARTHQUAKES: JT Marcinkowski, Nick Lima, Oswaldo Alanis, Tanner Beason, Tommy Thompson (Shea Salinas 65), Carlos Fierro, Judson, Jackson Yueill, Cristian Espinoza, Andy Rios, Chris Wondolowski.
Substitutes not used: Jacob Akanyirige, Eric Calvillo, Cade Cowell, Luis Felipe, Siad Haji, Paul Marie, Jack Skahan, Daniel Vega.
SHOTS: 11, SHOTS ON GOAL: 7; SAVES: 5; FOULS: 20; CORNER KICKS: 7, OFFSIDES: 4.
PORTLAND TIMBERS: Steve Clark, Jorge Villafana, Dario Zuparic, Bill Tuiloma, Marco Farfan, Diego Valeri (Tomas Conechny 74), Diego Chara, Yimmi Chara (Jeremy Ebobisse 61), Eryk Williamson, Marvin Loria (Renzo Zambrano 88), Jaroslaw Niezgoda (Felipe Mora 61).
Substitutes not used: Pablo Bonilla, Chris Duvall, Andres Flores, Aljaz Ivacic, Larrys Mabiala.
SHOTS: 16; SHOTS ON GOAL: 8; SAVES: 7; FOULS: 7; CORNER KICKS: 3, OFFSIDES: 7.
SAN JOSE EARTHQUAKES HEAD COACH MATIAS ALMEYDA
On tonight's loss against Portland:
"I try to take the positive away from this game. Despite the loss, I think we had a good football level. In football, there is a great reality that when you make mistakes in the midfield against dangerous teams like this one, you ultimately end up paying the price. When you have clear chances like the ones we had, we cannot forgive those. Let's not forget we are playing a team that is in second or first place. During the game, I think we outplayed them, so I'm not too focused on the result."
On encouraging the team moving forward:
"I think the end result could've ended either way tonight because the players had great delivery, especially in the first half. A lot of good football. In the second half, we had as many chances to score as they did but we did not put them away."
On preparing for Wednesday's match against LA Galaxy:
"It's difficult. Having lost before, I said it was always difficult. During our victories, I still said it was difficult. Today, we have to remind the players like we have in the past, there are ways to move forward. Tonight, the rival was superior, they had many youngsters who fought hard until the end. We will now head home, rest, and see how the team is doing tomorrow. The day after, we shall see how tired they are. We know the Galaxy will be well-rested since their last game was postponed. It will be a benefit to them, but we will try to play that match to the best of our abilities."
SAN JOSE EARTHQUAKES MIDFIELDER SHEA SALINAS
On the team's performance in the tough conditions:
"It was a hard-fought game. I think our intensity was there. Our pressure, our intent to go score was there. We controlled the game really well, moved the ball side to side, and we had a lot of chances. Unfortunately, we weren't able to score on those chances, and I think that came back to hurt us when they capitalized on theirs. Then the game kind of opened up a little bit when we were pushing for a goal, and they were able to grab another one. I think it is a completely different story then when they beat us at home, and we were late to every pressure. Tonight, I think was a different game. If we score our chances, I think it could've ended very differently."
On the team's mentality after giving up two quick goals:
"Yeah, I mean it's frustrating. Honestly, they started the first half really well, and probably could've scored in the first five minutes of the game. Thankfully, they didn't. We ended the half stronger, and then in the second half they came out and scored quickly on us. It puts you behind the eight ball, but I think we still tried to control the game, tried to stick with our game plan, and we had several chances there in the second half. I think if we bring one back, maybe it's 2-1, and we fight for a late goal, but it just didn't happen for us tonight."
SAN JOSE EARTHQUAKES DEFENDER OSWALDO ALANIS
On playing the right center back position:
"I don't remember how many games I've played in that position; I think maybe 10 or 11 games total. It was just when something like this happened where I played in that position, but usually I play on the left. Knowing that in the world there are less left-footed players than right, I felt good. However, I feel bad about losing 3-0. The game didn't feel like it. We could have done some things better to keep the ball and get a better result. We had plenty of chances of scoring and made mistakes that created this 3-0 loss. The feeling is sad but also we know that the team is playing better. We keep going. We have to keep going because we have a game in three days."
On his fitness level after returning from an injury:
"I think when you don't play, you can train harder than usual. The rest of the guys are working, and the games keep you in shape. I hope this game helps me to be better for the next game. I want to give the team what they want, to give Matias what he wants."
On JT Marcinkowski's growth:
"I think he has grown a lot, with confidence and many things. I told him that having a guy that plays like him and is fighting hard for a spot helps a lot. He is a good keeper and has been saving us in previous games. He's a player that adds to the team, that makes us a better team. I'm happy for him and I hope he continues to grow. To continue to give the team what we've seen recently."
Images from this story
• Discuss this story on the Major League Soccer message board...


Major League Soccer Stories from October 12, 2020
The opinions expressed in this release are those of the organization issuing it, and do not necessarily reflect the thoughts or opinions of OurSports Central or its staff.
Other Recent San Jose Earthquakes Stories