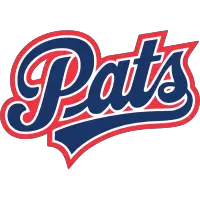 Pats Fall to Tigers 5-1 on Sunday Afternoon
February 5, 2023 - Western Hockey League (WHL) - Regina Pats News Release



Medicine Hat, Alta. - The Regina Pats had their two game winning-streak come to an end following a 5-1 loss against the Medicine Hat Tigers to finish their four game road trip on Sunday at Co-Op Place.
Despite the loss, the Pats had a very successful road trip, grabbing five of a possible eight points, going 2-1-1-0 throughout the week.
The Pats got the opening goal from Connor Bedard in the opening two minutes before Medicine Hat took a 2-1 lead into the second period. The Tigers got goals from five different players throughout the game as Pavel Bocharov, Kurtis Smythe, Rhett Parsons, Dallon Melin and Oasiz Wiesblatt scored for the Tigers and Beckett Langkow got the win, making 30 saves.
THE GOALS
First Period
REG 1-0 at 1:13 - Connor Bedard (45), assisted by Borya Valis and Stanislav Svozil // Valis got the puck in the Tigers zone to the left of Langkow, and he found Bedard in front of the net, where Bedard battled through a stick check and slapped it past Langkow to put the Pats up 1-0 early in the contest.
MH 1-1 at 4:32 - Pavel Bocharov (11), assisted by Oasiz Wiesblatt and Josh Van Mulligan // Bocharov received a pass at the top of the left circle and fired a wrist shot past Sim to tie the game up at 1-1.
MH 1-2 at 14:44 - Kurtis Smythe (2), assisted by Cayden Lindstrom and Dallon Melin // A point shot from Smythe deflected off Pats' defender Bateman and past Sim to give the Tigers a 2-1 lead.
Second Period
MH 1-3 at 12:42 - Rhett Parsons (3), assisted by Gavin McKenna and Reid Andresen // From just inside the Pats' blueline, Parsons let fly a wrist shot that beat Sim top-shelf blocker side to extend the Tigers lead to 3-1.
Third Period
MH 1-4 at 7:31 - Dallon Melin (13), Penalty Shot (SH) // The Tigers were awarded a penalty shot and Melin was successful as he tucked a backhander past a sprawled-out Sim to give the Tigers a 4-1 lead.
MH 1-5 at 18:06 - Oasiz Wiesblatt (20), assisted by Gavin McKenna and Dru Krebs // McKenna's long shot was kicked out by Sim but Wiesblatt buried the rebound to all but put the game away at 5-1.
STATISTICS
SOG: REG - 9-10-12-31 | MH 10-11-11-32
PP: REG - 0/3 | MH - 0/3
Face-Offs: REG - 27 | MH - 28
GOALTENDING BATTLE
Regina: Drew Sim (32 shots/27 saves)
Medicine Hat: Beckett Langkow (31 shots/30 saves)
3 STARS
First: Langkow (win, 30 saves) - Tigers
Second: Melin (1G-1A, +2, 3 shots) - Tigers
Third: Wiesblatt (1G-1A, +1, 2 shots) - Tigers
NOTES
Connor Bedard started a new streak when he scored early in the first period. His 35-game point-streak and 11-game goal streak came to an end on Friday, February 3rd in Lethbridge. He still has 68 points in his last 25 games. He leads the WHL in goals (45), assists (46), points (91), and shots on goal (250). He has 18 goals, nine assists, and 27 points in 10 games since coming back from the World Juniors.
Stanislav Svozil notched an assist and is now up to 14 points (14A) in nine games since returning from the World Juniors. He pulled into a tie for the WHL lead in assists with teammate Connor Bedard at 46.
Borya Valis ended a two-game pointless streak with an assist.
Alexander Suzdalev's point-streak came to an end at nine games (6G-11A-17PTS).
The Pats failed to score on the powerplay (0/3) for the third straight game (0/11 over those three) but the penalty kill went 3/3 and has gone 17/19 over the last six games (89.5%).
The Pats are now 11-6-2-1 against the Central Division this season.
UP NEXT
The Pats return home for their next action at the Brandt Centre on Saturday, February 11th when they host their Trans-Canada rival Moose Jaw Warriors with a 7:00 pm puck drop.
• Discuss this story on the Western Hockey League message board...


Western Hockey League Stories from February 5, 2023
The opinions expressed in this release are those of the organization issuing it, and do not necessarily reflect the thoughts or opinions of OurSports Central or its staff.