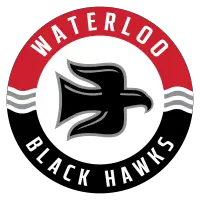 Overtime at the Ice Box
March 19, 2021 - United States Hockey League (USHL) - Waterloo Black Hawks News Release



Max Sasson scored 50 seconds into overtime to give the Waterloo Black Hawks a 4-3 road win against the Lincoln Stars at the Ice Box Friday.
Waterloo's top point producer came out of the left corner and moved to the netmouth parallel to the extended goal line. Near the edge of the crease, Sasson flicked a shot under the crossbar. His 14th goal of the season was his third game-winner. It also extended Sasson's point streak to 10 consecutive games.
The Stars and Hawks had alternated first period goals. Cross Hanas had the first one for Lincoln, coming out of the left corner to flip in a backhander from near the top of the crease at 4:29. Charlie Strobel's first USHL goal tied the game four-and-a-half minutes later when Kyler Kleven set him up on a two-on-one.
Lincoln reassumed the lead at 13:44 with James Stefan scoring into an open net on a Jack O'Brien pass. However, Alex Gaffney leveled the count at 15:57, punching in the rebound of Ryan O'Hara's initial chance from close range.
Waterloo went ahead on Kleven's goal at 15:28 of the second. The Hawks had just navigated through 1:19 two-men shorthanded and came back to full strength with Wyatt Schingoethe coming out of the box. Schingoethe's pass was deflected to Kleven, who hit the top corner of the net from the right hashmark.
Lincoln forced the overtime with 3:04 left in regulation; Charles-Alexis Legault drove a half slap shot into the net from the top of the left circle.
Waterloo outshot the Stars 40-23. Jack Williams earned the win with 20 saves.
The Black Hawks wrap up their three-game weekend on Saturday against the Des Moines Buccaneers.
Waterloo 2 1 0 1 - 4
Lincoln 2 0 1 0 - 3
1st Period-1, Lincoln, Hanas 2 (James), 4:29. 2, Waterloo, Strobel 1 (LaStarza), 8:51. 3, Lincoln, Stefan 9 (O'Brien, James), 13:44. 4, Waterloo, Gaffney 13 (O'Hara), 15:57. Penalties-Reiners Wat (interference), 18:51; Szmagaj Wat (roughing), 19:31; O'Brien Lin (roughing), 19:31.
2nd Period-5, Waterloo, Kleven 10 15:28. Penalties-Schingoethe Wat (interference), 1:19; Veremyev Lin (roughing), 3:02; James Lin (high sticking), 8:34; Szmagaj Wat (hooking), 12:37; Schingoethe Wat (high sticking), 13:18; Veremyev Lin (slashing), 15:35.
3rd Period-6, Lincoln, Legault 3 (Thompson, Laba), 16:56. Penalties-Gaffney Wat (cross checking), 6:33; O'Brien Lin (slashing), 6:33; Gaffney Wat (roughing), 10:45; Beaune Lin (roughing), 10:45; Szmagaj Wat (holding), 11:37; Hanas Lin (tripping), 12:08.
1st OT Period-7, Waterloo, Sasson 14 0:50. Penalties-No Penalties
Shots on Goal-Waterloo 20-9-9-2-40. Lincoln 13-6-4-0-23.
Power Play Opportunities-Waterloo 0 / 4; Lincoln 0 / 5.
Goalies-Waterloo, Williams 2-5-0-0 (23 shots-20 saves). Lincoln, McCarthy 4-9-1-0 (40 shots-36 saves).
A-
Referees-Rocco Stachowiak.
Linesmen-Eric Arrigo, Bryan Gorcoff.
• Discuss this story on the United States Hockey League message board...


United States Hockey League Stories from March 19, 2021
The opinions expressed in this release are those of the organization issuing it, and do not necessarily reflect the thoughts or opinions of OurSports Central or its staff.
Other Recent Waterloo Black Hawks Stories