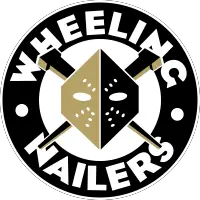 Nailers vs. Everblades Playoff Series Preview
April 15, 2016 - ECHL (ECHL) - Wheeling Nailers News Release



The ECHL saw 12 different goaltenders collect at least 20 victories during the 2015-16 regular season, and two of those netminders are expected to get the starting nods for their respective clubs in Friday night's series opener. Franky Palazzese will be playing in his second straight postseason for the Nailers, after going 20-15-3 in the regular season. Palazzese had two impressive runs this year, as he rattled off five consecutive wins in November, then went 10-3-0 from January 29th-March 8th. Franky's 2015 playoff run was cut short, when he suffered an injury in game three against Toledo. Florida will likely turn to Anthony Peters, whom the Nailers saw three times during their trip to Estero five months ago. Peters has compiled a 27-15-2 record as a rookie, finishing each month with at least a .500 record. Wheeling's Brian Foster is the more experienced of the two backups to begin the series, as he has six career postseason triumphs with the Cincinnati Cyclones and Stockton Thunder. Florida's Rasmus Tirronen is a first year goalie, who split the season between the AHL and ECHL levels, similar to Foster.
Defense
Wheeling: Cianfrini, Fick, Maione, Melindy, Schulze, Seymour, Stern
Florida: Agosta, Golightly, Nemec, New, Roe, Stanisz, Syvret
One player in particular has been receiving a lot of attention on the bluelines, as Mathew Maione of the Nailers was named to the All-ECHL First Team last week, before taking home ECHL Defenseman of the Year honors earlier this week. Maione led the league with 54 points from the blueline, with 44 of them coming in a Wheeling uniform, following a trade with the Brampton Beast. Clark Seymour can also be expected to participate in the offense, as he had 22 points in 38 games, but defense will remain a top priority, as his team-best +13 rating indicates. Paul Cianfrini has the most experience among the Nailers defensive group, as this will be his third straight trip to the ECHL's spring dance. Corey Syvret and Mark Nemec were the top offensive performers on the back end for the Everblades, tallying 28 and 25 points respectively. However, extra attention will need to be paid to Danny New, who has played in 51 AHL games over the last two years, and has already produced four points in five tilts in Southwest Florida. Nemec and Logan Roe lead the way in the +/- category at +25 and +23, while Chase Golightly burst onto the pro scene with six points in his first nine games after attending Robert Morris University.
Offense
Wheeling: Ammon, Bakker, Brace, Kwas, Leen, Loney, McCarron, O'Donoghue, Tabrum, Wydo, Zlobin
Florida: Cowick, Cuddemi, Desjardins, DiSalvatore, Florentino, Gibson, Harris, Lynch, Marquardt, Martindale, O'Donnell, Willows
The forward accolades go to the other dressing room, where Florida's Matt Willows put together a stellar first professional season, leading all rookies in scoring with 66 points to capture ECHL Rookie of the Year honors. While Willows led the way in goals with 23, former Toledo Walleye Kevin Lynch was right behind him with 22, followed by Brant Harris, who turned on the red light 19 times for a team which finished fifth in the league with 226 markers. Two other players could prove to be especially dangerous up front for the Everblades, as Brendan O'Donnell has goals in nine straight games, while Matt Marquardt is no stranger to hockey this time of year. Wheeling went through 27 different forwards over the course of the 2015-16 regular season, and of those 27, Riley Brace and Cody Wydo stepped up the largest down the stretch, as Brace netted 26 goals, while Wydo exploded for 48 points in his final 51 contests. John McCarron had a solid finish to his rookie campaign, as his two goals on April 8th helped the Nailers clinch their 14th playoff appearance in team history. The fourth active leading scorer for Wheeling is Jordan Kwas, who is arguably the club's best performer in the face-off circle. That is always a key area in tightly played postseason series. The most experienced man up front is captain Shane Bakker, who will wear the shield and nails on his chest for the 18th time in the playoffs.
AHL Eligibles
Wheeling: Army, Burton, DeSmith, Gill, Krause, Ruopp, Torquato
Florida: Altshuller, Cornell, Ganly, Werek
While changes are not expected to take place during the first two games of the series, there could be some additions on both sides, when the teams make their way to WesBanco Arena for games three, four, and five. The Everblades have two open slots left on their roster for the four men currently playing with the AHL's Charlotte Checkers. With a loss on Thursday, Charlotte fell behind the San Jose Barracuda for the final playoff spot in the Western Conference, which isn't the best news for the Nailers. Speaking of Wheeling, Zack Torquato would likely be its first addition to the last three roster openings, as his Chicago Wolves will not be heading to the playoffs. Derek Army is the other player not with the Wilkes-Barre/Scranton Penguins, as he and the Texas Stars will clash with the San Diego Gulls in round one. Casey DeSmith is the lone goalie on the eligible list, but Wheeling already has two on the roster. Meanwhile, Harrison Ruopp is the only defenseman, and the Nailers are starting the postseason with seven of those. Sahir Gill hasn't played since February 23rd, because of an injury.
Special Teams
Wheeling: PP- 17.8%, 9th. PK- 83.6%, 15th.
Florida: PP- 17.1%, 13th. PK- 86.0%, 4th.
During the final five games of the regular season, Wheeling's penalty kill got put to the test, as it had to defend against three of the top six power play units in the ECHL from the Toledo Walleye (3rd), Manchester Monarchs (5th), and Reading Royals (6th). The Nailers successfully killed off 13 of the 16 opposition chances for an 81.3% success rate. However, in the two-game set to end the campaign against the Royals, it was Wheeling's power play which made the most noise, going 4-for-9 (44.4%) to climb into ninth place in the league rankings. When the Nailers traveled to Estero back in November, the Everblades entered that week holding the top spots in both special teams categories. Florida's penalty kill maintained a high position for the majority of the year, finishing fourth with an 86.0% success rate, while the power play landed in the middle of the pack in 13th at 17.1%. The Everblades' road penalty kill was the most noteworthy, as opposing home units converted just 16 times on 125 chances. Wheeling scored eight shorthanded goals and allowed ten, while Florida tallied six shorthanded markers and gave up five. The leaders in power play goals for each side were Derek Army, Clark Seymour, and Anton Zlobin all with five for the Nailers, and Brendan O'Donnell with six for the Everblades.
Toughness
Wheeling: 34 fighting majors, T-17th (Patrick McGrath - 10)
Florida: 40 fighting majors, T-13th (Rob Florentino - 10)
Physicality was a focal point for the Nailers during their playoff runs in each of the last two seasons, as they tossed the South Carolina Stingrays around in four straight games in 2014, then took the Brabham Cup Champion Toledo Walleye to a deciding game seven in 2015. With Patrick McGrath, Shane Bakker, and Harrison Ruopp all experiencing extended stays in the AHL, Wheeling started to get away from its usual identity, and ended up with its lowest single-season penalty minute total in team history with 1,037. Bakker has since returned, and with a 100-plus penalty minute man in James Melindy, the team has the pieces necessary to put the nail back in Nailers. Florida dropped the mitts a few more times than Wheeling, thanks to a heavy dose of games against South Division foes, but ended up receiving 145 fewer penalty minutes. Rob Florentino led the way for the Everblades with ten fighting majors, including one each against Bakker and Clark Seymour on November 18th. Corey Cowick will also get his nose dirty on occasion, as he was involved in seven altercations.
Coaching
Wheeling: HC- David Gove (1st Season, 23-16-6), AC- Jeff Christian (1st Season)
Florida: HC- Greg Poss (6th Season, 247-144-41), AC- Tad O'Had (3rd Season)
Two completely different worlds will collide behind the benches during this series, as first year bench boss David Gove will take his Nailers up against Greg Poss, who has a household name among Everblades fans. Although he has been at the helm for just 45 games, Gove has experienced some incredibly drastic ups and downs. His head coaching career started with a 1-8-1 record, but then whipped around in the opposite direction, as he finished the year 22-8-5, becoming the second mid-season replacement in team history to reach the postseason. Poss has mostly experienced success in his six-year tenure with Florida, as his teams have had winning records in all six seasons, reached the playoffs five times, and won the Kelly Cup in 2012. When it comes to coaching experience, the Everblades have more, with Poss' six years and Tad O'Had's three seasons with him, but Wheeling possesses a unique strength on its staff, as both Gove and Jeff Christian had long careers, which both resulted in deep playoff runs. Gove and the Wilkes-Barre/Scranton Penguins reached the 2008 Calder Cup Final two years after he got to experience a Stanley Cup run with the Carolina Hurricanes. Christian won the IHL's Turner Cup in 1999 with the Houston Aeros, and played in over 1,000 professional games in North America.
Experience
Wheeling: 2,147 professional games (0 prior Kelly Cup Champions)
Florida: 3,652 professional games (2 prior Kelly Cup Champions)
The two most experienced players in this series are members of the Everblades, and one of them in particular helps to slant the numbers, as veteran Jon DiSalvatore just completed his 12th regular season of professional hockey in North America, appearing in over 800 games in the NHL, AHL, and ECHL. Next in line is captain Matt Marquardt, who is the lone remaining player from Florida's Kelly Cup Championship in 2012. He has suited up in 512 games at the AHL and ECHL levels, including 194 with his current team. Among the 20 players listed on the Nailers active roster, six were members of last season's team, which reached game seven against the Toledo Walleye. Shane Bakker, Paul Cianfrini, Brian Foster, Mathew Maione, and Anton Zlobin have all played at least ten playoff games during their pro careers, meaning they will be leaned on a lot from the nine players who will make their postseason debuts in this series. Wheeling's two deepest runs by individuals have come from Zlobin, who reached the Eastern Conference Final with Wilkes-Barre/Scranton in 2014, and Foster, whose Cincinnati Cyclones made it to the 2013 Eastern Conference Final. Marquardt (2012 - Florida) and Corey Syvret (2014 - Alaska) are the two Everblades who have hoisted the Kelly Cup during their careers.
Eastern Conference Quarterfinal
Wheeling Nailers vs. Florida Everblades
Game 1 - Fri. Apr. 15th at Florida, 7:30
Game 2 - Sat. Apr. 16th at Florida, 7:00
Game 3 - Wed. Apr. 20th AT WHEELING, 7:05
Game 4 - Fri. Apr. 22nd AT WHEELING, 7:35
Game 5 - Sat. Apr. 23rd AT WHEELING, 7:35 (if necessary)
Game 6 - Mon. Apr. 25th at Florida, 7:30 (if necessary)
Game 7 - Wed. Apr. 27th at Florida, 7:30 (if necessary)
Wheeling Nailers (37-26-5-4, 83 Pts.) vs. Florida Everblades (46-23-1-2, 95 Pts.)
WHEELING NAILERS
2nd Place in North Division, 5th Place in Eastern Conference
Record: 37-26-5-4
Points: 83
Goals For: 214 (14th)
Goals Against: 211 (17th)
Power Play: 48-for-269 (17.8%), 9th
Penalty Kill: 225-for-269 (83.6%), 15th
FLORIDA EVERBLADES
2nd Place in South Division, 4th Place in Eastern Conference
Record: 46-23-1-2
Points: 95
Goals For: 226 (5th)
Goals Against: 175 (4th)
Power Play: 45-for-263 (17.1%), 13th
Penalty Kill: 203-for-236 (86.0%), 4th
Head-to-Head
2015-16 Regular Season: Nailers 2, Everblades 1
2015-16 Regular Season at WHL: Did Not Play
2015-16 Regular Season at FLA: Nailers 2, Everblades 1
All-Time Regular Season: Everblades 13, Nailers 8
All-Time Regular Season at WHL: Everblades 7, Nailers 2
All-Time Regular Season at FLA: Nailers 6, Everblades 6
All-Time Playoff Series: First Ever Series
Goaltending
Wheeling: Foster, Palazzese
Florida: Peters, Tirronen
• Discuss this story on the ECHL message board...


ECHL Stories from April 15, 2016
The opinions expressed in this release are those of the organization issuing it, and do not necessarily reflect the thoughts or opinions of OurSports Central or its staff.
Other Recent Wheeling Nailers Stories