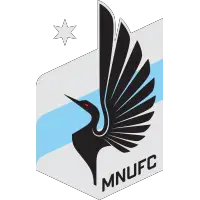 Late Dotson Equalizer Earns MNUFC a Point in LAFC
July 29, 2021 - Major League Soccer (MLS) - Minnesota United FC News Release



LOS ANGELES, Calif. - With two wins and six points at home, Minnesota United hit the road Wednesday night against an LAFC team that had picked up just one point from its two previous games. Similar to its weekend matchup against Portland, Minnesota United was forced to come from behind to earn a result. In the end, a heroic late stoppage time strike from Hassani Dotson equalized for the Loons, with Carolos Vela, Tristan Blackmon and Emanuel Reynoso all earning their place on the scoresheet in a 2-2 match.
The high-pressure press from Minnesota United was largely unsuccessful early, with Jose Cifuentes and Vela finding each other well in the final third for LAFC at home. In just the third minute Cifuentes played a ball through to Vela, putting it on his favored left foot and pushing a bent shot wide of the far post. Ten minutes later the duo connected again, this time with Cifuentes splitting two Minnesota United defenders to Vela free on a solo break against Tyler Miller. He played the ball low to Miller's left, but caught the goalkeepers outstretched cleat deflecting the ball away and out of play.
Vela would find his fifth goal of the season in the 41st minute, after Romain Metanire - returning to the lineup after an extended trip in France - was intercepted near midfield by Cifuentes. The Ecuadorian midfielder found Vela streaking down the right hand side of the pitch, and despite the best efforts of the Minnesota United defense, Vela shrugged off the challenges and lifted the ball over Tyler Miller's right shoulder for the first goal of the night.
The Loon's gameplan saw them defending much of the game, with just 40 percent of possession, and less than half the shots of their rivals. Instead, Minnesota United attempted to counter quickly after winning the ball, searching out runs from the outside of the pitch and darting into the center of the field. Several times through the first 45 minutes, Ethan Finlay found space in behind the LAFC defensive line, but was unable to find a teammate with a ball across the box and the Loons went into halftime down one goal.
A halftime substitution saw Marco Farfan slide into a more central role for LAFC with the exchange of centerback Jesus Murillo for attacking winger Raheem Edwards. Just three minutes into the second half, Farfan found himself on an island defending Reynoso after Robin Lod played the ball across the box to the Argentine playmaker. Reynoso took a step to the right before playing the ball onto his left foot and around Farfan. His leg gave way underneath him and he slid toward the ball as he shot, sending it into the side netting across goal with his left foot and equalizing for the Loons.
Tyler Miller tallied three saves in the match, and came up huge in the second half for the Loons. With the help of his defenders, the Loons absorbed 19 shots, allowing just five shots on goal. In the 56th minute, Brent Kallman blocked not one, but two shots from the top of the box, sending the second up into the air and comfortably back down into the arms of Miller. Miller would be called on twice more, saving shots from Diego Rossi at his left and right near posts before the Loons were once again beat in the 78th minute.
In what seemed like an inevitable moment, with LAFC pushing all out in the attack and chasing all three points, the club in black and gold earned a corner which was struck well by Eduard Atuesta, curing toward the edge of the six yard box. It was met cleanly by Tristan Blackmon, who had made a run largely unmarked from the top of the box and was able to nod it into the far corner of the goal for LAFC.
With the Loons chasing an equalizer late into the game, LAFC attempted to kill the game with time wasting tactics in stoppage. That strategy backfired, when center official Baldomero Toledo extended stoppage time from three minutes to six minutes and allowed the Loons an opportunity to score at the death. The dagger came in the 90+5 minute, when Jan Gregus played a knuckling ball toward the top of the box that was met by Dotson. The ball took one bounce before Dotson struck it sweetly on the half volley, banging it into the left side of the goal beyond the outstretched hand of Tomas Romero who managed to get a fingertip on the shot.
It was a dramatic way to pick up a point on the road, stealing a draw from the clutch of defeat. Despite the result, Minnesota United remains sixth in the Western Conference, with 22 points and a second road game to contend this Saturday as the Loons travel to Utah to kick off against the Vancouver Whitecaps.
BELL BANK MAN OF THE MATCH: Midfielder Emanuel Reynoso
LINEUPS:
Minnesota United: GK Tyler Miller; D Chase Gasper, Bakaye Dibassy, Brent Kallman, Romain Metanire; M Wil Trapp (c), Hassani Dotson, Jacori Hayes; F Emanuel Reynoso, Robin Lod, Ethan Finlay
Los Angeles FC: GK Tomas Romero; D Diego Palacios, Tristan Blackmon, Marco Farfan, Moonhwan Kim, Jesus Murillo; M Latif Blessing, Jose Cinfuentes, Eduardo Atuesta; F Diego Rossi, Carlos Vela (c)
UP NEXT
MINNESOTA UNITED FC @ VANCOUVER WHITECAPS
Rio Tinto Stadium | Sandy, Utah
7.31.2021 | MLS Week No. 15 | MLS Game No. 16
9:00 p.m. CT (Bally Sports North, CW Twin Cities, MNUFC Radio on SKOR North)
MINNESOTA UNITED QUOTE SHEET
MINNESOTA UNITED HEAD COACH ADRIAN HEATH
On scoring late goals in the last few games...
"The honesty of the players. They don't give in. We've got a really good bunch and they kept going. I thought we got what we deserved this evening. Even from the first half, I thought on the counter-attack, when we broke play up, we were one pass, one quality ball away from having good opportunities. To play the way we have against a team like [LAFC], who move the ball as well as they do and to score as late as we did, shows a great level of commitment and I was so pleased for the players because I thought that the desire to actually do the game plan and do what we asked of them was magnificent."
On coming out of a midweek game at LAFC with a draw...
"As I've always said Jerry, a point on the road, I would take it every time, especially here. They ask questions of you that other teams don't. They've got two or three quality, quality players, as good as anybody in the league. It's never an easy 90 minutes here. For us to come back and do something... I thought there was one or two outstanding performances. I thought Brent Kallman probably had his best game he's probably had for the club, thought he was outstanding. Thought Jacori [Hayes], considering he's not played a lot of minutes, and I just thought there was a lot of good stuff tonight. The boys can be extremely proud of what they've done."
On getting positive results in LAFC with a counter-attack style...
"To be fair to them, and I give [LAFC] so much praise, they do take chances in term of pushing more men forward. They virtually play man-for-man at the back, and if you can break quickly, get a good first ball into your front men and then start to get runners off there, you have opportunities. Probably the only thing I could be a little bit disappointed, in the first half, I thought we had some good quality moments and our final ball was, perhaps, not what it should have been. But in terms of, as I say, executing the game plan, couldn't ask any more of [the players]."
On an update Chase Gasper's injury...
"Probably know more tomorrow Pierre. After he's had a night but we'll see how he is tomorrow. Obviously, I wouldn't think it would look good for the weekend. We fly tomorrow to Salt Lake, so he hasn't got an awful lot of time to recover and we won't take any chances. I thought DJ [Taylor] did smashing when he came on. He looks as though he can play at this level. We certainly won't be taking any chances."
On the two goals scored tonight...
"The technique of both of them. [Emanuel Reynoso] has had to do a little bit to get himself some space, but it crossed the 'keeper and a terrific finish. I'm pleased because he knows I keep at him all the time, with his ability, he's got to be getting between seven and 15 goals a season. If he does, that will take him from being a top-drawer player to being one of, if not the best, player in the league for sure. We need to keep him higher up the field at times because he has got so much quality. And Hassani [Dotson], you know what my feelings are. As I've said in numerous occasions, he might be one of the best finishers in the club. When he hits the ball like he does, it doesn't surprise me, it really doesn't."
On if the strike from Hassani Dotson was long enough to qualify as a Banger...
"I think so. Yea. I was just glad to see it hit the back of the net, I didn't care how far out he was or how close he was to be honest with you. I'm just so pleased for the players. We talked about keeping the run going, we've had one little blip in the last 11 games. We need to keep this going now."
On the goal conceded in the set piece...
"I'd like to see it again. There was a lot of bodies there, I can't really see anything. As I've said before Andy, whether you play zonal marking, man-for-man, if you don't attack the ball when it comes in your zone, invariable it ends up in the back of the net. I think we've been very good at that in the last few games but I'll have to have another look at it."
On not getting many results on the road yet...
"I just don't think we've played as hard as we can. It would be very easy for me, Pierre, to say circumstances but I just don't think we've played as well as we can on the road. Tonight, I was so pleased. I thought the players got what we deserved this evening. Yeah, [LAFC] had a lot of possession, yeah they ask a lot of questions of you but I honestly thought we had goals in us all night. I'm pleased for the group, but we go again now. We've got to dust ourselves down, see how everybody is tomorrow. Vancouver have had a nice little run of late. They look as though they've turned the corner themselves. We know it's not going to be easy, it never is at Salt Lake with the altitude and a team that's coming off the back of a draw here and a win at the weekend. They'll be very confident as well."
On what is Chase Gasper's injury...
"It's thigh or adductor I think. To honest with you Jerry, we'll have to have an idea tomorrow. It's certainly high up. I think it might have been the thigh or his adductor."
On changing the game plan quickly after subbing in defensive players and LAFC scoring again shortly after...
"Robin [Lod] has had a really bad swollen leg since the weekend and [Emanuel Reynoso] has had a little problem as well. We didn't want to get them in that situation where they were so fatigued that something serious might happen. It was precaution as much as anything. Juan [Agudelo] has been training really, really hard. Obviously, we pushed Hassani [Dotson] out [wide] because he can play out there. We tried to block the idle of the field and in the end we had Jan [Gregus] in there, we had Ozzie [Alonso] in there, we had Hassani in there. We had a lot of bodies in there at the end with Wil Trapp of course."
On if he thought they had tied it with the close chance by Ethan Finlay...
"Somebody was in front of my eye line and I didn't see. Somebody said it was a really good chance. I think it was behind Ethan [Finlay]. Yeah, you think that when it's that late, maybe your chance is gone but great effort to get in there. Brent Kallman makes a forward run and pulls people off and, as I said, Hassani's finish is top drawer."
MIDFIELDER HASSANI DOTSON
On what the month of July has been like for him, engagement, baby on the way, banger of a goal...
"Just trying to focus each moment at a time. Happy to score a goal, I think I was due for one. And especially with the opportunities that we had in the first half, just happy to secure the point for the team."
On the continued fight for the result so late in the game...
"This season we've had good play but with the first four losses that we took, we looked at each other and we realized that we needed to play with a little more grit, little more energy. That's showed in the last two results coming back. And getting a good result for us. The mentality has been 'it's not over until it's over' and keep fighting and keep pushing and do your best and the rest will take care of itself."
On the service he received from Jan Gregus on his goal...
"It was a great ball in. I saw it kind of late. [Brent Kallman] made an attacking run into the box and it just went over his head and it bounced up kind of nicely. I was like 'I gotta shoot this,' I've been raised up by my teammates and coaching staff to give me the green light to shoot and they tell me to make sure I'm confident. I went with it and happy to score the goal."
On if the goal was long enough to qualify as a Banger...
"I don't know. I just do my best and I let you guys take care of the rest."
On trying to get on the board first and not chase the game...
"If you score the first goal, you put yourself in a better position. I put my hand up for not finishing up the plays in the first half. I think my decision making...I just needed a little more composure to find the ball or make the final play. Besides the last two games though, we started out with the lead. It's more of a positive that we show we can come back and still get the result."
On the goal conceded in the set piece...
"First of all, it was a good read from [Eduardo] Atuesta, I believe. We were supposed to block the runners and generally they have an extra guy on the back post in the box and one just snuck right in between the block and they scored the header. We all know it's something we pride ourselves on, being good on set pieces and it something we gotta address in house and keep working on that and just make sure we improve in those finer details."
On having scored so many late goals this season and always staying in the game until the end...
"We know that we're a good team and we can compete with anyone. It's just about applying the energy and the passion for us to keep playing forward. And if we're not having a good game we know that we just need one play to turn it around. We keep focusing on each moment and I think we can do big things this year."
On how much not being with USMNT drive him to have club success...
"I always want to do well when I play. I'm a competitor. Even if people tell me I play a good game, I always critique myself maybe a little too much. The Gold Cup roster, that's something I can't control. I'm just focused on where I'm at now and playing the best I can and trying to help my team win and do the best that we can. That mentality is what's got me here and I'm going to keep doing that and if I get called into the National Team, it will be a great opportunity and I would be blessed for that."
GOALKEEPER TYLER MILLER
On the team winning it's first comeback win last Saturday and now coming back to tie tonight...
"We're starting to find this resiliency that, maybe was lacking, or we didn't know we had earlier on in the season. Now you're really seeing guys that, when we're faced with adversity, we're able to handle it, we're able to bounce back and have belief in ourselves, no matter what the scoreline is or how the game is going. To be honest, [LAFC] had a lot of possession but we knew that going in that they were going to be that style of team to play against where we're going to defend and we're only going to get a few chances. Hassani [Dotson] hit an amazing, amazing goal to tie the game but you have to go back and look at all the little plays that kept us in the game and kept us going that everybody made around the field. That really helped propel us to a big point on the road in a difficult place to play."
On his confidence level and command of the goal...
"I feel really good going into each game. Right now though, it hasn't really been about worrying, necessarily, about how I'm playing. I try to just go out there and do it and play. I really just focus on each individual moment in each game, which I think has helped me the most. I'm not worried about plays that had happened before or plays that could happen that I really have no idea. I'm focused on the present moment of where I'm at and what I need to be doing that that has really propelled me. These 11 games, I've gotten the opportunity to play and allowed me to be in a consistent run of form. That's kind of my focus going throughout this whole season, is just remaining present in each individual moment. Not really allowing my ego or my pride to take over, and remaining humble and keeping my head down and working hard with each opportunity that I get to train. It's a game I love and I'm still hungry to learn and grow and continue this run of form that we're on."
On returning to the Banc of California and coming out with a draw...
"It's a really good feeling. I have a lot of really special moments in this stadium, with these supporters. Overall, the majority of them were friendly. There were a few hostile ones but that's to be expected when you come to this facility. But overall, the welcome was nice. To get this point, it's just a huge testament to our team and who we are as a group. We continue to fight, we do everything we can to keep ourselves in the game and come out here with a result. Now, it was just a special moment for me and after the game I was handed a ring that we won for the Supporters' Shield in 2019. It was a nice welcome, I would say, overall."
On the pros and cons of knowing an opponent so well like he knows LAFC...
"There a lot of pros and cons that go into knowing and being familiar with an opponent. The first play Carlos [Vela] cuts in on his left foot and tries to curl it to the back post and, honestly, I just had to laugh. Carlos and I looked at each other and we just start smiling because I've seen that play so many times in training. Sometimes I'd save it, a lot of times he would score it was just a very iconic play that I'm so familiar with and I knew he was going to try it at some point in the game, I just didn't know when. He did get the best of me with a right-footed chip, which, I didn't know Carlos had a right foot. All jokes aside, they're all phenomenal players and it was something I really looked forward to, to coming back here and playing this game."
On the plays he saw from his teammates that helped keep them in the game...
"There is just a lot of dirty work. A lot of running, a lot of fighting, a lot of little duels that were won around the field. Guys did well to close down the spaces and LAFC loves to play those little slip balls in behind. Our backline and midfield line did a really good job of cutting out the spaces and making them play around us, making it difficult for them. One play in particular was the ball comes back across [Jose] Cinfuentes and he fakes a shot and cuts back onto his right foot where he has a good amount of the goal to shoot at, and Ozzie [Alonso] makes this lunging effort that puts it out for a corner kick. When you get that type of play from your captain, from you leader, it's something that gives you life and energy. Everybody fed off of each other tonight and we told ourselves that, whatever we're going to do, we're going to do it together. That was that motto and mentality that we used and thrived with tonight."
On why LAFC didn't ship him the Supporters' Shield ring...
"I think they wanted it to be a special moment. Where you come back and you receive it here. There was a lot of friendly faces around this club. I want to give a shout-out to one in particular, a supporter, Gino, who reached out to me today and told me he couldn't come to the game but he offered me his two seats that he uses. He typically attends the matches here. That is the family environment that you really are a part of their family here and the fans do really support you and love you here. That was just a really kind gesture by him to offer that because he didn't have to do that and I was able to bring two more close family members to the game which, was really something special."
• Discuss this story on the Major League Soccer message board...


Major League Soccer Stories from July 29, 2021
The opinions expressed in this release are those of the organization issuing it, and do not necessarily reflect the thoughts or opinions of OurSports Central or its staff.
Other Recent Minnesota United FC Stories