John-Scott Dickson Accepts Assistant Coaching Position for 2015-16 Season
September 10, 2015 - ECHL (ECHL) - Kansas City Mavericks News Release


INDEPENDENCE, MO (September 10, 2015) - The Missouri Mavericks announced Thursday afternoon that fan-favorite left winger, John-Scott Dickson, has accepted the position of Assistant Coach for the 2015-16 season.
"To say that I am very excited is an understatement," said John-Scott Dickson, the newest member of the Missouri Mavericks coaching staff. "Being able to move on from playing the game you have loved all your life to coaching it is an opportunity many hockey players can only dream of."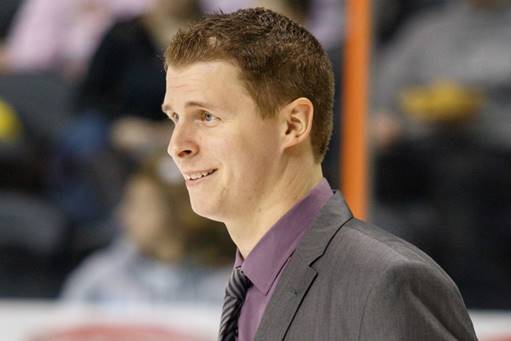 Missouri Mavericks Assistant Coach John-Scott Dickson
(Kansas City Mavericks, Credit: John Howe, Howe Creative Photography)
"I want to thank Brent Thiessen, Richard Matvichuk and the entire Missouri Mavericks organization for this opportunity. This city and the fans have meant so much to me over the years; it is a true privilege to be accepted as a part of this community with the Mavs. For the Mavericks coaching staff, the ultimate goal is bringing a championship to this city and I will do my part in committing to give this team the best chance to compete for that title."
John-Scott Dickson, Missouri Mavericks 2014-15 (Photo Credit: John Howe, Howe Creative Photography)
John-Scott Dickson has been with the Mavericks since their 2011-12 campaign in the (now defunct) Central Hockey League (CHL). In four seasons wearing a Mavs sweater, through 220 games, the North York, Ontario native posted seventy-five (75) goals and seventy-nine (79) assists.
Dickson is already well-acquainted with Head Coach Richard Matvichuk's systems and coaching style, having spent nearly half of the Mavericks 2014-15 season behind the bench alongside Matvichuk as a player-coach.
"We are very excited to bring Dickson on to our coaching staff," said Richard Matvichuk, Head Coach and Director of Hockey Operations for the Missouri Mavericks. "He brings new energy and excitement to our staff."
"John is willing to work hard and put in the extra time in our office, just as he did on the ice as a player. His attention to detail and his dedication as a coach will take him a long way in his coaching career."
Adding Dickson to the hockey operations roster bolsters the department, with Matvichuk at the helm as Head Coach/Director of Hockey Operations and Simon Watson continuing his role as Director of Skill Development and Player Personnel in 2015-16.
A beloved member of the Mavs community, "JSD" has come to call Missouri home, living locally in Liberty, MO with his wife Ashley, daughter Harlow, and son Welles.
"Dickson has been a very valuable member of the Missouri Mavericks and his contributions have to this organization, both on and off the ice, make this a very exciting day for our club," said Brent Thiessen, General Manager of the Missouri Mavericks. "We look forward to 'JSD' taking the next step and furthering his hockey career. We believe he will continue to contribute to this team and help us get back to where we need to be."
"The devotion Dickson has portrayed to this game, especially while wearing a Mavericks sweater, is a tribute to his character and the commitment he shows to this team on a daily basis," said Matvichuk.
The Missouri Mavericks annual Fan Fest event is scheduled for this Saturday, Sept. 12 from 11:00a.m. to 1:00p.m. at Independence Events Center. This will be the first opportunity for fans to congratulate John-Scott Dickson on his new position with the team in-person, as well as hear from the new assistant coach in a special on-stage interview. For more information on Fan Fest, visit MissouriMavericks.com
The Mavericks will play longtime rival, the Wichita Thunder, in their home-opener on Saturday, Oct. 24 at Independence Events Center. Single Game Tickets and Mini Pack Plans are on sale now! Visit TicketMaster.com or call the Missouri Mavericks at 816-252-7825 to speak with a ticket representative.
Images from this story
• Discuss this story on the ECHL message board...


ECHL Stories from September 10, 2015
The opinions expressed in this release are those of the organization issuing it, and do not necessarily reflect the thoughts or opinions of OurSports Central or its staff.