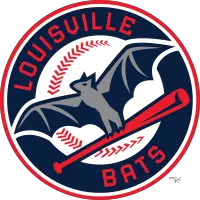 Game Notes: Louisville Bats (11-17) at Indianapolis Indians (14-12)
May 3, 2019 - International League (IL) - Louisville Bats News Release



Game 29, Away 15
Louisville Bats (11-17) at Indianapolis Indians (14-12)
RHP Vladimir Gutierrez (1-2, 8.14) vs. RHP Alex McRae (1-2, 7.13)
7:15 PM | Friday, May 3, 2019 | Victory Field
LISTEN: Nick Curran, 790 KRD; iHeartRadio.com; iHeart app
HAPPY OAKS DAY: Louisville and Indianapolis continue a four-game series at Victory Field with right-hander Vladimir Gutierrez on the mound for Louisville. The Indians won the series opener on Thursday after scoring 5 runs in the bottom of the fifth, coming back from an early 2-0 deficit after the Bats hit back-to-back home runs in the first inning. On Friday, LOU will look to keep itself alive for a fourth straight series victory on the road, also hoping to take a 3-2 lead in the season series against the Indians.
SENZINNATI: On Friday morning, the Cincinnati Reds selected the contract of No. 1 prospect in the organization, center fielder Nick Senzel. When he debuted with the Bats in April 2018, he became the first Top 10 prospect to appear in a Louisville uniform since LHP Aroldis Chapman in 2010, and the first position player since OF Jay Bruce in 2007.
- In 52 games with Louisville between 2018-19, Senzel has batted .301 (62-for-206) with 30 runs, 13 doubles, 2 triples, 7 home runs, 27 RBI and 8 stolen bases. He's walked 22 times compared to 52 strikeouts, and gotten on-base at a .368 clip. His OPS has been well-above average at .853, including an .887 OPS in 44 games last season.
- Senzel spent 3 different stints on the disabled/injured list while at Triple-A, including being sidelined by vertigo symptoms (5/4-5/28/2018), a right index finger injury (6/23/2018-end of season) and a sprained right ankle (4/4-4/22/2019).
- The No. 2 overall pick in the 2016 MLB Draft started at 4 positions in 52 games with Louisville: second base (29 starts), third base (14), center field (8) and shortstop (1). He started at center field in each of his 8 games in 2019.
AGAINST INDIANAPOLIS: Indianapolis' 5-3 win in Thursday's series opener was actually the highest-scoring game between the clubs in 4 matchups this season, with the 3 matchups in the previous series (3-2, 3-1, 1-2) averaging just 4 runs/contest. When the Bats play the Indians this season, there has now been an average of exactly 5 runs scored per game (20 total runs in 4 games), and in the Bats' other 24 games this season, there has been a total of 264 runs, averaging exactly 11 runs per game.
O'YEAH: Bats first baseman Brian O'Grady homered for the third time in his last 4 games, getting the Bats on the board in the first inning. The left-handed batting slugger totes a .375 (24-for-64) average on the season, 4th-best in the IL. His .734 slugging percentage leads the IL, and since coming off the injured list with lower back spasms, O'Grady is batting .419 (13-or-31) with 5 runs, 3 doubles, 3 home runs, 8 RBI and 5 multi-hit games in 8 contests beginning on April 24.
BACK-ONE-BACK: Center fielder Rob Refsnyder followed up O'Grady's homer in the first with one of his own, going back-to-back to give the Bats an early 2-0 lead. It was the second case of back-to-back homers for Louisville this season, joining Senzel and Josh VanMeter, who did it on April 29 as part of a three-homer game for VanMeter. It was the first time LOU went back-to-back in the first inning since Alex Blandino and Brandon Dixon did it on August 20, 2017 in a 13-6 win vs. Rochester, as part of a three-homer game for Dixon.
TRANSACTIONS: The Bats added IF Luis M. Gonzalez to their roster prior to yesterday's game, with the 24-year-old making his Triple-A debut in the 5-3 loss with a pinch-hit appearance. RHP Matt Bowman was optioned to LOU to make room on the Reds' 25-man roster for Senzel.
HOMERSPALOOZA: The International League has seen a surge in home run rate to begin the 2019 season, with a total of 435 home runs hit in the league through 370 games, coming out to 1.17 home runs/game. During the 2018 season, there were a total of 1,555 home runs in 1,948 games, coming out to 0.80 home runs/game. There has been an approximate 47.5% rise in home run rate between 2018 full season homers/game and homers/game so far in 2019, coming into play on May 3.
• Discuss this story on the International League message board...


International League Stories from May 3, 2019
The opinions expressed in this release are those of the organization issuing it, and do not necessarily reflect the thoughts or opinions of OurSports Central or its staff.