Florchuk's Hat-Trick Lifts Giants over the Royals 4-1
January 18, 2020 - Western Hockey League (WHL) - Vancouver Giants News Release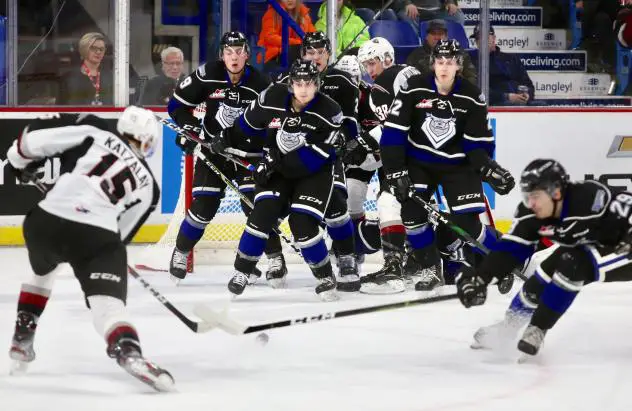 Vancouver Giants centre Holden Katzalay takes aim against the Victoria Royals
(Vancouver Giants, Credit: Rik Fedyck)
Vancouver, B.C. - The newest member of the Vancouver Giants had a huge night against his former team. Friday night at the LEC, Eric Florchuk scored three times for the Giants (18-18-2-2) en route to a spirited 4-1 victory over the Victoria Royals (25-14-3-0) in the front half of a home-and-home set between the two rivals. Connor Horning supplied the other goal for the Giants while Milos Roman and Cole Shepard each added two assists. David Tendeck made 27 saves in net for the Giants while his counterpart Adam Evanoff made 25 saves for Victoria. Royals forward Keanu Derungs spoiled David Tendeck's shutout bid late in the third period.
1st Period:
VAN - 3:29 into the opening period, Eric Florchuk (12) potted his first goal of the night from the high slot off a corner feed from Milos Roman. Cole Shepard also assisted on Florchuk's first goal as a Giant.
Shots: 12-10 Vancouver
2nd Period:
VAN - Connor Horning (4) extended the lead to 2-0 for Vancouver at 6:31. Horning one-timed home a feed from Michal Kvasnica from the left-wing circle. Cole Shepard added his second assist of the night on the play.
VAN - Eric Florchuk (13) struck again for Vancouver at 14:03. Once again it was Milos Roman who stole the puck off a Royals defender behind their net before centering a pass to the front of the net for Florchuk.
Shots: 10 - 8 Victoria
3rd Period:
VIC - Keanu Derungs put Victoria on the board at 14:33 in close on a backhander that snuck through the legs of David Tendeck. Derungs' 12th goal of the season was set up by Kaid Oliver and Tarun Fizer.
VAN - With 15 seconds left in the game, Eric Florchuk (14) completed his hat-trick with a shot into the empty Victoria net from the right-wing.
Shots: 9-8 Vancouver
-
Final Score: Vancouver 4 - Victoria 1
Final Shots: 29 - 28 Vancouver
David Tendeck: 27/28 saves (11-11-1-1)
Adam Evanoff: 25/28 saves (5-14-1-0)
Vancouver Power Play: 0/2
Victoria Power Play: 0/6
3 Stars:
Eric Florchuk (VAN - 3 Goals)
David Tendeck (VAN - 27 Saves)
Cole Shepard (VAN - 2 Assists)
Next Game: A rematch with the Victoria Royals tomorrow night on Vancouver Island. The puck drops at 7:05 PM.
QUOTES:
"We were really happy with our emotions. Sometimes they weren't in check, but we'd rather be on our toes and be over-aggressive. The fans got treated to a very entertaining game tonight. There were some goals, there were some scraps. I thought we played really well as a team." - Head coach Michael Dyck
"This was a big game against our biggest rival and a team that we could potentially see in the playoffs. We wanted to come out with a lot of energy in front of our fans tonight." - Head coach Michael Dyck
"Our main goal was to come out and make sure that we wanted it more, and now we have to re-focus before tomorrow's rematch." - Captain Alex Kannok Leipert.
"It was good to get three. I hadn't scored since the last game before Christmas. But it was my first game playing with Milos and Cole and it was good to find that early chemistry with them tonight." - Eric Florchuk after his three-goal performance.
NOTES:
Eric Florchuk's hat-trick Friday was the second of his WHL career. It also marked the first for a Giant since October 3rd, 2018. That night James Malm scored three times for the Giants in a 5-0 road victory in Kelowna. His previous hat-trick came earlier this season on October 14th in Calgary.
Both of Connor Horning's goals this season with the Giants have been game-winners.
The Giants improved their record against Victoria to 2-3 on the season.
With the victory the Giants moved within five points of Kelowna for third place in the B.C. Division standings. The Giants hold two games in hand on the Rockets.
-
*Before tonight's game, the Vancouver Giants were proud to add former General Manager Scott Bonner to their Wall of Honour. The Giants wish to once again congratulate Scott and the entire Bonner family for their many positive contributions towards the legacy of the Vancouver Giants.
Images from this story
• Discuss this story on the Western Hockey League message board...


Western Hockey League Stories from January 18, 2020
The opinions expressed in this release are those of the organization issuing it, and do not necessarily reflect the thoughts or opinions of OurSports Central or its staff.