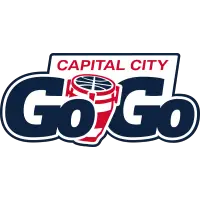 Balanced Magic Attack Beats Go-Go
February 26, 2019 - NBA G League (G League) - Capital City Go-Go News Release



WASHINGTON, D.C. - The Capital City Go-Go, the NBA G League affiliate of the Washington Wizards, were defeated by the Lakeland Magic, 109-98, in the team's inaugural "Education Day" game on Tuesday afternoon.
A crowd of over 2,000 students were in attendance for the matinee tip - which was a mostly back-and-forth affair through much of the first half, with Lakeland holding a 49-46 advantage just before the break. Turnover struggles plagued the Go-Go for the next 10 minutes of game time, as the Magic raced out to a 24-point lead late in the third quarter.
Capital City fought back in the fourth quarter, inching as close as three points with 3:08 remaining in the game. A Pe'Shon Howard three nearly missed off the front rim to tie the game and Lakeland was able to take control of the game from there, finishing on a 10-2 run.
Five Lakeland players scored in double-figures in the game, led by BJ Johnson's 19 points. Gabe York (15), Orlando Magic assignee Melvin Frazier Jr. (14), John Petrucelli (14) and two-way player Troy Caupain (12) aided the Magic, who were given 44 points from their bench unit.
Jordan McRae led all scorers with 32 points, his eighth-straight 20-point performance and 16th overall this season. Pe'Shon Howard (16), Wizards' assignee Troy Brown Jr. (12), Noah Allen (11) and Darel Poirier (10) all gave double-digit performances in the loss. Allen also added 10 rebounds for his first double-double of the season. Isaiah Armwood pulled down 11 rebounds as well in the game.
The Go-Go will host the Erie Bayhawks on Thursday, February 28 at 7:00 p.m. at the Entertainment and Sports Arena. Lakeland will head to Chicago to take on the Windy City Bulls on Friday at 8:00 p.m.
GO-GO HEAD COACH JARELL CHRISTIAN
On cutting the lead in the fourth quarter and falling short in the end:
"I thought we ran out of gas a little bit there. They hit some shots due to our defensive breakdowns, but we held them to 18 points in the 4th quarter. They are a good team and I just thought that when you are playing against one of the better teams in the league, you cannot turn the ball over as much as we did. We gave up 10 offensive rebounds. We shot ourselves in the foot, but kudos to our guys for fighting and being able to come back at the end."
On Troy Brown Jr and his development:
"He has played with us a number of times this year. It is some growing pains with him and I love it. I embrace it. I hope he embraces it as well. It is not always pretty, but we are playing him at a different position. We are trying some things out [and] I think he has done really well. Like I said, it is not always pretty, but he does not put his head down. He comes to work every day wanting to get better. He asks the coaches how he can get better so when he is in the game, we have confidence that he is going to continue to make the right plays."
On the "Education Day" experience:
"It was great. I thought the crowd was electric. The kids seemed like they had a lot of fun being here. Hopefully we will continue to get large crowds like that, but it is just special when you can enjoy this moment with the community for a good reason."
GO-GO GUARD JORDAN McRAE
On what makes the Lakeland Magic a tough team:
"Offensively, they have five guys out there that can shoot at all times, so trying to stay in front of the ball at this level is hard. It is just a well-coached and talented team."
On making a playoff push:
"We have to just win games. We have to close out games. We gave up I think 40 points in the third, so at any level, that is not good to do. The Wizards and us, we just have to find a way to lead and win games."
• Discuss this story on the NBA G League message board...


NBA G League Stories from February 26, 2019
The opinions expressed in this release are those of the organization issuing it, and do not necessarily reflect the thoughts or opinions of OurSports Central or its staff.