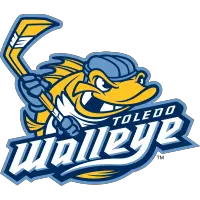 Walleye Announce 2024 Toledo Hockey Hall of Fame Inductees
September 1, 2023 - ECHL (ECHL) - Toledo Walleye News Release



The Toledo Walleye have announced the 2024 Toledo Hockey Hall of Fame class to be inducted on Friday, January 26, 2024.
The Toledo Hockey Hall of Fame was created to honor those individuals who have excelled as athletes, as coaches, and those individuals or staff members who have been fervent supporters helping to shape Toledo's hockey heritage.
The nomination and subsequent selection of candidates is determined by the Toledo Hockey Hall of Fame committee, made up of former coaches, players, team historians, and media, with input from Toledo hockey fans.
Iain Duncan
Toledo Storm (1992-95)
The left winger from Toronto, Ontario, played four seasons with Winnipeg of the NHL (1987-91) before playing three seasons with the Storm. He helped Toledo win the ECHL Riley Cup in 1993 and 1994. He scored 55 goals with 92 assists in 95 regular season games, as well as 16 goals and 32 assists in 34 playoff games.
Toledo Storm teammate Derek Booth surprised Iain Duncan with the announcement of a lifetime.
Claude Noel
Toledo Goaldiggers (1982-83, 1984-86) & Toledo Storm (2002-03)
The center from Kirkland Lake, Ontario, played three seasons with the Goaldiggers, helping Toledo win the 1983 IHL Turner Cup, and winning the James Gatschene Memorial Trophy as league MVP that season. Ninth on all-time Goaldiggers scoring list with 59 goals and 145 assists in 168 regular season games, with four goals and 17 assists in 17 playoff games. He returned to Toledo to serve as head coach for the 2002-03 Toledo Storm team, which won the ECHL Brabham Cup. He later went on to become head coach for Columbus and Winnipeg in the NHL.
Toledo Hockey Hall of Famer and former Toledo Storm goalie Nick Vitucci delivered the good news to Claude Noel.
Barney O'Connell
Toledo Mercurys (1947-49, 1950-51) & Toledo Buckeyes (1949-50)
The center from Winnipeg, Manitoba, played four seasons in Toledo, helping the Mercurys win the 1948 and 1951 Turner Cups, as well the U.S. Amateur Championship in 1951. While an integral member of the 1948 championship team, O'Connell missed the Turner Cup playoffs that season due to a severe head injury sustained during a game. He recovered and returned to the ice the following season. His record included 92 goals and 118 assists in 181 regular season games.
Toledo Hockey Hall of Fame historian Dan Saevig let Barney's son, Tim, know that his dad will be inducted into the Toledo Hockey Hall of Fame in 2024.
Alex Hicks
Toledo Storm (1992-94)
The left winger from Calgary, Alberta played two seasons in Toledo, helping the Storm capture back-to-back Riley Cup titles. He scored 57 goals with 83 assists in 112 regular season games, along with 15 goals and 20 assists in 30 playoff games. He went on to play 258 games in the NHL between 1995-2000 with Anaheim, Pittsburgh, San Jose and Florida. Hicks was inducted into the ECHL Hall of Fame in 2019.
Former Toledo Storm teammates Iain Duncan and Derek Booth let Alex Hicks know he'll be inducted into the Toledo Hockey Hall of Fame this January.
Jeff Lerg
Toledo Walleye (2014-17)
An NCAA national champion goaltender at Michigan State University, Lerg backstopped the greatest turnaround by a team in ECHL history. In the 2014-25 season, he finished first in the league in wins with 32 and in the top four in goals against average (GAA) and save percentage. His success help propel the Walleye to win the Brabham Cup that season. Lerg followed up in the 2015-16 season by tying for league-lead in victories with 28, while tying for second in save percentage and in the top five for GAA. He was named a postseason second team All-Star both years. In a Toledo career covering four seasons, he finished with a record of 63-22-6 and a 2.37 GAA.
Dan Saevig surprised Jeff Lerg in the middle of the workday to let him know that he will be inducted into the Toledo Hockey Hall of Fame in 2024.
• Discuss this story on the ECHL message board...


ECHL Stories from September 1, 2023
The opinions expressed in this release are those of the organization issuing it, and do not necessarily reflect the thoughts or opinions of OurSports Central or its staff.