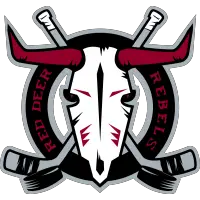 No Such Thing as Sophomore Slump for Rebels Rearguard Weir
December 2, 2021 - Western Hockey League (WHL) - Red Deer Rebels News Release



Sophomore slump - two words that are alien to Rebels defenceman Jace Weir.
Weir burst onto the WHL scene in the pandemic-abbreviated 2020-21 season, rounding into one of the Rebels' premier rearguards as a 16-year-old rookie.
One season later and he's on the team's top blueline pairing with Christoffer Sedoff, and, along with his defensive partner, on the Rebels' first power play unit.
"I feel like every single game I'm getting better and every single day in practice I just try and push myself trying to get to that next level," the Coldstream, B.C., product said Thursday. "So I'm feeling pretty good about myself.
"Obviously the team is having success right now so we just have to keep doing what we're doing."
Competing alongside Sedoff certainly hasn't hurt Weir's development. On the contrary, the Finnish rearguard, who played with the Rebels in 2019-20 but stayed at home last season - due to the pandemic - and played in his country's top professional league, has helped in that regard.
"For Weir, it's great to have a really good, older partner. Sedoff is steady and plays big minutes," said Rebels assistant coach Ryan Colville. "He's been kind of a good, steadying mentor for Weir.
"They play against the top lines. They have tough match-ups every night and they do a good job with that."
Weir is clearly appreciative of his blueline companion.
"He's a pro," said Weir. "He's really good to play with obviously. He moves the puck so well and he's so dynamic out there. He's really fun to play with."
Both Sedoff, who has scored once and added 12 assists this season, and Weir, who has notched three goals and contributed five helpers, are offensive-minded. But they've found the right mix between offence and defence, when it's time to go and time to stay back.
"I think we read off each other really well and build off each other," said Weir. "We make plays and try to control the play out there. It's been fun."
Weir is also appreciative of the Rebels coaching staff and the trust they have placed in the young defenceman.
"Obviously I'm really lucky just to play those types of minutes," said Weir, who stands a shade under six-foot-three and checks in at 185 pounds. "All of our D can play extra minutes, we have such a deep D corps and such a deep team.
"Everyone brings a little something to the table and I think we're just a good, really well rounded D corps."
Colville isn't surprised that Weir has been able to parlay his excellent rookie season into a solid sophomore campaign.
"Last year with the shortened season and everyone coming in late, he was one of several young guys to get the opportunity to get into games," said Colville. "You could see the skill right away and as the shortened season went on he got more and more comfortable. He really excelled."
Weir has been identified by Central Scouting as a player to watch for the 2022 NHL entry draft. In October he ranked as a 'C' prospect, projecting as a late-round pick, and his stock appears to be rising.
"Obviously it's nice to be recognized, but I just want to keep working and doing what I'm doing," he said. "I'm not really thinking about it (NHL draft), I'm just having fun and playing my game and just enjoying it."
Notable: The Rebels host the Moose Jaw Warriors Friday in the club's Toque and Teddy Bear Toss game at the Peavey Mart Centrium. Fans are asked to bring toques, mitts, socks and teddy bears and toss the goods onto the ice when the Rebels score their first goal of the game, which is support of the Red Deer Christmas Bureau, a non-profit organization that was set up to help children and families in need at Christmas . . . The Calgary Hitmen visit the Centrium Sunday for a 4 p.m. contest.
Rebels vs. Moose Jaw Warriors
Friday, 7 p.m., Peavey Mart Centrium
The Warriors visit the Calgary Hitmen tonight before taking on the Rebels 24 hours later. Heading into Thursday's outing, Moose Jaw had a 10-10-1-1 slate and sat third in the East Division . . . C Ryder Korczak led all Warriors scorers with 25 points (7g,18a), followed by C Jagger Firkus (9-11-20), D Denton Mateychuk (7-13-20), rookie C Brayden Yager (10-8-18) and LW Eric Alarie (6-12-18). Carl Tetachuk has been a workhorse between the pipes, appearing in 19 games with a 2.83 goals-against average and .917 save percentage prior to Thursday's outing . . . LW Arshdeep Bains took over the Rebels scoring lead last weekend and has notched nine goals and added 17 assists for 26 points. C Ben King is close behind (16-9-25) and RW Blake Stevenson (8-12-20), C Kai Uchacz (7-13-20) and D Christoffer Sedoff (1-19-20) round out the team's top five point producers. G Connor Ungar has a 2.34 GAA and .915 save percentage and crease-mate Chad Coward sports numbers of 2.34 and .918 with one shutout.
Injuries: Moose Jaw - D Cole Jordan (illness, week-to-week). Red Deer - D Matteo Fabrizi (upper body, week-to-week), C Josh Medernach (lower body, indefinite), C Ethan Rowland (upper body, indefinite).
Special teams: Moose Jaw - Power play 19.8 per cent, 12th overall; penalty kill 71.1 per cent, 21st. Red Deer - power play 25 per cent, fourth overall; penalty kill 82.5 per cent, seventh.
• Discuss this story on the Western Hockey League message board...


Western Hockey League Stories from December 2, 2021
The opinions expressed in this release are those of the organization issuing it, and do not necessarily reflect the thoughts or opinions of OurSports Central or its staff.
Other Recent Red Deer Rebels Stories