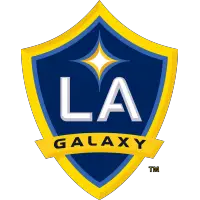 LA Galaxy Postgame Notes and Quotes: LA Galaxy 2, Austin FC 0
May 15, 2021 - Major League Soccer (MLS) - LA Galaxy News Release



Postgame Notes
Scoring Summary:
LA - Sebastian Lletget (Assisted by Daniel Steres) 35'
LA - Javier Hernandez (Assisted by Julian Araujo, Sacha Kljestan) 77'
Misconduct Summary:
None
Lineups:
LA Galaxy: Jonathan Bond; Julian Araujo, Daniel Steres, Derrick Williams, Jorge Villafana; Jonathan dos Santos ©, Carlos Harvey (Sacha Kljestan 46'); Sebastian Lletget (Kevin Cabral 62'), Efrain Alvarez (Adam Saldana 71'), Samuel Grandsir (Nick DePuy 71'); Javier Hernandez (Ethan Zubak 86').
Substitutions not used: Jonathan Klinsmann, Danilo Acosta, Cameron Dunbar, Victor Vazquez.
TOTAL SHOTS: 16; SHOTS ON GOAL: 4; FOULS: 10; OFFSIDE: 3; CORNER KICKS: 5; SAVES: 2.
Head Coach: Greg Vanney
Austin FC: Brad Stuver; Hector Jimenez (Nick Lima 38'), Jhohan Romana, Matt Besler, Zan Kolmanic (Aedan Stanley 70'); Tomas Pochettino, Daniel Pereira, Diego Fagundez (Sebastian Berhalter 59'); Jared Stroud (Rodney Redes 58'), Danny Hoesen (Kekuta Manneh 59'), Celelio Dominguez.
Substitutions not used: Andrew Tarbell, Julio Cascante, Manny Perez.
TOTAL SHOTS: 15; SHOTS ON GOAL: 2; FOULS: 9; OFFSIDE: 2; CORNER KICKS: 5; SAVES: 2.
Head Coach: Josh Wolff
Referee: Kevin Stott
Ast. Referee 1: Chris Elliott
Ast. Referee 2: Mike Rottersman
Fourth official: Luis Guardia
VAR: Alejandro Mariscal
Ast. VAR: Ian Anderson
Attendance: 7,193
NOTES:
The LA Galaxy earned a 2-0 win over Austin FC on Saturday afternoon at Dignity Health Sports Park.
With the result, the Galaxy are now 4-1-0 (12 points) in the 2021 MLS regular season, with 10 goals scored and eight conceded.
The Galaxy's 12 points are second most in Major League Soccer, trailing only Seattle (13 points).
At home this season, the Galaxy are now 3-0-0 with seven goals scored and three conceded.
Saturday marked the club's first-ever match against Austin FC.
The LA Galaxy have now defeated teams featuring actors Will Ferrell (LAFC) and Matthew McConaughey (Austin FC) as minority owners in consecutive weeks at Dignity Health Sports Park.
LA Galaxy forward Javier Hernandez tallied his league-leading seventh goal of the season on Saturday.
Hernandez now has seven goals and one assist in just five games this season with the club.
In his career with LA, Hernandez now has nine goals and one assist in 16 MLS appearances.
LA Galaxy midfielder Sebastian Lletget notched his first goal of the season on Saturday.
Lletget now has 21 goals and 23 assists in 135 appearances with the club.
Midfielder Sacha Kljestan tallied his 94th assist of his Major League Soccer career, the most among active players in MLS.
All time, Kljestan's 94 assists are the eighth most in MLS history.
The LA Galaxy earned their first shutout of the 2021 MLS Season on Saturday afternoon.
LA Galaxy defender Derrick Williams made his third-consecutive start for the LA Galaxy.
LA Galaxy Defender Daniel Steres made his fifth-straight start in central defense. Steres is one of the longest tenured Galaxy defenders with 127 previous appearances.
In all, the club had seven players feature during Sunday's match that came through the club's developmental system (LA Galaxy II and LA Galaxy Academy): Daniel Steres, Nick DePuy, Julian Araujo, Efrain Alvarez, Carlos Harvey, Adam Saldana, Ethan Zubak.
In their next match, the LA Galaxy will travel to face Portland Timbers on Saturday, May 22.
For more information, visit www.lagalaxy.com.
Postgame Quotes
LA GALAXY HEAD COACH GREG VANNEY
On the comfort level of the game:
"For me, there was just a stretch in the second half where I felt like we were a little bit uncomfortable. Other than that, I think we were pretty comfortable. For about five to 10 minutes that I felt like they were on us and we did not have a great solution. We could not hold the ball and the pressure kept mounting which is at the moment that we switched it to a back five, wanted to close up the gaps where they were running out. And once we did that, I felt like we were extremely comfortable from then until the end. That was the stretch that bothered me the most. But in the first half there were times that I felt like again it was a little bit too easy to get into our half but I didn't feel like we were really exposed too much in terms of them creating chances, but I felt like we just weren't able to organize early enough and organize the marking the right way to stop them from sort of penetrating and getting into our half. I think that in all games, you have those moments where the opposition gets the control of the game for a little bit and you have to be resilient in those moments. And I thought the guys fought hard in that stretch and really protected the goal. We regained control again with a little adjustment and that's good. I thought there was some really good attacking moments through the game -- better than I have seen us in stretches this year. We probably left three or four goals on the table between the penalty kick and a couple balls, that if we squared them across a bit cleaner and connect, we probably have a couple tap ins. In general I thought the performance was for sure a step forward and as long as we're doing that, we're moving in the right direction."
On the team's efforts and improvements:
"We are for sure not at the top of our game. I think we have had improvements. I see players settling in, as they get used to being here. I thought Samuel [Grandsir] was excellent today through stretches and that is showing that he is starting to settle in and connect with this team. I thought our players are getting a better understanding of what our principles are especially on the attacking side. I still think we can continue to improve on both sides of the ball, but we are taking steps forward. I saw that during training this week and I saw that in the game today. I was not surprised that we played pretty well today especially the way we moved the ball. It was showing up in training but one thing this group is very aware of is that winning and getting streaks of winning in in this League are very sensitive and you have to make sure you reboot and prepare to compete and battle and sacrifice again next week because it will be another challenge, that is what it's like to be in MLS. So in order for us to keep going and keep giving ourselves the opportunity to improve each week, we have to be willing to sacrifice in those difficult moments and the guys have done that in spades since the start of the season."
On getting the shutout:
"I think this, in general, to talk about the back four because I think that last weekend and this week, they did an outstanding job of protecting their goal. Again we have not done as well as we'd like to yet and stopping the opposition from getting into our half of the field the way we will as we continue to progress and when you don't, then you backline put under pressure to may plays to protect the goal, to protect the box, and I think they've done an outstanding job. I think a lot of that is them getting used to each other. Derrick [Williams] is relatively new. He did not have much of a preseason. He had to settle in a little bit and get his fitness. Julian [Araujo] same thing. He was gone for a big chunk of preseason, so we needed him to settle in. I think his defending has been a lot better the last couple games. So, I think again the group is settling in and I think the guys in front of them are helping to make things more predictable for the backline and we are staying a little more connected. But having said that, I have to give them a lot of credit just for the way they protected the goal and I think [Jonathan] Bond has been outstanding when he is needed to in the opening stretch to help us in those moments where they do get a opportunities, so that is how you get shutouts. Everybody has to contribute, and I think everybody did today. We protected our goal in that period when I felt like we were under it just a little bit."
On Julian Araujo's play:
"I think it's just we really emphasized with him over the last two weeks just the defending side and not to be so aggressive to want to get out an attack and to be a little more patient on the defending side so that he is reading things a little bit clearer. Really emphasize his defending. We have not talked much with him over the last couple weeks about how he can impact games on the attacking side. I think he already has a feel for that, and he loves to get out and attack, so we really just emphasized with the coaching staff sitting down with him and tightening up his defensive decision. He has the aggression. He has his speed and he has all the things that he can use to his advantage from a defending perspective. I thought it was just about cleaning up some of the decisions I thought that he was making early on an and settling in a bit little bit and not pressing too much and I feel like he was much more patient and made correct decisions. When he does that, he has all the tools to be very successful and he has been that I thought for the last game and a half. I thought he's been very good on the defensive side."
LA GALAXY FORWARD JAVIER HERNANDEZ
On how important it was for the group to follow up with another winning performance:
"It was very important to step up, because sometimes these games are tricky. Regardless of the teams, because like I have always said, every single team in MLS is tough, and it's very important. Regardless if they are champions or if they didn't qualify, that's one of the great things of this league, that you are never going to have an easy game. So after the El Trafico win, it was a game with a lot of emotions, at our home, all the energy we spent, all the fitness too and the way that we defended, the way that we won the game. Of course this game was a tricky one, if you don't step up, and I think that was very important and Greg [Vanney] and all his coaching staff identified that and since day one he told us, in the way that we train and the way that we prepare this game, to not relax. To not stop doing what we want to show. We are going to run, we are going to give our best, we have our style as well, our mentality but the attitude needs to be like 100 to 110 percent every single game. So, I think we did it. We managed the game pretty well even though they were a very good team, they like to play with the ball, they have good players but we keep the clean sheet which was very important and then we scored two goals that gave us the three points."
On missing the penalty kick and how much that weighed on him:
"Of course, I am not going to lie. If I score the penalty, the confidence could have probably lifted up, but that's the great thing, that if you miss the most important one there's a next one, so mentally you need to be present. You need to be present. You can't do anything; you can't go back to the penalty and try to shoot it again. That's why if I score or not, that's something I learned since I was a kid in every match, in every play, not only in an opportunity to score a goal. If you miss a pass, the next one is the most important. If you have a bad touch, the next one if the most important. So that was it. And fortunately, it wasn't that long after I missed the penalty that we scored a goal. It was a very good goal with a great assist from Daniel [Steres]. That's the only thing that was in my mind. Keep going, keep going, keep going because the important thing here is to win. It doesn't matter if I score goals or if I don't score goals. I just want my team to win and if I can help my team with goals that's amazing, but if not, like the other game, give an assist. Today I gave a good assist that unfortunately was offside, but yeah, I am just trying to do my best. Play in the way that Greg [Vanney] wants me to play and then try to help my teammates to be better players, to try to put them in better positions, to create spaces, to play soccer and not only score goals. That was in my mind that I want to keep focused, stay in the present, and don't make that play show that I can go down in a way, so I just try to be very resilient."
On what the team did differently today:
"The desire to attack. And it's not something that we didn't do, we did it so good last game for example, that even Jonathan [dos Santos] scored a goal, you know our center midfielder. And now Sebastian [Lletget] scored a great goal. I have always said it, it doesn't only need to be the responsibility to score goals, or to defend in the case of the goalkeepers and the defenders. The strikers are the first defenders and our goalkeeper is our first offensive player. That's something Greg is working pretty on well with the coaching staff. Of course there's going to be games in which we have to be more defensive, more compact, probably we aren't going to have a lot of possession but regardless of that, we need to be compact, we need to be brave enough to defend but as well brave enough to attack to get into positions where we can make the other team very uncomfortable or make doubts and then we can create space, we can create one on ones, we can get more plays inside the box, we can create more opportunities in a more successful way. Probably we can't score all the opportunities but at least we are going to have opportunities, like in this game we had so much more opportunities compared to the other games that I think that regardless if we didn't score all of them or most of them, that we weren't ruthless in that way starting with me with the penalty kick, I think that we as a team, if we create so many opportunities and we also don't give so many opportunities to the opposition, I think it's a way of proving ourselves that we are in a good path and we are improving so much as a team."
LA GALAXY MIDFIELDER SEBASTIAN LLETGET
On how the team's offense has improved:
"Just having that connection and above all rhythm. It's still very early, we have a new guy Kevin [Cabral], Sam [Grandsir] is still figuring his place in the team and Chicha [Javier Hernandez] is doing his thing and I'm coming in, I missed two games and getting integrated back into the squad so it's just finding that rhythm in between us all but I definitely felt it today. I thought everybody from top to bottom was really well. Our lines were connected a bit more, just overall a bit organized and my biggest take is the clean sheet. I think it has been a while since our fans have seen that so great defensive effort."
On the adjustments Greg Vanney made during the game:
"I think before I came off we were feeling definitely a lot of pressure, I was playing up there with Chicha and I think him seeing how the game was going, he is a thinker and he pays close attention to details and that is what makes him a great coach, that he can see those things and adjust and I think it made all the difference."
On the team's great start to the season:
"When you get a new management, you see all the ideas that they come in with and it changed the energy around here and you hope for a great start. We all felt like wow this could be a special year, we don't want to jinx in any sort of way but I think we all felt the shift so I wouldn't say I'm surprised because I know we have quality players and I trust our staff and the club. I've experienced some tough times in this club from good times to bad times and this is definitely the best I have felt as far as the culture, it's definitely a breath of fresh air and I'm going to keep enjoying it."
On scoring a goal tonight:
[Translated from Spanish]
"It felt great scoring my first goal of the season. There was so much energy in the stadium and to do it in front of fans makes it even better. The team is starting to move forward and starting to find it's rhythm and it feel great."
• Discuss this story on the Major League Soccer message board...


Major League Soccer Stories from May 15, 2021
The opinions expressed in this release are those of the organization issuing it, and do not necessarily reflect the thoughts or opinions of OurSports Central or its staff.