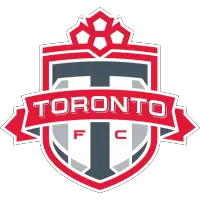 New York City FC (1) - Toronto FC (1) Post Game Summary
May 15, 2021 - Major League Soccer (MLS) - Toronto FC News Release



SCORING SUMMARY
NYC - Jesús Medina 53'
TFC - Jacob Shaffelburg 74' (Patrick Mullins)
MISCONDUCT SUMMARY
NYC - Nicolás Acevedo 30' (caution)
NYC - Andres Jasson 42' (caution)
TFC - Chris Mavinga 65' (caution)
RECORDS
Toronto FC 1-2-2 5 points
New York City FC 2-1-2 8 points
LINEUPS
TORONTO FC - Alex Bono; Richie Laryea, Omar González, Chris Mavinga, Kemar Lawrence (Ralph Priso 87'); Michael Bradley (C), Auro Jr. Tsubasa Endoh (Nick DeLeon 62'), Yeferson Soteldo (Jacob Shaffelburg 69'); Jozy Altidore (Patrick Mullins 62'), Ayo Akinola (Dom Dwyer 69')
Substitutes Not Used: Quentin Westberg, Eriq Zavaleta, Jayden Nelson, Noble Okello
NEW YORK CITY FC - Sean Johnson; Maxime Chanot (Vuk Latinovich 87'), James Sands, Alexander Callens (Sebastien Ibeagha 13'); Ismael Tajouri-Shradi (Tony Rocha 79'), Nicolás Acevedo, Keaton Parks, Gudmundur Thórarinsson (Malte Amundsen 79'), Andres Jasson (Chris Gloster 88'); Jesús Medina, Valentin Castellanos
Substitutes Not Used: Luis Barraza, Cody Mizell, Tayvon Gray, Justin Haak
MEDIA NOTES:
Jacob Shaffelburg scored his first goal for Toronto FC in all competitions.
Omar González made his 50th appearance for Toronto FC in all competitions.
Kemar Lawrence made his first start for Toronto FC.
Dom Dwyer made his debut for Toronto FC.
CHRIS ARMAS - HEAD COACH, TORONTO FC
Q. Your substitutes really made a difference this afternoon, every time you throw Shaffelburg on, it seems likes things happen. What does he give you?
Yeah, look I think it's the second game in a row we got really complete performances from our reserves, specifically with Jacob, and by the way, I think all of them, five of five, came on and did a nice job. But Jacob, you know, look, I think he's instant energy. I think it's clear to see that. We have just tried to help him calm down a little bit to make final plays because he gets in a lot of good spots. He scored the exact goal yesterday in training in some pattern play.
I mean, I'm thrilled for him. He works so hard and the greatest reward for him is going to be a goal. The boys are celebrating in the locker room. It's a big goal for him and the team, and yeah, I think what you saw is what you get with him, instant energy, threat behind and he's always a danger.
Q. If Jacob obviously didn't play much last season, and at times he seemed to be sort of lost with this team. You came in this year, you didn't know very much about him but did he show you anything in particular in preseason that made you start playing him or was playing him sort of more out of necessity this season because of all the injuries?
Well, I mean, I -- and I say, we, let's say, as a staff, we've known Jacob because we've seen him play for Toronto and against us as well in the past. What's easy to see is he's quick. He runs. He likes to press. He brings energy and plays with intensity. He's such a good boy, he really is such a good kid, and we are now trying to push the demands every day. Not necessarily to be not too nice on the field but to -- how can we help him use his weapon. And I think what he has thanked us for is the confidence. I think every player could use that, right.
I think you look around the league and around the world when players are confident, it's the only way you can see how good they are. So yeah, I think it was clear that he was a guy that likes to stretch the back line. It was also clear that we didn't have a lot of guys that have that natural skill set built in. So he found himself in. So often times it's Osorio, Delgado, Nick, although those guys can stretch at times the back line, he naturally does that.
So yeah, it's so much about confidence, so much about giving opportunity to young guys and so much about helping him just calm down and get the reward, slow down a little bit.
Q. Certainly a valuable point on the road this afternoon but it could have been three points. Alex had that -- it looked like a bit of a moment there on the goal that New York scored. What do you say to him in the locker room after the game just to sort of try and build him backup and is there a chance that Quentin plays next week against Orlando?
You know, listen, I think what I -- and what we -- what we quickly say in the locker room is if you look at the reaction from Omar Gonzalez and a few guys that run over right away and showed some support for Alex, our goalkeeper on the day, this is part of it and this is part of who that locker room is and our club.
We do -- "All for One" is on the walls over there, and people around here show that. So the players show it and we show it and we're in it for each guy and each guy carries his weight and is in it for the whole. You don't harp on things like that. You get on with it and it's important to be able to shake it off as he did.
Look, Alex wants to save that, right. It's wet. It's high. It's not easy. Yeah, he wants to catch that emphatically, but you know, we just show support in moments like that to guys because we all want to see that one go in. Every which way you look, there's mistakes happening. That's part of it. You rebound quickly and get on with it, right, how sharp can we be every day.
Q. Can you explain the rationale of starting Auro Jr. in central midfield, and what did you see from him and Michael in that partnership?
It's a good question. Listen three games in a week poses some challenges physically. As we've gotten Jozy back, Soteldo going, Kemar Lawrence, he had not played in a while. We knew that Ayo is building up his fitness. We knew that the wide positions, including now Tsubasa, so you already have three and a half four like guys that you have to think about subbing off, right. And we've seen that Ralph is a power athlete, he's building up his fitness.
So when you think about guys that are durable, and you knew on paper you needed 90 minutes from your center back, from your sixes, from Richie, and having flexibility that he can make an just. That's the first part.
So what we thought in terms of the physical -- we say just from a durability Auro could do that and he checked that box. He told me he's played that position, I checked with him a few weeks ago when he's told me he's played there, maybe when he was six years old, but I think he's played there. And then you combine that he's intelligent; he's a competitor; he's almost ideal for this match up. We hoped that he could get close to Soteldo in certain moments and be in that left part of the field. He's really savvy. He's a good passer. So I think clearly that you get like, okay, that he can be up for it, on paper, goes out there, and has a good game. Has a solid game. You can see him making a couple of plays over his shoulder at the end of the game, top of the box, setting up plays, winning tackles, winning duels. It's a big plus on the deal, never makes an excuse, oh, I'm not so sure I can play there. He just is such a good pro. Yeah, it worked out. I was happy for him. It was a big performance from him.
Q. Dwyer getting a look off the bench. What did you see from him?
Like I said, all five reserves come on and carry their weight and do a good job. They made the game better when they came even as they started getting tired and all added something.
Dwyer comes in and listen he's part of mixing up some runs behind, some hold-up play, creates some good pressing moments with some turnovers. He's a handful and he's a winner. And above all, he's a scorer. I bet if he got one good look it might have went in. It was good to see him get some minutes, get integrated with the team and get him going.
I think we all start to feel like we're getting stronger and we're getting fitter and we're getting more guys healthy. And that you have flexibility on a day like today when you start Jozy and Ayo you can bring in Pat and Dom, it's really interesting. I'm happy for Dom, big day for him to get his debut.
Q. Seemed like a point in the past where the temperature sort of rose. What was it like?
This is boys being boys. It's all of us. We're competitors and we all get hot at times and we do because it matters. You sometimes tell people, oh, it's our livelihood. Forget about it. It's a competition. Competition at the highest level you want to win. So every little play matters, every goal matters, every result matters. And you put a lot of competitors together and they meet in big matches and playoff matches in the past; it's called a rivalry.
So that's what it was today. Two teams played hard, competed the right way and played fair and the referees managed it in a way that keeps it under control. But yeah, nothing out of normal for me.
Q. How much do you welcome a few days off now to just train with your guys leading up to next Saturday's match?
We think it was a good week. We think it's going to -- in many ways, a good stretch of us taking some lumps here and there. It's made us take a hard look at ourselves in possession, out of possession, pressing, compactness, set pieces, attacking, defending, togetherness, the whole bit. So we think we're taking steps forward with -- with losses, with a win, with a tie, and I think we finished the week in a positive way. Not an easy week, short rest today, first game on the weekend but we showed up today. We showed up and we played a good team in their building and we thought we had some good moments where we pressed, we thought we had some mopes where we created transition and defended set pieces well. But still only one point, right. It's not a win; it's not a lot. It's one point but when you battle back and you go down and things get hard and you stick together and put together a good goal and make -- I was most proud of the way we pushed at the end of the game, to really push for the victory for all the guys and our supporters. I think we finished a tough week, three games in seven days, on a positive, and it shows me that we are together, it shows me we have work together in all ways, and then, yeah, I think the boys and all the staff who have done a lot of work. The staff, I have to say, they have worked their asses off. It's time to get a much-needed couple days off. I won't bother them too much in the next couple days.
JACOB SHAFFELBURG - MIDFIELDER, TORONTO FC
Q. Can you give us an idea how that feels, getting your first MLS goal.
Feels great. Feels like a weight is lifted off my back. I know you're not supposed to do it, but I kept on myself to get a goal and it was getting a bit much. It was a breath of fresh air getting that weight off my back.
Q. Wanted to ask you about the relationship that you feel you're having with Patrick. You set up his goal in the Champions League and now he set you up with that nice pass today. From your perspective, what's the relationship on the field like between you two? Why does it seem like this is a burgeoning duo?
I think it starts in practice. Every practice, I'm spotting him or he's spotting me. We know each other's strengths. If I get it, he's making that run and if Pat gets it, I'm making that run with my speed. We know each other's strengths and use those to our advantage, and it paid off.
Q. Big role off the bench. What do you put on yourself to bring the energy?
Chris has been telling me every single day to take my time, calm down in those situations. So for it to come off and get a goal, as well as other opportunities, I thought I was better on the ball than in other games. I just thought I was taking my time and just looking for the right pass. That's pretty much -- Chris has been saying that to me ever since he's got here, calm down, take your time and I think it was one of my better games.
Q. Did you get a sense coming into preseason this year that you might be getting some chances under Chris? And is there anything happening inside the locker room after a guy scores his first MLS goal?
Start of the year, I think everyone felt like they had a chance just because new coach, new everybody, coming in. I thought I would just try to work my butt off and get an opportunity and it's worked out well.
After the game, Mike stood up and said congrats on my goal and gave me the match ball and I had to give a little speech. It wasn't my best one but I had to do that. We were just happy to get the point on the road.
Q. You talked about it being a weight lifted off your shoulder after it went in. What was going through your mind after the ball fell to you in front of goal before you took the shot and put it in?
I just hit it across the keeper hard -- that's all that was going through my head and it worked out. I was a little bit nervous once we got back to half ... but I'm happy.
• Discuss this story on the Major League Soccer message board...


Major League Soccer Stories from May 15, 2021
The opinions expressed in this release are those of the organization issuing it, and do not necessarily reflect the thoughts or opinions of OurSports Central or its staff.