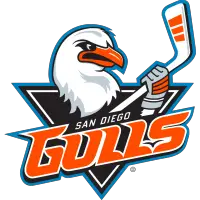 Gulls Lose, 7-2
January 29, 2023 - American Hockey League (AHL) - San Diego Gulls News Release



The San Diego Gulls fell 7-2 to the Ontario Reign tonight at Pechanga Arena San Diego, bringing their overall record to 12-31-0-0 and 5-16-0-0 at home.
Bryce Kindopp started the scoring for the Gulls at 13:21 of the first period, recording a goal in back-to-back contests (2-0=2) for the first time this season and the second time in his American Hockey League career (also: May 14-15, 2021 at COL).
Pavol Regenda earned his second assist in two games and eighth helper as a Gull on the play, while Evan Weinger posted his fourth assist of the season.
Rocco Grimaldi scored his team-best 17th goal of the season 1:33 into the middle frame, maintaining his position as the Gulls leading scorer with 17-24=41 points.
Benoit-Olivier Groulx recorded an assist on the play, extending his point streak into a season-high third game (2-2=4). Luka Profaca registered the secondary assist on the play, earning his third helper of the season.
Olle Eriksson Ek made 13 saves on 18 shots in 31:02 to suffer the loss. Lukas Dostal stopped 17-of-19 shots in 28:58 of relief.
The Gulls close out their four-game homestand against the Abbotsford Canucks this Wednesday, Feb. 1 at Pechanga Arena San Diego (7 p.m. PST).
POSTGAME QUOTES
SAN DIEGO GULLS
Right Wing Rocco Grimaldi
On the team not generating an ideal start
Very frustrating, honestly, like at this point in the year when it's happening over and over, there's...there's no words for it.
On how Ontario stopped the Gulls' momentum
Yeah, it's frustrating when you score and then they score within a minute, I think both times. Then, it's 5, 6-2 or whatever it is and then you start playing well, but it's just too late. You can't be taking a couple periods off and then expect to come back in the third - that team is just too good, the teams in our league are too good. That's just not gonna happen.
On his goal
Bo (Benoit-Olivier Groulx) made a good play, shifted to the middle. Defenseman tried to step up and I just chipped it by him, went in and tried to put a shot on net, and thankfully, it went in.
On the importance of winning before the All-Star Break
I mean, we need points. If we don't start getting points the next couple of weeks, our season is over - like it is what it is. If we don't start getting points - and every point, not just one point or two points in a weekend. We've got to start getting every point or the season is going to be over with two months left.
Head coach Roy Sommer
On the loss to the Ontario Reign
I think they scored early and kind of put us on our heels. We were kind of scratching our way, especially through the first period, trying to get through the neutral zone on them. We couldn't get our forecheck going. You know, we made it 3-1. I thought we had a pretty good start to the second, made it 3-2, and then they get a blocked shot, the guy breaks his stick, gets in behind us and gets a breakaway goal, and 4-2 kind of put it out of reach there a little bit. I thought the third period was good; the guys didn't quit. I thought it was our better period out of the three, had some good opportunities and good looks. Just couldn't find the back of the net at the end. Pretty tall hill to climb when you're down 6-2 to a team like that.
On how Ontario stopped the team's momentum
That was it. We were coming. I thought we had some pretty good OZ (offensive zone) time, we were moving the puck around and we got a few good looks to the net. And then that kind of happens. That's kind of the way the game went tonight. It's unfortunate, because we had a great fanbase here tonight; everyone was into it. I wish we could have gave them a better performance.
On Bryce Kindopp's multi-goal weekend
You know, it's something we've been looking for all year, secondary scoring. If that line can start adding to the scoresheet, I think we're going to be in pretty good shape coming down. You look at the Coachella game, we didn't win but we had the lead going in (to the third) that game. We had the lead going into the third in Bakersfield, had the lead last night. Some good positive things out of it, but we just have to find a way to finish out games.
On drawing positives from the recent stretch of games
We've got a home game here Wednesday against Abbotsford and go on the road for two against Coachella. We just got to start putting something together; we're running out of time.
• Discuss this story on the American Hockey League message board...


American Hockey League Stories from January 29, 2023
The opinions expressed in this release are those of the organization issuing it, and do not necessarily reflect the thoughts or opinions of OurSports Central or its staff.