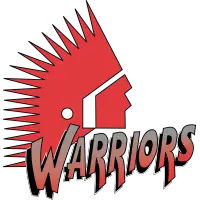 GM Alan Millar Talks About Thursday's Trades
January 10, 2020 - Western Hockey League (WHL) - Moose Jaw Warriors News Release



The Moose Jaw Warriors helped kickstart their rebuild on Thursday by swinging a blockbuster deal with Victoria and another with Kamloops.
Moose Jaw acquired four players and four draft picks in exchange for three players and two draft picks in two separate trades a day before the 2020 WHL Trade Deadline.
"Trades aren't easy by any stretch of the imagination," said Warriors GM Alan Millar.
"It's a tough day, but a rebuild is tough. Losing is tough and I understand that, but what comes with a rebuild and the challenges that we have is difficult decisions."
The Warriors sent star forward Brayden Tracey and starting goalie Adam Evanoff as well as two draft picks to the Royals in exchange for a trio of 18-year-olds - goalie Brock Gould, forward Logan Doust and defenceman Nolan Jones - as well as four draft picks, highlighted by a first-round pick in 2021.
The second deal saw Moose Jaw swap import players with the Blazers, acquiring 18-year-old forward Martin Lang for 19-year-old defenceman Libor Zabransky, who is fresh off an appearance at the 2020 World Junior Hockey Championship.
With the Warriors sitting last in the East Division and a strong market for the players that they had, Millar said it was time to make these deals.
"We need to build and develop and get this team to a point where we get back to contending status and that's looking a year or two down the road," he said. "We want to take a good step next year and we will, especially after today, and the development of our young players."
Gould will join fellow 18-year-old Boston Bilous, who the Warriors acquired earlier this week from Prince Albert, to create a strong tandem in net.
The Colorado Springs, CO product will be one of four goalies suiting up in next week's NHL/CHL Top Prospects Game.
"Brock is an exciting young player to add to our organization," Millar said. "Brock is a highly touted, young goaltender, he's six-foot-five, 201 pounds, he's a big, athletic goaltender that's got lots of potential and upside."
In 15 games this season, Gould has posted a 6-6-1 record with a 2.81 goals-against average and a 0.899 save percentage.
Jones gives the Warriors another hometown product on their roster and is a player that the organization is very familiar with after coming up through Moose Jaw Minor Hockey program, including playing midget AAA in the Friendly City.
"I was really impressed with him last year in Lethbridge, he took a real good step," Millar said. "I like his tools, but I really like his competitiveness, he plays hard."
Millar added that the addition of Jones will help ease the blow of losing Zabransky in the deal with Kamloops, "Take Zabransky out at 19, you bring Jones in, I like Jones' upside and at the same time, he's 18 and he'll be a really good fit here."
Jones has one goal, six points and 40 penalty minutes in 30 games this season with Victoria.
Doust is in his second season in the WHL, he's posted two goals and nine points through 36 games this season in Victoria. He has eight goals and 17 points over 99 regular-season games in his career.
Millar says he will provide some solid depth for the Warriors upfront, "Doust is a guy that is a little bit underrated just because the numbers aren't huge," he said. "[He's] responsible, solid, a good two-way guy, really good on draws, penalty kill and again, 18 years old, so we've got years with him."
Lang comes to Moose Jaw with seven goals and 19 points to his name in 31 games with the Blazers during his second season in the WHL. The Czech Republic product has played at the Hlinka-Gretzky Cup and World Under-18 Championships for his country.
"He's a guy that can skate, he's got good skill, he brings some offence to our hockey club, he's a right shot," said Millar.
As important as the young players in Thursday's trades are to the rebuild for the Warriors so are the four draft picks, which include a first-round selection in 2021 - which originally belonged to Saskatoon - a second-round pick in 2022, a third-round pick in 2020 and a fourth-round pick in 2022.
"The one, in particular, is important because it's in 2021 and that was the year that we didn't have a first-round pick that we traded in the [Kale] Clague deal," Millar said.
"You look at these picks along with the additional second that we acquired in the [Jett] Woo deal, the additional third that we acquired in the [Jadon] Joseph deal has given us all our top picks back and a number of years where we have multiple picks, which will give us lots of options to draft well and/or improve our team down the road."
* * *
Tracey and Evanoff have spent their entire careers with the Warriors and Millar said it was tough to say goodbye to the duo.
"I can't say enough about Adam Evanoff, quality young man, really appreciate Adam as a person and everything that he's done for our organization, the community and charitable stuff he's done," he said.
"I look back to where we were at with Brayden when he was 15 and how he grew up, matured in the last three years and developed into the player that he is," he continued.
"What we're trying to do here is beyond his time and this seemed to be the time with the competitiveness in the league, particularly with the Central Division, B.C. Division, U.S. Division, Kelowna hosting the Memorial Cup, this seemed to be the time where Brayden's value was at his highest."
Zabransky was acquired earlier this season from Saskatoon in exchange for a seventh-round pick. Millar says he could not pass up the opportunity to add a younger import player with the current makeup of the team.
"The reality with Libor was, he was going to play for us for another two months and move onto pro, so this gives us a chance to add a younger player that's going to be a real good player for us this year and next," he said.
* * *
The Warriors sport an 11-23-2-0 record through 36 games in the 2019-20 season. Millar recognizes that there have been some tough nights on the ice and could be more to come over the next 32 games, however, he believes these moves give Moose Jaw a brighter light at the end of the tunnel.
"I understand that there can be some frustration, but we're going to get better here, it's going to be a bump in the road and we do have some good things to look forward to," he said.
"There's been lots of excitement with some of the young players that you've seen come through here - Jagger Firkus, Denton Mateychuk, Atley Calvert, Josh Hoekstra and Max Wanner and so on - we'll right the ship here and hope our fans will be patient."
The Warriors are back in action this weekend for a home-and-home set with the Medicine Hat Tigers. They travel to the Canalta Centre on Friday and then host Medicine Hat on Saturday at Mosaic Place, which will be the first opportunity for Warrior fans to see the new players in action.
• Discuss this story on the Western Hockey League message board...


Western Hockey League Stories from January 10, 2020
The opinions expressed in this release are those of the organization issuing it, and do not necessarily reflect the thoughts or opinions of OurSports Central or its staff.
Other Recent Moose Jaw Warriors Stories