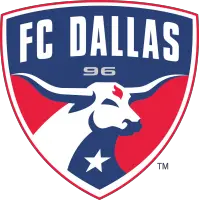 FC Dallas Falls to Colorado Rapids 3-0 at Dick's Sporting Goods Park
May 29, 2021 - Major League Soccer (MLS) - FC Dallas News Release



Commerce City, CO - FC Dallas (1-3-3, 6 points) falls 3-0 to Colorado Rapids (4-2-1, 13 points) at Dick's Sporting Goods Park Saturday night.
Game Summary
First Half:
1' - Andrés Ricaurte finds the first chance for Dallas after heading in a cross from Bryan Acosta but his header is saved by Rapids goalkeeper William Yarbrough.
6' - Eddie Munjoma finds Franco Jara inside the box, but Jara's right-footed shot is saved by Yarbrough.
13' - Keegan Rosenberry fires a right-footed shot from outside the box after connecting with a pass from Jack Price to give Colorado a 1-0 lead.
40' - Jimmy Maurer dove to his left to deny Diego Rubio's penalty attempt after Bressan was adjudged to have committed a foul in the box.
41' - Colorado doubled its lead after Auston Trusty forced a save from Maurer but the ball then deflected off Tanner Tessmann and into Dallas' net.
Second Half
47' - Jara beat his defender in a physical battle to go 1v1 with the 'keeper but his shot was tipped onto the crossbar.
53' - Paxton Pomykal fires a right-footed shot from outside the box through a wall of defenders but his shot is saved by Yarbrough.
71' - Former FC Dallas player Michael Barrios scored Colorado's third goal after cutting in from the left wing and curling it into the top corner.
77' - Nicolas Benezet mimicked Barrios by cutting in from the left wing but his effort was just over Maurer's crossbar.
Lineups:
FC Dallas - Jimmy Maurer; Ryan Hollingshead, José Martínez (Ema Twumasi - 79'), Bressan, Eddie Munjoma (Johnny Nelson - 46'); Tanner Tessmann (Ricardo Pepi - 68'); Freddy Vargas (Paxton Pomykal - 46'), Bryan Acosta, Andrés Ricaurte, Jáder Obrian (Kalil ElMedkhar - 77'); Franco Jara.
Substitutes not used - Colin Shutler, Edwin Cerrillo, Thomas Roberts, Beni Redžić.
Colorado Rapids - William Yarbrough; Sam Vines, Auston Trusty, Danny Wilson, Keegan Rosenberry; Jack Price, Nicolás Mezquida (Nicolas Benezet - 74'); Michael Barrios (Drew Moor - 74'), Cole Bassett, Jonathan Lewis (Andre Shinyashiki - 56'); Diego Rubio (Oliver Larraz - 80').
Substitutes not used - Clint Irwin, Kortne Ford, Collen Warner, Braian Galvan, Darren Yapi.
Scoring Summary:
COL (0-1): Keegan Rosenberry (Jack Price) - 13'
COL (0-2): Tanner Tessmann (own goal) - 41'
COL (0-3): Michael Barrios (Cole Bassett) - 71'
Stats Summary: FC Dallas/Colorado Rapids
Shots: 21/13
Shots on Goal: 6/5
Saves: 3/6
Corner Kicks: 8/2
Fouls: 9/18
Offside: 1/1
Misconduct Summary:
DAL: Bressan (caution) - 39'
DAL: Franco Jara (caution) - 58'
COL: Danny Wilson (caution) - 58'
COL: Michael Barrios (caution) - 68'
COL: Jack Price (caution) - 80'
COL: William Yarbrough (caution) - 84'
Weather: Cloudy, 61
Referee: Guido Gonzales Jr.
Assistant Referees: Andrew Bigelow, Claudiu Badea
Fourth official: Michael Radchuk
VAR: Ricardo Salazar
FC Dallas Postgame Quotes
FC Dallas Head Coach Luchi Gonzalez
What do you want to say to fans....
It's MLS - we have to win. If you don't win then you're not going in the right direction in MLS. If you look at the stats we had more duels, we had more possessions and we had more shots but we lost 3-0. It's a cruel game and I take full responsibility. And any upset fans? I understand they should be and I'm sorry because all of our intentions and all of our work, you know, the energy and effort we put into our preparation is to win.
We have seven shots to two the first 12 minutes and they scored on their second shot and we didn't score on our first seven. We're not efficient right now and, again, that's the game we play. Colorado fans are happy. They didn't dominate the game but they dominated this score.
On the PK save followed by the second goal...
It's a big blow. It was an innocent moment that, you know, we kind of survived the PK situation. Jimmy makes a great save and within a minute, you know, we're not cautious and we don't clear the first second ball and a dead ball and we're running past the ball without it being a clear possession and then all of a sudden they're getting shot in our six yard box. It's a pretty poor goal to give up. Again, we can have all these stats and dominate but, in these key moments, if we don't make key plays or defend well then you don't win soccer games. We need to defend better . We're defending with the ball. We're creating but if the very least we create 21 shots and we don't score, then we need to at least find a way to make it 0-0 and defend as a block and as a unit together and not give away the goals like we did tonight.
FC Dallas Midfielder Bryan Acosta
On the team having defensive mistakes in the match...
We didn't just make defensive mistakes. We also need to recognize that there were chances we could have scored. Unfortunately, we didn't take advantage of them, we didn't finish them. The team is together, we can't just single out the defense part of the team. On the field, it's 11 players. It's unfortunate that the second goal hit Tanner and we couldn't clear it well, but we can't blame anyone. We're all men, we're 11 players, we're 30-something players and staff on this team and we're all in this together. We're all capable of getting out of this.
FC Dallas Defender Ryan Hollingshead
On how the team can begin to capitalize on its chances...
First and foremost, I think it's just being more clinical in our finishing and that goes for all of us. That goes for me as an outside back. I pride myself on scoring goals and I need to be the one also putting away goals. We've had moments to put away games early and haven't been able to do it. The second thing is not getting impatient and stretching our team. I think we've seen the last couple of games that we aren't putting chances away so we get a little desperate and our lines get a little bit spread and they can catch us on the counter attack. I think that comes out of desperation and wanting to put away a goal. We get our numbers forward and don't stay in our prevention (shape) like we need to. So, it's being more clinical and being more patient and sticking to our game plan so we're at least not conceding while we wait for those goals to come.
• Discuss this story on the Major League Soccer message board...


Major League Soccer Stories from May 29, 2021
The opinions expressed in this release are those of the organization issuing it, and do not necessarily reflect the thoughts or opinions of OurSports Central or its staff.